4 Most Profitable Cryptocurrencies in 2023 - Crypto list
Published on Jan 24, 2023 06:20 PM IST
Even though there are a lot of well-known cryptocurrencies that have grown a lot over the years, this guide will list the four best and potentially most profitable ones to invest in for 2023, so you can make an informed choice.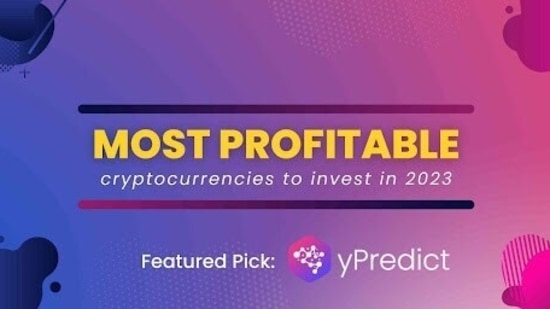 Investments in cryptocurrencies have witnessed a surge and dump in recent years, with an ICO boom since 2017 and up until 2023 and beyond. While this has been a profitable means of investment for many, for someone making their way into this market, it's essential that they do their fair share of research before making a decision.
Even though there are a lot of well-known cryptocurrencies that have grown a lot over the years, this guide will list the four best and potentially most profitable ones to invest in for 2023, so you can make an informed choice.
Most Profitable Cryptocurrencies in 2023
Before we dive in, here are four of the most profitable cryptocurrencies in 2023 -
-FindScan
-WolfPad
-Heisenberg Research
yPredict is our top pick for the most profitable cryptocurrencies, yPredict is expected to release its tokens with the likelihood of the highest returns for their investors. It's an ecosystem that provides AI-based market research and predictions.
It has analytical tools that offer data-driven insights for cutting-edge financial predictions, so users can make informed investing decisions. This is a good thing, since the large number of trades done by algorithms makes it harder for investors to predict its future price, whether it's a stock or cryptocurrency. Here are some of the key benefits of the YPRED coins -
Low Market Cap
Since a coin's market capitalization is closely related to its price, YPRED's low market cap makes it more likely that its price will rise than cryptos with higher market caps. As a result, while you can get them at a lower price of 0.037, they offer just as much growth potential as one with a higher market cap.
Small Circulating Supply
When compared to other tokens, YPRED only has a supply of about 100 million tokens. This idea that the token supply is scarce can significantly boost its demand and, by extension, its value in the market.
Immense Token Utility
The fact that the YPRED token is the primary payment method to pay for services and subscriptions in the yPredict ecosystem is likely to make it more popular over time. This is where YPRED tokens differ from other cryptos like Bitcoin, which are used as a medium of exchange. As a result, the value they offer within the ecosystem makes them highly attractive.
Why is YPRED the most profitable cryptocurrency?
There are several factors that make YPRED the most profitable cryptocurrency with high returns in the market. These include -
10% revenue sharing
Usually in cryptocurrency, platforms do not share their revenue with their token holders, rather their rewards are generated through reward allocations from the total supply. Whereas yPredict ecosystem promises 10% revenue to be shared with its token holders, through revenue sharing pool which is an addition to their existing rewards pool.
A Long Waiting List
yPredict.ai has more than 10,000 users in line to sign up for the project, along with an already robust following of more than 55,000 users in just a few months.
Highly Experienced AI Experts
To ensure data-driven investment information, yPredict.ai has a team of highly experienced AI experts who can help investors make the right financial decisions.
Other Profitable Cryptocurrencies
FindScan
Like yPredict.ai, FindScan is a platform that offers tools for international traders to make smart decisions when it comes to investing in crypto and the stock market.
This revolutionized the landscape, as previously, traders had to use non-customizable tools to get the information and data they needed to make precise investments.
WolfPad
WolfPad is essentially a startup launchpad, which specifically helps founders conduct STOs, or security token offerings.
This platform allows startups, dealers, and brokers to raise funds using STOs via secure and asset-backed investment opportunities.
Heisenberg Research
Heisenberg Research is a platform that gives software solutions and data-driven insights for the capital markets.
While they have their own trading lab, they also offer unbiased data and information and make use of AI to help investors make sensible investment decisions.
In Conclusion
If you want to invest in crypto, you have a lot of options on the market right now. Each one has its own benefits and a strong ecosystem, but very few of them have the things that will make sure they keep growing in the future.
yPredict.ai appears to be a promising and potentially most profitable cryptocurrency to invest in 2023, with its ecosystem-restricted tokens, a team of highly experienced AI experts, and a low market cap.
Official website: yPredict.ai
Disclaimer: This article is a paid publication and does not have journalistic/ editorial involvement of Hindustan Times. Hindustan Times does not endorse/ subscribe to the contents of the article/advertisement and/or views expressed herein.
The reader is further advised that Crypto products and NFTs are unregulated and can be highly risky. There may be no regulatory recourse for any loss from such transactions.
Hindustan Times shall not in any manner, be responsible and/or liable in any manner whatsoever for all that is stated in the article and/or also with regard to the views, opinions, announcements, declarations, affirmations etc., stated/featured in the same. The decision to read hereinafter is purely a matter of choice and shall be construed as an express undertaking/guarantee in favour of Hindustan Times of being absolved from any/ all potential legal action, or enforceable claims. The content may be for information and awareness purposes and does not constitute financial advice.