Acing the investment game this year: Takeaways from the Nivesh Mahakumbh 2023
Updated on Jan 26, 2023 11:52 AM IST
Nivesh Mahakumbh 2022, a mega investor awareness meet conducted by Aditya Birla Sun Life Mutual Fund, in association with Hindustan Times saw veterans and industry leaders delve into financial learnings from the crests and troughs in 2022 and suggestions for charting the way forward in 2023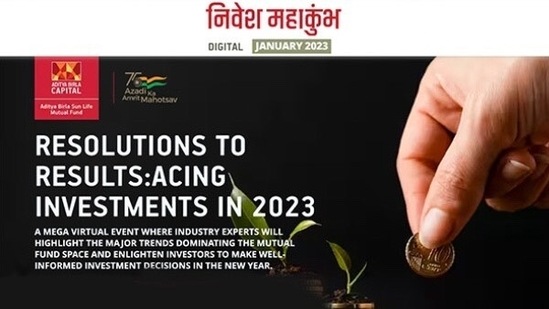 In 2022, the Indian economy and stock markets garnered the spotlight on the global stage for all the right reasons. Despite dark clouds looming large on the geopolitical horizon due to the war between Russia and Ukraine, in Sept 2022, the International Monetary Fund announced that India's economy had overtaken the economy of the United Kingdom in terms of size.
For investors, the year has been akin to a breath of fresh air after the grueling two years of uncertainty unleashed by the pandemic. With renewed fears about global recession in 2023, it is an appropriate time for investors to start laying down the foundation of their financial plans for 2023 in a way that is rooted in the learnings of 2022.
The Nivesh Mahakumbh 2022, a one-of-a-kind mega investor awareness meet conducted by Aditya Birla Sun Life Mutual Fund, in association with Hindustan Times saw veterans and industry leaders delve into the financial learnings from the crests and troughs in 2022 and suggestions for charting the way forward in 2023. Here are a few excerpts from the event that was hosted by senior journalist Gautam Srinivasan:
K S Rao, Head – Investor Education and Distribution at Aditya Birla Sun Life Mutual Fund started the symposium by elaborating on the core idea behind it: "Nivesh Mahakumbh has always been very special for us. We have undertaken many such initiatives in the last nine years with the intention of empowering our investors and providing them with the right information and relevant quality content. This event is called Nivesh Mahakumbh because as is the case with Kumbh Melas where you take a dip in the holy river to purge ourselves, the Nivesh Mahakumbh also revolves around the concept of 'DIP' – the holy trinity in the realm of financial literacy where D stands for delayed gratification, I stands for the impact of inflation and P stands for the power of compounding and all these form the crux of financial wellness."
Rao's address was followed by A Balasubramaniam, MD and CEO, Aditya Birla Sun Life AMC Limited, throwing light on how the India growth story has strengthened the investment ecosystem in the country. "2022 was a great year for India with Indian markets outperforming most of the global markets by a substantial margin. We have been getting due recognition due to political stability and the macroeconomic changes. All the reforms that India has been carrying out – be it tax related reforms, investments in public infrastructure or making India self-sufficient by establishing India as a manufacturing hub – all of these have put India on a strong footing so that the next decade can belong to India. Industrialists and entrepreneurs are looking at India as an investment destination in the years to come and hence we should not just keep our eyes on India only for 2023 but for the next decade and beyond."
Panel discussion 1: EDGE of asset allocation
In the investment landscape, asset allocation is sacrosanct and is that ritual that can see you through periods of turmoil and is considered a touchstone of a successful investment journey. However, despite experts reminding the investor community time and again of the importance of diversification, many of us are guilty of overlooking it.
Piyush Gupta, Director, Funds Research at CRISIL shared an analogy to put forth the importance of asset allocation. "Asset allocation is the process of building a portfolio with different asset classes. It is akin to a cricket team built by the captain of the team who looks at different players with different skill sets so they can come into play with different pitch conditions. Markets keep changing due to multiple factors – there are times when the equity markets are performing well but there are also periods of correction. Hence, there is a need for multiple asset classes with different risk-return profiles."
Dhirendra Kumar, founder and chief executive, Value Research expounding further on the four major asset classes says, "Many Indian investors have been binary – either they have been equity investors at any given point and when they get disenchanted they become fixed income investors. Gold and real estate have emerged as asset classes in financial form only in recent years. However real estate as an asset class is at a very basic stage of evolution and it is a big ticket investment. As far as gold is concerned, I have rarely come across investors selling golf and it is largely consumed as jewellery. Yes, it is the oldest asset form that can preserve its worth but is it an inflation beating one? No. Equity and debt are widely available and offer great benefits in terms of safety, security, liquidity and tax efficiency. People think that asset allocation is a return maximization exercise but it is largely a regret minimization one.
In the Indian investment landscape, the word risk has been assigned many negative connotations. Gurmeet Singh Chadha, Managing Partner and Chief Investment Officer at Complete Circle Wealth opines, "The first myth about risk is that real estate and gold are safe and equities are riskier. People who are living in Bombay will tell you that for eight years the prices of real estate haven't moved. Also, there are liquidation risks too – you may get stuck with it for very long periods of time. Similarly, there is this notion about equities which is that you need to be an expert and you need to time the market. On the contrary, if you are not an expert and you are only buying the index for the last ten years either on a monthly or a quarterly basis, you will be beating other asset classes."
As far as gold as an asset class is concerned, it is well-known that Indians have a penchant for it but according to Vinod Bhat, Portfolio Manager & Head Knowledge Management Equity at Aditya Birla Sun Life AMC Ltd, the fascination for gold needs to be diluted with an acknowledgement of the limited role it can play in one's portfolio. "If we look at household allocation data in India, we will see that around 50 percent is to real estate, 15 percent is to gold and another 15 percent is for FDs and less than 5 percent is for equities. If you look at the returns of real estate in the past ten years, the CAGR hovers around 3-4%, while gold has given 4-5%, fixed income has been more stable in the 7-7.5% range and the CAGR return for equity has been around 12-13%. Gold only stands out in certain events - it provides a hedge against any kind of geopolitical uncertainty or unexpected events like the pandemic or extremely high inflation. So investors should only consider 5-155 allocation to gold in their portfolios as a hedge against these circumstances," he says.
Panel 2: Emerging trends in the mutual fund investments space
Investing is no longer an exclusive bastion dominated by a coterie of wealthy seasoned investors or the older generations or old-school financial advisors. Amongst financial instruments that have catalyzed financial inclusion in the country and pulled many investors to the investment arena, are mutual fund investments.
Kaustubh Belapurkar, Director Fund Research at Morningstar Investment Advisor India, started the panel discussion by sharing his thoughts on whether investors should enter the market now considering fears of a recession looming large. "Everytime is a good time to invest in the markets. This is not the first time we are witnessing volatility in the market – there have been many times in the past decade where external crises have caused upheavals. We have seen market corrections investors need to keep in mind that they should have a sufficient time horizon when entering the market – the longer is your investment horizon, the more reasonable and predictable your returns will be. The probability of negative returns also goes down significantly beyond a period of 7-10 years," he said.
Dispelling fears around volatility and its impact on our portfolios, Joydeep Sen, a renowned corporate trainer, author and columnist said, "There is a prevalent mindset that volatility is an enemy but volatility can be your friend. Let us say there is a portfolio that carries 70 percent equity and 30 percent debt. Now, in times of severe market correction, the number 70 would have fallen drastically and now when you rebalance your portfolio and bring the equity weightage back to 70 by adding more equities, you would be buying equities cheap. And when there is a market rally and this 70 becomes 80 or 90, you can book profits in equity and bring it back to 70."
Talking about the growing acceptance of passive investing among retail investors in India, Amit Bivalkar, Managing Director and CEO, Sapient Wealth Advisors and Brokers Pvt Ltd, says, "Often investors when investing in a an active or a passive fund, try to compare the returns earned by others. You need to have clarity about you goals before you invest irrespective of whether it is through the active or passive route because in the long run, the difference between returns generated through active and passive routes is in the 1-2 percent range. Passive investing has been a big hit in the developed markets because the alpha in that market is very difficult to achieve. Almost 90 percent of the fund managers in the developed markets are not able to beat the benchmark. In the case of India, you would have seen fund managers actually outperforming the benchmark over long periods of time. If you are trying to look for a relative comparison with the benchmark, then in my opinion, active investing will always be passive in the next 5-10 years."
The mutual fund investment ecosystem is also witnessing an expansion of quality product offerings. Abhishek Singhal, Business Head – Passives & Alternate Strategy, Aditya Birla Sun Life Mutual Fund says, "I think we should celebrate India's coming of age in terms of mutual funds assets – we crossed 40 lakh crore of AUM which is about half a trillion of assets. Though it is still not comparable to the developed world – we are behind in terms of percentage of GDP but another trend which is emerging is that equity and hybrid put together is roughly half or more than half of the assets in the country. Out of the big pie we used to have only equity funds earlier or very structured solutions such as balanced funds or MIPs in terms of hybrids. Today you have various gradients of hybrid solutions. I think the mantra over the last two years as volatility has increased has been asset allocation."
Fireside chat: Investment mantra in financial markets
With central banks across the world simultaneously hiking interest rates to reign in inflation, a global recession storm appears to be brewing on the horizon of 2023. For investors, who feel daunted by the thought of dealing with market volatility, staying put is the most essential tenet that they can carry forward as a learning from 2022 into 2023. Mahesh Patil, Chief Investment Officer, Aditya Birla Sun Life AMC Ltd says, "This is a year when you would see many asset classes moving in a narrow range in terms of returns. Lessons from last year would be that we saw a lot of uncertainty – if somebody had told you there would be a war between Russia and Ukraine and unprecedented inflation, US hike in interest rates would be at record levels and that there would be recession in the near term, you would have thought the markets would give negative returns in that scenario. While this was the scenario with global markets, Indian markets were still positive. So as long as your fundamentals are strong and you aren't taking a reactive stance, you can sail through the turbulence. India's position is looking strong in this crisis as the India growth story is being driven by strong domestic demand."
Panel 3: Planning for your goals and estate planning
Planning brings to your attention the vast realm of possibilities that exist and how you can tap into those to bridge the gap between where you are and where you want to be. It also provides opportunities to create safety nets for ourselves and our loved ones that can act as a shield during difficult times.
Conversations about estate planning, however, make rare appearances when we plan for our goals. Deepak Jain, Director India and South Asia, American Academy of Financial Management, says, "Interestingly, whenever I talk about estate planning, the first thing that I have to tell people is that I am not talking about real estate. Anything that you own today is your estate and so are all the things that you will own at the time of your death and after your death. Systematically planning the transfer of your estate after your lifetime is called estate planning. When planning your estate, you should ask yourself whether you want to retain control of your estate till you are alive and if you will have to take care of yourself and your loved ones financially in case you become incapacitated. Estate planning helps you decide how you want your property and assets to be distributed after your death among people you want and at a time and manner of your choice."
In terms of financial preparedness for the future, we often tend to overlook the importance of adequate health insurance coverage. Anuradha Sriram, Chief Actuarial Officer, Aditya Birla Health Insurance Co Limited, says, "As health insurance providers, we have seen many instances where people who did not have adequate health insurance realizing how painful it can be to not have insurance coverage. During COVID they had hospitalization bills amounting to lakhs and they had no insurance plan to fall back on. These bills ate into their lifetime savings and also impacted the quality of their lives as well as their future capability to manage their lifestyles. Also medical inflation is always 2-3% higher than retail inflation and in the last 2-3 years medical inflation has been 6-7% higher than retail inflation."
A conversation on goal planning cannot be complete without touching upon retirement — but feeling a misplaced sense of complacency with retirement investing is common. The illusion that there is ample time makes many investors take retirement planning less seriously. K S Rao, Head – Investor Education and Distribution at Aditya Birla Sun Life Mutual Fund, says, "Many of us tend to not focus on retirement because we think it is far away on the horizon. This is one such goal for which we cannot avail loans — we cannot fund our retirement through loans. So, we should plan for retirement in the earlier stages of life. If you can start planning early, you can tap into the power of compounding. The other thing that I have seen is that many investors have a plan for retirement but they don't invest regularly — and the money gets used for something else. We also tend to underestimate the length of our retirement. Hence, it becomes all the more important to have a solid plan for retirement."
Harsh Roongta, Founder, Fee Only Investment Advisers LLP & Chairperson ARIA talking about the omnipresence of the inflation factor when planning one's goals says, "One of the most effective ways to manage the impact of inflation is to make a mix of investments such that some of them give stability such as debt mutual funds and fixed deposits. However the issue with those investments is that they will rarely beat inflation post taxes. So to beat inflation and to increase and grow your wealth, you need assets that may be more volatile but in the long run those assets – be it domestic or international equity - that will give you the alpha over inflation even after taxes. So the combination of these two kinds of asset classes gives you the ideal mix of stability and growth."
Panel 4: How can women invest confidently despite the lack of women fund managers and women-friendly products?
Women in India have had a complicated relationship with money since time immemorial. Patriarchal conditionings through generations continue to colour women's attitudes towards money management and many baulk at the thought of managing finances even today. Add the acute unavailability of financial products that cater to women's needs to the mix and you have a hurdle that seems too big to cross.
Notwithstanding these challenges, a little conviction can go a long way in helping women become financially savvy, according to Shruti Agarwal, Co-founder, Stashfin. She says, "In many households in India even today, women run the budget. They get allowances and they run the household on that budget. They may not have been savvy in terms of investing in the stock market or the likes but Indian women have always been capable of creating assets for themselves in the form of jewellery or setting aside money for their children. I truly believe that irrespective of whether you are managing money for yourself or for your family, the commitment has to be the same. So all the women out there – even if you are not earning, you should never step back thinking its not your money."
Conversations about money and investments are also crucial for bringing about a change in mindset and catalyzing a movement of financial inclusion for women. Lakshmi Naga Potluir, Entrepreneur and Angel Investor says, "The financial services sector is underrepresented when it comes to fund managers and decision makers in the ecosystem who are women leaders. To some extent, having more women influencers speak and share their stories is going to play a critical role beyond just having women in decision-making positions. India as a country has been far more progressive when it comes to women leaders in financial institutions but when it comes to investments, I think we are not having as many conversations on such topics."
From the industry perspective, women are an untapped demographic and by ushering in a slew of changes where women's needs are focused on, it can be a win-win situation for both female investors as well as financial service providers. Shweta Jain, Founder, Investography Pvt Ltd elaborates, "Women sometimes get in their own way because of the self doubts that we have as a consequence of our upbringing. We are less confident and this affects us negatively in terms of financial wellness and hinders us from taking independent financial decisions. It comes down to validation from our partners, which is why I think women stick to traditional options more such as fixed deposits, gold and other so-called safer options. I think when we see successful products designed by women and run by women, that is going to motivate women to take investment decisions themselves."