After clinching T20I series, India keen to win the ODIs too
Published on Nov 24, 2022 05:44 PM IST
The excitement from the T20I series between India and New Zealand promises to reach a crescendo when the two teams square up for the three-match ODI series, starting Friday, in Auckland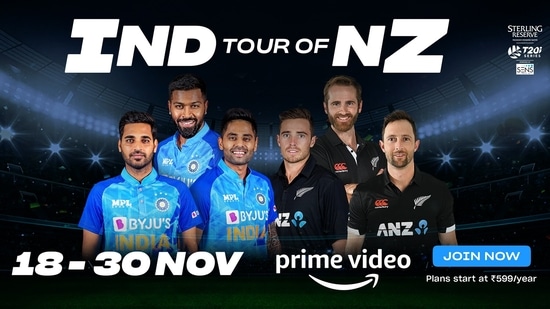 Shikhar Dhawan-led India will be looking to extend the winning momentum from the T20I series and avenge its loss from the previous ODI series in New Zealand in 2020. On Sunday, India clinched the rain-interrupted three-match T2OI series 1-0 and would be keen to win the ODIs too. With T20I captain Hardik Pandya back home, the Indian team under Dhawan has its task cut out.
Dhawan's wealth of experience as a batter, should be a big boost. The 36-year-old has fulfilled the demands of captaincy in the ODIs in the absence of Rohit Sharma. He first took the captain's role against Sri Lanka last year as a stand-in for Rohit Sharma with India clinching the series. He again led Indian teams to ODI series victories against West Indies (3-0) and South Africa (2-1) earlier this year. The swashbuckling left-hander has also walked the talk with his bat, scoring 567 runs in 16 matches at an average of 40.5 in 2022.
Dhawan believes he has matured as a captain and prepared for tougher assignments. With seniors rested, he faces an uphill task of winning against the Black Caps in their backyard and erase bitter memories of a 3-0 pasting India had to endure in its last visit.
A calm Dhawan, however, wants to focus on playing good cricket. With the ICC Men's World Cup set to be hosted in India next year, the Delhi dasher believes it to be a good opportunity for youngsters to stake a claim in the team.
"It will be a good exposure for the young players to come and play in New Zealand. To test their skills in different conditions. It's a good opportunity for us to show our skills," said Dhawan in the pre-match conference.
"This preparation is all about the upcoming World Cup. It is good to see that they (youngsters) are doing well and we have a really good idea… who will get a chance to claim a spot in the World Cup squad. New Zealand are a good, consistent batting side. They have got a great pace attack and we look forward to taking that challenge in these conditions."
With Dhawan being the leader, India's opening combination will be different from the T20Is. By all means, one expects Shubman Gill to share the opening duties with Dhawan. Gill, who did not feature in the T20Is, has had an impressive run in the 50-over format this year. Touted as one of the finest young talents, the 23-year-old has thus far played in 12 ODIs, where he piled 579 runs, at a blistering average of 57.90. Bulk of his runs have come this year and Gill would be determined to continue his terrific form.
The middle-order is expected to revolve around the charismatic Suryakumar Yadav, who is making waves with his irrepressible form. The quick shift to a new format can be tricky but the kind of form the 32-year-old is enjoying, few can question his ability to adapt. Yadav himself will be keen to make a statement in ODIs having made his debut in this format last year. Till now he has featured in 13 ODIs, his highest being 64 against West Indies.
While Yadav's role will be pivotal, the team will also look up to Shreyas Iyer and vice-captain Rishabh Pant to contribute handsomely. Iyer came to New Zealand after a string of good scores in the ODIs, but he will have to find a way to deal with the short balls. Fearless Pant has the potential to tear apart any bowling attack on his day and India will be hoping he finds a way to express himself freely. It remains to be seen whether Sanju Samson finally gets a chance with Deepak Hooda impressing with his all-round ability in the T20Is.
Like Samson, Umran Malik too would like to be considered in the playing XI and unleash his raw pace in bowling friendly conditions. Indian pace attack looks good in the hands of Shardul Thakur, Deepak Chahar and Arshdeep Singh. All eyes will be on Yuzvendra Chahal who impressed with his attacking leg spin in the T20Is. Left-arm wrist-spinner Kuldeep Yadav, too, would be hoping to get a look-in and possibly even reunite with Chahal.
Williamson returns
New Zealand are boosted by the return of captain Kane Willamson. Williamson had missed the third T20 against India in Napier on Tuesday.
Williamsom admitted shifting to ODIs after playing a series of T20I matches will need some adjustments.
"There has not been a huge amount of ODIs, it was mostly T20Is, with some tests. It is about settling down and getting a nice understanding. There is a change in the environment. These are a few factors. But it is about keeping it nice and simple, going out and expressing. There is a lot of ODI cricket to come," he said.
The BlackCaps, meanwhile, are fighting a clutch of in-house issues after one of their best white-ball cricketers Martin Guptill became the latest to be released from his New Zealand cricket contract. The 36-year-old, though eligible for the ODIs selection, was omitted from the current series.
Guptill's replacement, young Fin Allen is yet to justify the hype around him. The New Zealand batting lies on the shoulders of Devon Conway, Glenn Phillips and Williamson. The inclusion of wicketkeeper-left-hander Tom Latham in the ODI squad should strengthen the Black Caps' batting.
The New Zealand bowling can create trouble for India in conditions favouring pace and swing. Seasoned Tim Southee posed a serious challenge for Indian batsmen in the T20I series. The likes of Adam Milne, James Neesham add value to a fearsome pace battery. Not to forget wily spinner Mitchell Santner who can chip in with wickets in any conditions.
Without a doubt, New Zealand will do everything in its power to live up to its new No.1 ODI rank. India, though, has the weapons to give the hosts a run for its money.
Watch the India tour of New Zealand live and exclusive on Prime Video. The coverage of the ODIs on 25th, 27th and 30th November begins at 6 am IST.
Disclaimer: This article has been produced on behalf of Prime Video by HT Brand Studio.
Personalise your news feed. Follow trending topics