AJV Global: Offering the best immigration services to New Zealand
Updated on Dec 02, 2022 11:43 AM IST
AJV Global has established itself as a team of Licensed Immigration Adviser and ex-immigration officers who devise migration plans to aid candidates to pick and choose which pathways are best for them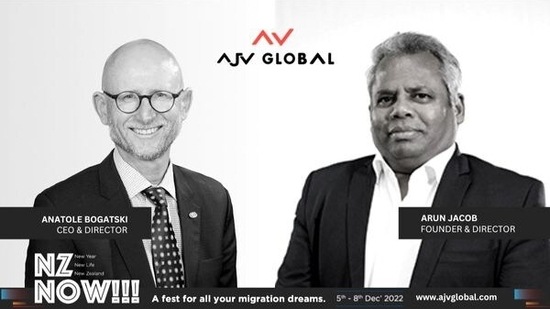 A good number of people nurse dreams of migrating to New Zealand, for the sheer fact that the nation stays on top of people's minds when it comes to better lifestyle and job opportunities. However, not everyone has a clear idea of how to go about making immigration to New Zealand possible. Confusion reigns supreme in the minds of even those who are clear about what they actually want or are looking forward to.
People looking to move to New Zealand are mostly unaware of the many prospects the country offers. Trying to learn and stay aware of all that a migration opportunity puts forward come courtesy of immigration companies that do all that they can to make the processes easier and hassle-free. And when one looks for the best immigration service provider around, the foremost name that pops up is that of AJV Global. A top-of-the-line player in offering immigration services, AJV Global has lived up to its reputation of offering the best in procedures that encompass student visa and admission; consultation and profile evaluation; eligibilty test; work visa; skilled migration; entrepreneur work visa; partner visa; family visa; dependent visa; visitor visa; investor visa; and permanent residency.
AJV Global has in its kitty all services one looks for in an immigration services company. The company manned by a global team of Licensed Immigration Adviser and former immigration officers who provide legal advice on how people can migrate, has positioned itself as an end-to-end education and migration firm equipped to let them choose the most suited immigration option.
Over the years, AJV Global has established itself as a team of Licensed Immigration Adviser and ex-immigration officers who devise migration plans to aid candidates to pick and choose which pathways are best for them. Significant about the company is that AJV Global has a growing presence in countries like New Zealand, Canada, India, Malaysia, and the US.
New Zealand Calling; AJV Global is Here to Help
With migration to New Zealand high on people's agenda of late, prospective candidates now see AJV Global as the most trust-worthy service provider. The country has been attracting people from around the world, offering avenues toward long term stay and Permanent Residency. The proactive administration in New Zealand has already doled out welcome aspects such as well charted out settlement and integration policies so as to enhance the labour market.
Besides, the relaxed lifestyle and work-life balance have proven to be major attractions for those looking to migrate. Ease of integration into the New Zealand environs, and better study and work opportunities have been prominent factors that have pushed up the number of people who look to migrate. A highly developed free-market economy, New Zealand expects its workforce to expand at 1.8 percent annually, and that would mean the country would induct close to 47,000 more workers a year in the short term.
People who look to migrate to New Zealand are well aware that the nation attracts skilled migrants with a view to ease labour shortages, offering better-earning prospects. AJV Global has devised a clear-cut roadmap for those looking to migrate to New Zealand. The AJV plan is devised in such a way that once a client comes in, the person becomes part of its family, or 'whanau' as per the Māori culture. International students who sign up get their Kiwi Buddy Mentors. For clients who get to travel to New Zealand are roped into the community of AJV kIWIs (iwi means tribe in Māori). In effect, signing up with AJV Global brings with it a sense of family and support to clients.
According to Anatole Bogatski, CEO and Director, AJV Global, "Our mission is to create safe, secure, happy and successful futures for every client and their families, through legal migration, professional advice, services and support, in both their country of origin and in their destination."
Arun Jacob, Founder and Director, AJV Global, points out: "I founded this company with values of customers first, their happiness before our profits. Our utmost legal procedures are rolled out with the client support in mind throughout every migration journey. Our entire philosophy as an organization is also based on New Zealand's brand values of Trust, Ethics, Quality, Integrity".
NZ NOW Fest to aid in clearing all your doubts
As part of extending immigration services and support, AJV Global has also lined up a virtual NZ NOW fest, from December 5 to 8, 2022. The fest will comprise a slew of activities, including free 4 back-to-back webinars, free one-on-one consultations, and quiz contests. The winners of the quiz will be awarded Amazon cash vouchers worth ₹2500. Further, a lucky winner will get his/her student visa application fees paid by AJV Global. The NZ NOW fest primarily aims at clearing confusion over people's immigration prospects, and providing them with added information, guidance and professional assistance.
The December 5th programme will deal with the topic 'New Zealand is ready for your study and settlement, and will get underway at 11.30 am and conclude at 1 pm IST. The session will offer insights into aspects such as why studies in New Zealand are to be chosen; introduction to top New Zealand universities and institutes; top courses to enrol for a better career; various aspects of fee structure; and in-depth awareness on post-study work visas. On December 6, the topic for discussion will be on how 'NZ is ready to offer you a better salary and lifestyle'. To be conducted from 11.30 am to 1 pm IST, the session will talk about, choosing to work and settle in New Zealand; introduction to the New Zealand job market; how difficult it is to land a job in New Zealand; Greenlist, Skilled Professions and Accredited Work Visa; and the benefits of moving to New Zealand for work-life balance and good standard of living.
On December 7, between 11.30 am and 1 pm IST, the session will discuss the topic 'NZ is ready for you and your family to settle'; while on December 8, the topic 'NZ is ready for your multi-million business idea' will be deliberated upon between 11:30 am and 1 pm IST. Register for free he HYPERLINK "http://www.ajvglobal.com/"r HYPERLINK "http://www.ajvglobal.com/"e for the NZ NOW fest or give a missed call @ 1800 103 65 25. Also follow AJV Global on the official social media handles for more information.
Disclaimer: This article is a paid publication and does not have journalistic/editorial involvement of Hindustan Times. Hindustan Times does not endorse/subscribe to the content(s) of the article/advertisement and/or view(s) expressed herein. Hindustan Times shall not in any manner, be responsible and/or liable in any manner whatsoever for all that is stated in the article and/or also with regard to the view(s), opinion(s), announcement(s), declaration(s), affirmation(s) etc., stated/featured in the same.