Altus Luxury Living – Endless options where limits are always evolving
Published on Jan 27, 2023 08:13 PM IST
Altus Luxury Living by Adetee Sawhaney is one of the finest expressions of what can be described as a 'contemporary global Indian.' Over time, the brand has come to symbolize an extraordinary reinterpretation of quintessential Indian sensibilities in design, material and craftsmanship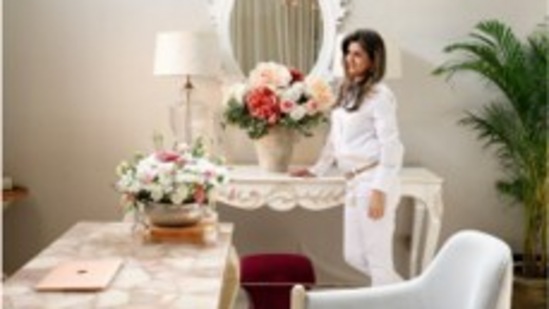 Altus Luxury Living by Adetee Sawhaney is one of the finest expressions of what can be described as a 'contemporary global Indian' traversing the world of fine living at its best. Over time, the brand has come to symbolize an extraordinary reinterpretation of quintessential Indian sensibilities in design, material and craftsmanship so as to constantly appeal to an ever-evolving audience. Altus Luxury Living has recently moved to the tony location of South Delhi at 343, Sultanpur, MG Road, New Delhi. www.altusluxuryliving.com
Sharing the design philosophy, Adetee Sawhaney, Principal designer and mentor, Altus Luxury Living, says, "The constant dialogue in unison between art and craft often treading into unfamiliar territories enables us to offer you a wide range of stunning interior solutions from one-off bespoke furniture pieces to a full interior design service of an exceptional standard. The vividity of possibilities in imagination is brought to life through in-house capabilities in the manufacturing of furniture, glass and mirror work, metal, and furnishings. Every creation from our stable bears a hallmark of originality, authenticity, uniqueness, and luxury."
Adetee's life journey is a narrative driven by her unbridled passion for creativity. She started her career with advertising and thereafter went on to express her irrepressible imagination through art before adopting the world of interior design as the canvas to express her creative individuality. The common thread weaving her journey of more than two in decades in design has been the unique ability to amalgamate art and craft in new and imaginative forms, be it interior solutions, bespoke furniture pieces, art, gifting, invites or whatever else invites her creative instincts. Each of her creation embodies her quintessential philosophy to "Live Artfully".
It's been over two decades now and today her name is synonymous with several beautiful spaces in India and beyond. A winner of numerous awards and accolades in India and abroad, she has succeeded in establishing brand Altus as one of the foremost names in the world of fine luxury living.
"The foremost requirement for a designer is to step into the life of the inhabitants of a space, to identify with their individuality, and to imagine and create a space for them which is in sync with their sensibilities. At the same time, it needs to be carefully ensured not to impose on them what is essentially not in alignment with their being." Explains Adetee
Altus Luxury Living - Turnkey
We manage your project starting from the conceptualization of design at the 'bare shell stage' to its execution. The holistic approach extends beyond the regular interior design service- to strategize every detail of your project from inception to its complete execution. All aspects including conceptualization, space planning, civil treatments, wall and ceiling finishes, home accents, manufacturing of furniture, kitchens, and wardrobes along with art are taken care of by us.
Design Advisory
For those who may not require the entire spectrum of turnkey solutions from us, we also offer design advisory services. Herein, we provide the required design inputs that you may seek for undertaking execution at your end. We are even happy to guide your execution team towards obtaining results that are at a minimum possible variance from what our turnkey services are unfailingly guaranteed to deliver.
Furniture inputs that you may require for undertaking the execution at your end
With its in-house manufacturing capabilities including craftsmen bringing to life the extraordinary designs we are known for, you are guaranteed to enjoy our bespoke furniture pieces which are as much functional as they are artful. This confluence of art and craft, skillfully transformed into products incorporating complex techniques, minute detailing, multiple elements and diverse styles is a truly sensual experience in visual statements that evoke an unparalleled sense of emotion.
Disclaimer: This article is a paid publication and does not have journalistic/editorial involvement of Hindustan Times. Hindustan Times does not endorse/subscribe to the content(s) of the article/advertisement and/or view(s) expressed herein. Hindustan Times shall not in any manner, be responsible and/or liable in any manner whatsoever for all that is stated in the article and/or also with regard to the view(s), opinion(s), announcement(s), declaration(s), affirmation(s) etc., stated/featured in the same.