Fandom Lights Offers Luxury Lighting & Chandeliers Online For Modern Homes
Published on Apr 04, 2022 05:15 PM IST
Fandom Lights is an online platform that provides a wide range of modern home lighting and chandeliers for modern homeowners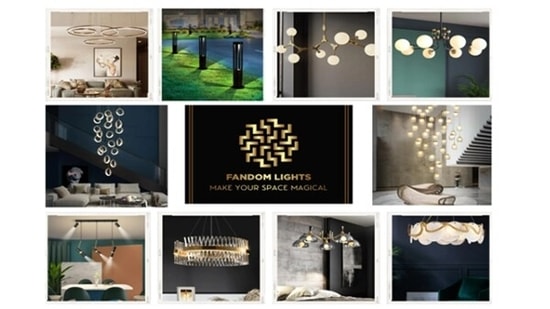 Buying lighting for modern homes is often challenging because of limited options for luxury lighting products across India. With most of its population belonging to lower and medium classes, the elite class often finds it hard to pick the right products for their modern homes for this reason. But new-generation websites like Fandom Lights make shopping for luxury lighting and relevant products easier.
Fandom Lights is an online platform that provides a wide range of modern home lighting and chandeliers for modern homeowners. What makes them stand out from other modern home product websites in India is their modern profile and limited edition products. All products available on their website are committed to providing the best possible customer experience.
The main objective of this online website is to help homeowners find the right lighting products for their homes fast and easily. They do so, by offering a simple view web interface without any dramatic effects to help customers surf through easily. From the best crystal chandeliers to the best outdoor lights, these exclusive online sellers aim to serve versatile tastes to modern Indian homeowners.
Fandom Lights have tons of modern home products exclusively available on their website. They have a wide collection of products such as bollard lights, ceiling lights, chandeliers, chandelier fans, crystal lights, floor lamps, garden lights, outdoor wall lights, pendant lamps, commercial lighting products, and more. They also keep launching new products from time to time and have a separate category that includes all these "New Launches" on their website. Thus, providing a better overview.
These online light sellers offer products inclusive of tax. They also offer free shipping all over India. Be it the best desk lamps or the best floor lamps, they offer modern, affordable, and luxury lighting for the convenience of their buyers across India.
Fandom Lights is trusted by thousands of home and commercial product buyers all over the country. These buyers or homeowners have been consistent and purchased numerous products because of the promising quality and satisfaction delivered by the seller. They offer all the latest luxury and modern lights and chandelier products available on the market. They are definitely the go-to platform for all online buyers or homeowners interested in purchasing quality lighting products for their modern homes.
Unlike other websites, they are consistent in updating their product website and adding new launches regularly. No matter, what home or modern home lighting products one is looking for, one can find it all on the Fandom Lights online website. They provide limited edition and high-quality modern lighting products for delivering the present class of homeowners an enhanced buying experience. From modern profile chandeliers to vanity bathroom lighting, Fandom Lights is one of those unique websites that has got it all indeed.
Disclaimer: This is a company release. No HT journalist is involved in creation of this content.