Homegrown brands that are making India proud
Published on Jan 19, 2023 05:20 PM IST
Highlighting the homegrown brands have been more important than ever. With Republic day around the corner, these talented homegrown brands deserve every bit of our support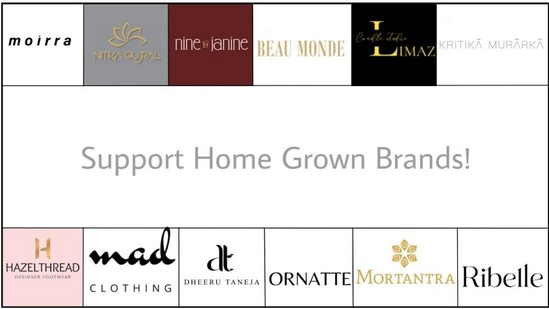 In a world where you can shop anywhere, shop homegrown. When we talk about shopping homegrown, it all boils down to directly or indirectly boosting the economy of a country. Supporting homegrown businesses opens up not only space for innovation but also for a better living for everyone. From clothing and accessories to lifestyle, we have brought you an intentionally curated list of various brands and their views on why one should support homegrown brands.
Moirra:
Indian Embroidery and embellishments inspire Moirra's Jewellery. We try to skilfully utilise the eternal charm of Indian Embroidery in each of our collections. All our pieces are fabric based wherein we blend the old traditional work with the new, experimenting with styles and surfaces.
We strongly believe that one must support Indian homegrown brands simply because there is a general feel-good about using something that is conceptualised and created closer to you. They tend to focus on locally produced fabric, and local craft and bring it to the global market.
Nitika Gujral:
The label Nitika Gujral reflects the designer's constant pursuit of beauty and perfection. Its wide offerings of resplendent bridal wear and trendy occasion wear showcase the brand's ability to present traditional craftsmanship in contemporary silhouettes. The care and handholding extended to every client are what sets the brand apart, getting it accolades and glowing testimonials from all over the world. We believe that India is a repository of heritage and craftsmanship that is truly unique and intricately tied into our cultural ethos. By nurturing domestic brands we are remaining true to our roots and ensuring the continuity of this wealth of craftsmanship and traditions.
Nine by Janine:
Nine by Janine is a homegrown, made-to-order, footwear brand, whose parent company has been exporting to France and Italy for the past 30 years. The line of open-toe sandals is carefully handcrafted from genuine leather. All our pieces are beautifully handwrought by local artisans.
We believe that Indians must support homegrown Indian brands so that companies can generate employment, and empower local artisans who are experts in their craft.
Beau Monde:
Bringing to you timeless elegance with a fresh punch of hues and aura, Beau Monde recreates handcrafted bags made using timeless craftsmanship, sustainability, and PETA-certified vegan leather providing our clients with a luxury hand crafted bag at an affordable price. We amalgamate the finesse of innovative design with the sensibilities of modern and luxury accessories.
We believe that Indian homegrown brands should be supported as they increase employment and reduce dependence on foreign countries. Ethical and sustainable Indian brands can cater to their customer's specific needs and wants to make them agile, adaptable, and responsive.
Limaz Candle Studio:
Thaslim Shiminaz is the founder of Limaz Candle Studio. Limaz Candle Studio is an artistic Indian homegrown brand of hand-poured candles which is a local soy candle brand that provides handcrafted, high quality, and highly fragranced candles that will inspire your senses with a persuasive aroma. It aims to have a wider reach mainly because of its uniqueness, creativity & customization.
We believe that we should all support the homegrown, local industry of India. The host of budding Indian entrepreneurs not only have some extraordinary ideas but they also have a will and determination to not give up and leave a mark behind.
Kritika Murarka:
Established in 2018, at Kritika Murarka we create modern ethical clothing that portrays the crafts and techniques of India, encapsulated in a global appeal. We specialise in unconventional hand prints, weaves & embroideries.
We believe that homegrown Indian brands are using sustainable techniques of production which provide consumers with high-quality and ethical garments. This way we generate employment and make our country self-sufficient.
HazelThread:
A brand of premium handcrafted juttis, HazelThread stands for unmatchable craftsmanship. Whether for casual outings, festive times, or weddings, we offer designer juttis for every occasion.
We believe that homegrown brands should be hugely supported because people involved in the process of making juttis like local artisans put in a lot of effort which must be appreciated by fellow Indians.
Mad Clothing:
Mad Clothing is a homegrown e-commerce menswear brand that focuses on providing exclusive clothing made with the finest fabrics at affordable rates to its customers - all available from the comfort of their homes. In times when people prefer international fast fashion brands, we pride ourselves in being a 'Made in India' brand that has maintained an exceptional growth rate.
We strongly believe that supporting homegrown brands is the key to boosting our economy as it provides employment, gives visibility to our excellent craftsmanship, and generates business for local vendors.
Dheeru Taneja:
Dheeru Taneja, the brand is an expression of the designer's vivid dreams and reality juxtaposed to create unconventional contemporary Indian Clothing. She tries to bring innovation in Indian fashion and craftsmanship while striking a balance to make it relevant for the global audience.
We should all collectively support homegrown brands as it's time that we make Indian fashion recognized on a global platform. Our country is rich in history and has so much to offer in terms of fashion. We need to make Indian clothing our everyday lifestyle choice so we can move forward into making it acceptable across the globe.
Ornatte:
Ornatte is a handcrafted luxury potli and clutch brand headquartered in Bhubaneswar which aims to promote Indian embroideries in the form of versatile accessories in the global luxury market.
We believe that Indians should support homegrown brands to promote Make in India and to co-grow. To strengthen India's economy more and more, we need to help homegrown brands grow.
Mortantra:
Inspired by Indian roots, culture, and crafts, Mortantra's ethos lies in gold-plated jewellery that is skillfully created by artisans across India. Catering to bridal jewellery needs worldwide, Indianness is the essence of Mortantra.
We believe that by supporting and buying from an Indian homegrown brand, you become a reason to light up the homes of hundreds of skillful craftsmen who you directly aren't going to be able to support. You also become a part of a mission of preserving the age-old techniques, beautiful Indian art, craftsmanship, and skills.
Ribelle:
A luxurious medley of modern wear, pret, and high end handcrafted couture, Ribelle is a slow fashion label founded by Rishina Talreja & Anuj Chauhan in 2022. With innovation at our disposal, we bring trans-seasonal collections with multiple pieces sewn by premium materials and threads of artistic galore.
We believe that by supporting homegrown brands, you will grow the indigenous economy and ensure local artisan's creativity flourishes. It also helps in carving a niche in the international fashion front.
The brands listed here are innovative to their last fibre and are heartened with a sense of identity and artistry. Right from the initial stages to the final stage, the hard work that goes into the making of these products, helps our country's economy grow.
Disclaimer: This article is a paid publication and does not have journalistic/editorial involvement of Hindustan Times. Hindustan Times does not endorse/subscribe to the content(s) of the article/advertisement and/or view(s) expressed herein. Hindustan Times shall not in any manner, be responsible and/or liable in any manner whatsoever for all that is stated in the article and/or also with regard to the view(s), opinion(s), announcement(s), declaration(s), affirmation(s) etc., stated/featured in the same.