Is Bitcoin's Rise Sustainable? Will Toon Finance Finish With a Bang?
Published on Jan 24, 2023 06:29 PM IST
Let's take a look at how Toon Finance is shaking up the crypto space and why investors are taking notice. Toon Finance is launching their ICO in just 2 days, January 26th 2023.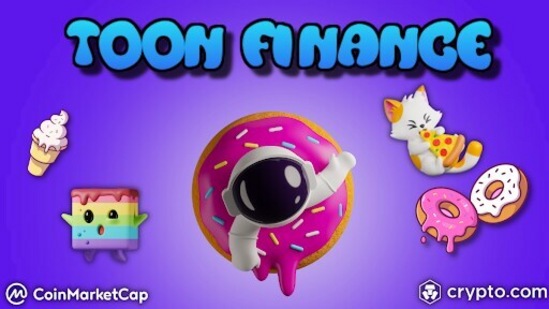 Bitcoin In Full Swing Just Like Toon Finance
Bitcoin (BTC) has had an incredible run in recent months, with its price rising from around $10,000 at the beginning of 2021 to over $60,000 in April. But is this rise sustainable? In this blog post, we'll take a look at some of the factors that could impact Bitcoin's future and try to answer the question of whether or not its current rise is sustainable.
Supply and Demand
The laws of supply and demand have a huge impact on prices in any market, and the crypto market is no different. Since there will only ever be 21 million Bitcoins in circulation, it stands to reason that if demand for Bitcoins continues to grow, then so will its price. However, if demand begins to slow down or stagnate then it's likely that its value will decrease as buyers lose interest and sellers flood the market with their coins.
Regulation
Another factor that could affect Bitcoin's price is regulation. Governments around the world are beginning to take notice of cryptocurrencies and have begun enacting laws and regulations regarding them. So far these regulations have been relatively light-handed but they could become stricter in the future which could limit the amount of investment flowing into the crypto space—and thus reduce demand for Bitcoin.
Competition
Finally, there is also competition from other cryptocurrencies such as Ethereum and Ripple that could affect Bitcoin's future price movements. As more people become interested in investing in crypto assets they may choose to diversify their portfolios by investing in multiple currencies instead of just focusing on one—which could lead to a decrease in demand for Bitcoin relative to other coins.
To sum up, while Bitcoin has been on an incredible run recently it remains to be seen whether or not this trend is sustainable in the long term. Factors like supply and demand, regulation, and competition all play a role in determining how well any cryptocurrency performs—so it pays to keep an eye on these things if you're considering investing in Bitcoin or any other digital asset. With all that being said though, one thing is certain: cryptocurrencies are here to stay!
Toon Finance on the Rise
In a world of digital currencies, it can be hard to stand out. But Toon Finance is an up-and-coming cryptocurrency that's setting itself apart from the rest by offering a unique platform for users to save, spend and manage their funds. Let's take a look at how Toon Finance is shaking up the crypto space and why investors are taking notice. Toon Finance is launching their ICO in just 2 days, January 26th 2023.
Last call for presale investors who wish to 10-20X their investment. Crypto experts guarantee investors that they will have a better chance of maximizing their profits when investing in a presale project that pops rather than trying to jump on the bandwagon that already had its run like DOGE. Investors are now pushed to finding the "new DOGE" or shib that is floating around out there and we believe that we have found it! Toon Finance Presale.
What Is Toon Finance
Toon Finance is a decentralized digital currency that allows users to store, spend and manage their money with ease. It offers multiple layers of security and privacy protection, including military-grade encryption, meaning you can rest assured your funds are safe and secure. The platform also provides lightning-fast transaction times so you don't have to wait around for your trades to process.
What Sets Toon Finance Apart
The main feature that sets Toon Finance apart from other cryptocurrencies is its staking capabilities. Staking is essentially a way to earn rewards for holding tokens in your wallet. As long as you keep your tokens in the wallet, you will continue to receive rewards in the form of additional tokens over time. This means that not only do you get access to fast transactions and secure storage, but you can also make passive income simply by holding onto your coins!
Why Investors Are Taking Notice
Toon Finance has been gaining traction since its launch earlier this year due to its unique features and low transaction fees. Many investors are drawn to its promise of passive income through staking, as well as its fast transaction times and robust security protocols that protect user funds from hackers or malicious actors. Plus, it's easy to use—even beginner investors can get started quickly without having prior experience with cryptocurrency investments!
All in all, it's easy to see why many investors have taken notice of Toon Finance. It offers something different than other cryptocurrencies while also providing an easy to use platform that appeals to both experienced investors and newcomers alike.
With its robust security protocols, fast transaction times and potential for passive income through staking, it's no wonder why more people are turning their attention towards this up and coming cryptocurrency platform! If you're looking for a new way to invest your money safely and securely, then Toon Finance might just be the perfect fit for you!
Website: https://toon.finance/
Presale: https://buy.toon.finance/
Twitter: https://twitter.com/ToonSwapFinance
Telegram: https://t.me/ToonSwapFinance
CoinMarketCap: https://coinmarketcap.com/currencies/toon-finance/
Disclaimer: This article is a paid publication and does not have journalistic/ editorial involvement of Hindustan Times. Hindustan Times does not endorse/ subscribe to the contents of the article/advertisement and/or views expressed herein.
The reader is further advised that Crypto products and NFTs are unregulated and can be highly risky. There may be no regulatory recourse for any loss from such transactions.
Hindustan Times shall not in any manner, be responsible and/or liable in any manner whatsoever for all that is stated in the article and/or also with regard to the views, opinions, announcements, declarations, affirmations etc., stated/featured in the same. The decision to read hereinafter is purely a matter of choice and shall be construed as an express undertaking/guarantee in favour of Hindustan Times of being absolved from any/ all potential legal action, or enforceable claims. The content may be for information and awareness purposes and does not constitute financial advice.