Karma corrections – Using the right prediction techniques in astrology
Leading Vedic astrologer Dr. Vinay Bajrangi explains the dangers of shallow, incomplete, and superficial horoscope analyses, which can often result in inaccurate predictions and advice.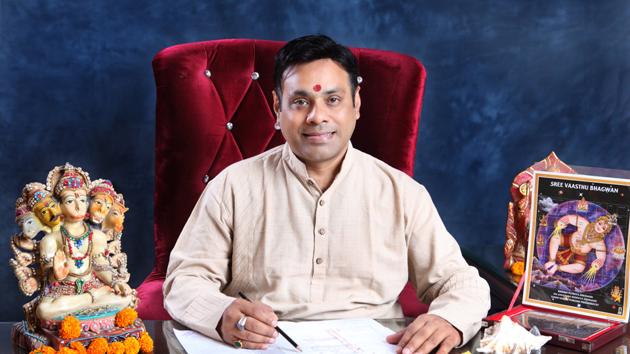 Updated on Feb 13, 2018 03:02 PM IST
Partnered Feature, HT Brand Studio
I have been practising Indian Vedic astrology for the past fifteen years now. After analysing over 80,000 horoscopes and addressing multiple concerns, I find it crucial to emphasise the importance of correct predictive techniques in astrology. Let me explain with the help of three key cases here.
Business direction
The first is about a person who was suffering huge losses in his business ventures. He had a wonderful horoscope, wherein the 'Dasha' was remarkable; but his ventures still failed. He tried various options, consulted several astrologers, followed many rituals and poojas, and even wore a number of rings. However, nothing was working out, and he desperately wanted a solution. In particular, he was concerned about his 'Lagna' and D1 chart. After charting his horoscope, I noticed that his D1 chart was sound; indeed, it had all the magnificent 'Yogas' and 'Dashas', but were still not supporting his ventures.
After investigating further, I understood that shallow analyses of his horoscope by previous astrologers were to blame. They had not studied or referred to other charts before suggesting corrective solutions.
For business forecasts, usually, astrologers study and predict according to their study of the D1 chart. But for good business ventures, it is important that the D9 chart is studied as well and that it supports the D1 chart. After D9, the other important chart to be studied is D10 for various 'Yogas'. The charts D30 and D60 are also important, not only for 'Yogas', but for 'Dashas' which need to be applied on sub-divisional charts. Dashas are supplemented by the transit or the 'Gochar'; so, if the 'Gochar' positively impacts the sub-divisional chart, only then will the D1 chart provide good results. The astrologers who studied his horoscope earlier were not competent enough and just took his D1 chart in to reference; thus, nothing worked out.
His horoscope indicated a bright professional career with a salaried job. However, he did not care for that prediction and left disheartened. I met him again, two years later. He informed me that after my consultation, he continued to suffer heavy losses in his business ventures. When he was broke, he joined a job out of compulsion. This job paid him well and he was living comfortably. The lesson here is that if you study a horoscope with full details, you may completely transform a person's life. An incompetent study, however, may lead to devastating results.
Choosing the right education stream
The second case highlighted here pertains to choosing the right education stream. One of my clients – a family – wanted to encourage their child to take up science and be an engineer like his father. The boy had an extraordinary horoscope with multiple good professional options including Lawyer, Chartered Accountant/ Cost Accountant, and Stock-Broker. I explained that the child's horoscope indicated a lot of money and happiness, provided he chose commerce or humanities. The family was disheartened and didn't take to my suggestion.
After a few months, they visited again. This time, the father narrated how his son faced hardships while studying science. Despite his best efforts, the child barely managed 55 per cent marks—thereby limiting his chances of being an engineer. However, after plenty of contemplation, he cleared CLAT (common law admission test), got enrolled in a law college, and was now doing fairly well. The father repented his earlier stance and wanted to follow his son's horoscope for all future courses of action.
The lesson here is that if 'Yogas' in D1 are ok, then D5 and D9 charts should also be studied to make a perfect calculation. If your child is currently in class 10 or 12, having his or her horoscope analyzed can help them make a sound selection in choosing the right education stream. This can save them years of regret and hardship later on.
Marriage compatibility
The third case illustrated here refers to match making and marriage compatibility. Marriages can fail even after 36 'Gunas' are matched; in fact, if that were the only criteria for successful marriages, there would be no divorces. Today, there are multiple software for matching 'Gunas' available online and there is no need to visit an astrologer for this. However, matching Gunas is just twenty per cent of match-making; for the rest, D1 & D9, and D10 and D30 charts need to match as well. Important aspects include sexual, mental, financial, interests, family, and age compatibility. From individual responsibility to family expansion possibilities, all of these are important factors for a happy married life. Horoscope matching is a matter of detailed analyses of various charts, and not just 'Gunas'.
A word of caution: Make sure that your birth chart is correct before horoscope analysis begins; else, it hinders accurate predictions. A correct birth time is vital, as even a difference of two minutes could cast various effects on sub-divisional charts. It's important to ensure birth time synchronization or rectification by an accomplished astrologer who is acquainted with 'Parashari', 'Krishnamurti paddathi', and 'Nadi Vigyan'.
Many astrologers study horoscopes from a very narrow perspective, restricting their insights to questions asked by the visitors. I strongly condemn such superficial study of horoscopes as it jeopardizes our credibility and creates skepticism about astrology. It is an astrologer's duty to study the horoscope comprehensively, and list out all concerns, even those that are not raised by the client.
To sum it up: For accurate predictions, it is vital to get your horoscope studied by an astrologer experienced enough to give you thorough results.
- As told by Dr. Vinay Bajrangi to HT Brand Studio
Dr. Vinay Bajrangi's expertise in reading horoscopes and correcting karma can effortlessly change your life and illuminate the solutions you can count on.
Visit www.vinaybajrangi.com for more details or fix an appointment by calling on +919278555588 / +919278665588 or emailing at sampark@vinaybajrangi.com
Close Story