Philanthropist and educationist Arvind Goel who infuses life into old age homes
Published on Jun 06, 2022 08:27 PM IST
Arvind Goel ensures the Homes he runs have all the means of recreation for the inmates to keep them busy constructively. He strives to give them a quality lifestyle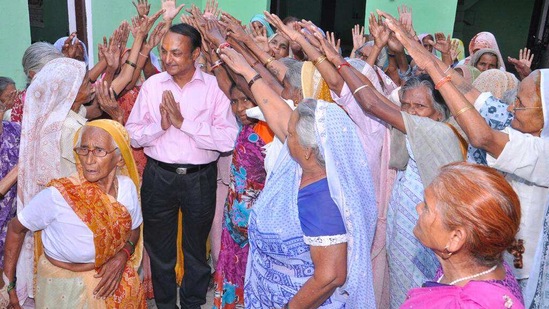 A building remains a lifeless entity unless the inhabitants call it a home. With this principle in mind, the renowned philanthropist and educationist Arvind Goel embarked upon a journey three decades ago. He not only erected hundreds of old age homes and orphanages but also strived to infuse life into these dwellings for the abandoned senior citizens in different parts of the country.
The elders in our society ask for nothing but they do wish to lead a peaceful and respectful life in their twilight years. Arvind Goel, who belongs to Moradabad has a strong conviction that helping underprivileged old people and bringing a positive transformation in their standard of living is the dire need of the hour.
In general, life in an old age home is quite monotonous as it's a general belief that oldies, particularly the abandoned ones, have already lost the zest for life. The sullen atmosphere only adds to the deplorable condition these elders are in, even in the so-called protected environment. Situation turns worse especially in the government-run Homes owing to their nonchalant attitude.
Arvind Goel is determined to break this monotony. His motto is to ensure the senior citizens in their last phase of life should also have a heart full of joy and contentment. Many a time he himself engages with these less fortunate souls and encourages them to feel blessed and keep smiling. He makes them realize that they are not a burden on society but have the right to reap the fruits of what they have given to society all their productive lives.
Goel ensures the Homes he runs have all the means of recreation for the inmates to keep them busy constructively. He strives to give them a quality lifestyle. He encourages senior citizens to participate in various creative and interesting activities like yoga classes, spiritual sessions, picnics and food festivals. This fills them with enthusiasm and liveliness. Such activities not only improve the functioning of their brains but also have a positive impact they have on each other. From time to time, he also organizes health check-up camps to take care of their physical health and provide them with all necessary aids.
Apart from managing already existing Homes that he has erected all these years, Arvind Goel has taken upon himself the task of refurbishing over 200 outdated old age homes, orphanages, hospitals, etc. throughout the nation. His aim is to turn them around and make them paradise-on-Earth for the senior citizens.
But all these achievements are secondary for Goel who thinks that the blessings of lakhs of the poor and needy is what is the greatest gift bestowed upon him and that the Gods above have chosen him to wipe off the tears of the downtrodden. No wonder! This great soul tries to better the lives of millions of the have-nots and leaves no stone unturned to satiate his undiminishing desire to serve.
Disclaimer: This article is a paid publication and does not have journalistic/editorial involvement of Hindustan Times. Hindustan Times does not endorse/subscribe to the content(s) of the article/advertisement and/or view(s) expressed herein. Hindustan Times shall not in any manner, be responsible and/or liable in any manner whatsoever for all that is stated in the article and/or also with regard to the view(s), opinion(s), announcement(s), declaration(s), affirmation(s) etc., stated/featured in the same.