Punjab Bucket List: 5 Things You Can't Miss
Published on Jan 17, 2023 07:30 PM IST
From its wide variety of flavours and food to the creativity that is its heritage, Punjab is a place you would want to visit. And, this article will guide you to plan your Punjab itinerary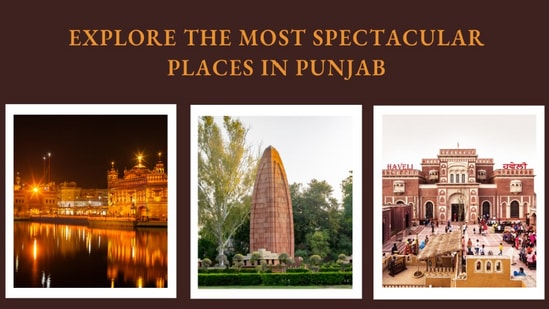 Never visited Punjab before?...Don't know what to do in Punjab? Well, you are in for a treat.
The state of Punjab is one of the most popular tourist destinations in India. It is a land of festivals, culture and traditions.
Punjabis are proud of their heritage, which is reflected in their food, language and clothing.
In this article, I'm going to list FIVE things you can't miss while visiting the land of five rivers.
So, without any further ado, let's scroll down and find out:
1. The Golden Temple
Address - Golden Temple Rd, Atta Mandi, Katra Ahluwalia, Amritsar, Punjab 143006
Timing - Open 24*7
A Brief About The Golden Temple
The best things to do in Punjab India list is incomplete without any holy visit to the Golden Temple.
It is the most sacred shrine of the Sikhs, located in Amritsar. It is believed to have been built by the historical Guru Ram Das in 1604 AD.
The Golden Temple is considered one of the most important sites for Sikhs worldwide as it houses their most sacred scripture, Guru Granth Sahib Ji. This book includes writings from every Sikh guru who has lived since Guru Nanak Dev Ji till Guru Gobind Singh Ji; they include Bhagat Kabir Ji, Guru Angad Dev Ji, Guru Tegh Bahadur Ji, Guru Amar Das Ji, Guru Ram Das Ji, Baba Farid Ganj Shakar Ji & Banda Singh Bahadur Ji.
The main reason why this holy place has become so renowned globally among tourists is that it is located in a beautiful area with scenic views overlooking the sacred river Ravi.
The Golden Temple complex contains many shrines dedicated to various gurus and saints revered by Sikhs across India and abroad. It also houses a museum that exhibits many artefacts belonging to Sikh history and culture.
2. Haveli
Haveli Jalandhar: https://www.haveli.co/jalandhar/
Address: Jalandhar - Phagwara Highway, Grand Trunk Rd, Jalandhar, Punjab 144001
Contact - 098145 99000
Haveli Murthdal: https://www.haveli.co/murthal/
Address - Gt Road, Murthal 131027 India
Contact - +91 97288 55000
Havelli Amristsar: https://www.haveli.co/amritsar/
Address - Highway, Grand Trunk Rd, Amritsar, Punjab 143115
Contact - +91 7527072001
Haveli At Ranjit Avenue, Amritsar: https://www.haveli.co/ranjit-avenue-amritsar/
Address - 11, District Shopping Complex, Ranjit Avenue, Amritsar, Punjab 143001
Contact - 07527072001
Rangla Punjab: https://www.haveli.co/rangla-punjab/
Address - Jalandhar - Phagwara Highway, Grand Trunk Rd, Jalandhar, Punjab 144001
Contact - +91-98145-99000
A Brief About Haveli
Haveli is a popularly-known group of heritage resorts on Punjab highways at various locations that echoes the heartwarming Punjabi culture & traditions. From the entrance gate, colourful artefacts, food stalls & cultural stores to the dining room ambience, these Havelis have a unique charm that will make your trip memorable.
The first Haveli was unveiled in 2002 at Jalandhar. It has become a one-stop spot for travellers on the historic route of NH1 seeking delicious Dhaba-style vegetarian Punjabi food in a safe & hygienic environment. The Jalandhar Haveli is bound to present you with a true feel of Punjab's real feel, thus leaving you spellbound every time you visit.
The second venture of the Haveli group was the Rangla Punjab at Jalandhar, which opened in 2003. Here you will witness the traditional lifestyle of Punjabis and their village life, and exhibiting them are a variety of art forms. Various activities happen within the Rangla Punjabi, such as the Kathputli show, Gidda, Bhangra, Jadoogar show, Haar-Shingar di Hatti, Bhand, and so much more.
Opened in 2010, the Haveli at Murthal on the Delhi/Karnal highway symbolises Punjab's kings' royal lives. It has bagged the award of "The Most Hygienic Spot." Haveli Murthal offers the most authentic Punjabi delicious food, a lavish ambience, and ample free parking. And don't forget to take pictures with your loved ones with the fountains in front of this Haveli.
Started in 2016, the Haveli at Amritsar is a village-themed restaurant that offers the most scrumptious local food in the entire Amritsar. The staff here is warm and friendly, making you feel special. The whole picturesque ambience of this Haveli showcases the vibrant colours and feel of authentic Punjab. Some key highlights of this Haveli include outdoor dine-in, family-friendly, hygienic toilets, free parking, and more.
The most recently opened restaurant by the Haveli group is the Haveli at Ranjit Avenue, Amritsar (just 5.5 km from the holy Golden Temple), in 2022. You will be amazed by the intricate detailing of its decor & mouth-watering menu. Moreover, the warm-hearted staff will make you feel like a home away from home.
3. Wagah Border
Address - Wagah, Hardo Rattan, Amritsar, Punjab, 143001, India
Fee - No Entry Fee ( Entry Is on First Come First Served Basis)
Timing - 10:00 Am – 4:00 Pm (Mon-Fri) Wagah Border Amritsar
Ceremony : 4:15 pm (In winters) 5:15 pm (In summers)
A Brief About Wagah Border
Wagah border (Wagah Attari Border)is an open army out-post between India and Pakistan. It is approx 32 kilometres from Amritsar India and 24 kilometres from Lahore Punjab. The Wagah Border is located in Amritsar, Punjab. Indians have built the border at one end and Pakistanis at another end of the line.
The biggest highlight is the high-energy "Beating the Retreat"ceremony that happens every evening, where thousands of people gather to watch their national flag lowered and raised, remembering those who have sacrificed their lives for their country. The spring is the most apt time to witness this splendid ceremony as the climate then is pleasant, not too humid and not too cold.
4. Chhatbir Zoo
Address - Distt. SAS Nagar. Punjab. PIN-140603
Website - http://chhatbirzoo.gov.in/
Contact - +91 9877384745
Zoo Timing - 9:00 Am to 5:00 Pm
Fee - Free for Children Below 3 Years/Differently Abled/Authorised Media Personnel, Children (3 to 12 Years)- Rs. 50/- Per Head & Adult (Above 12 years) - Rs. 100/- Per Head
A Brief About Chhatbir Zoo
Punjabi culture has a strong connection with nature. The Chhatbir Zoo is home to many species of birds, mammals and reptiles native to Punjab.
It also houses some rare species from other parts of Asia. It has an excellent infrastructure with modern facilities and amenities for its visitors.
This zoo is open to the public for a nominal fee. Tickets can be purchased online or at the gate on your arrival date. You must book in advance as it gets crowded during weekends and holidays.
This zoo has grown over time to become an internationally-recognized tourist destination, with visitors coming from all over India and beyond. The animals here are well looked after by dedicated keepers who ensure they have everything they need to be happy and healthy.
5. Jallianwala Bagh Massacre Memorial
Address - Golden Temple Rd, Amritsar, Punjab
Timing - 6:30 Am–7:30 Pm (Mon-Sun)
Fee - No Entry Charges
A Brief About Jallianwala Bagh Massacre Memorial
Jallianwala Bagh Massacre Memorial is one of the most popular tourist spots in Amritsar, Punjab. It is a historical place that holds great significance for the Indian independence movement and has been commemorated through several events, including exhibitions and conferences.
The memorial site was renovated between 2019 to 2021 under PM Modi's government. The memorial consists of an inner garden and an outer park with several buildings surrounding it. It also houses an art gallery, museum, library and conference hall, which serves as an administrative centre for various events held at the memorial site. The garden has many trees like mango trees, jasmine vines, and palm trees.
A Bonus Tip:
The Heritage: https://www.haveli.co/the-heritage/
Address - GT Road, Near Khajurla, Jalandhar-Phagwara Highway, Jalandhar, Punjab 144005, India
Contact - +91-95920-65100
Heritage Empress: https://www.haveli.co/heritage-empress/
Address - GT Road, Near Khajurla, Jalandhar-Phagwara Highway, Jalandhar, Punjab 144005, India
Contact - +91-95920-65100
If you plan to host a big fat wedding in Punjab, then the Heritage in Ludhiana would be your best bet. This ambience has so many wonderful things that it is almost impossible not to fall in love with this place. It can also be an apt wedding banquet (up to 600-1500 Guests). This No.1 wedding banquet in the Northern region provides private security, free parking, and in-house catering.
Another option is the Heritage Express in Ludhiana. The Heritage Express in Ludhiana provides you with the best facilities, including stage, dining, dance, and decor. It has three space options for parties: the Noor Mahal — capacity of 250-500 persons —, the Raj Mahal — capacity of 200- 350 persons —; the Mumtaj Mahal — capacity of 250-350 persons —; and the Sheesh Mahal — capacity of 100 persons —. All these have an amazing ambience where you will feel like you are stepping back in time. In addition, these spaces are air-conditioned and have all the facilities needed for a successful celebration. You can book any of these spaces according to your convenience or budget.
Let's Wind Up
From its wide variety of flavours and food to the creativity that is its heritage, Punjab is a place you would want to visit. And, this article will guide you to plan your Punjab itinerary. In case we missed something, feel free to comment through the comment section below!
Disclaimer: This article is a paid publication and does not have journalistic/editorial involvement of Hindustan Times. Hindustan Times does not endorse/subscribe to the content(s) of the article/advertisement and/or view(s) expressed herein. Hindustan Times shall not in any manner, be responsible and/or liable in any manner whatsoever for all that is stated in the article and/or also with regard to the view(s), opinion(s), announcement(s), declaration(s), affirmation(s) etc., stated/featured in the same.