SCG Group aims for tech-driven infrastructure solutions via sustainable means
Published on Jan 20, 2023 07:25 PM IST
Abhijit Datta, MD SCG, on transforming the Indian construction sector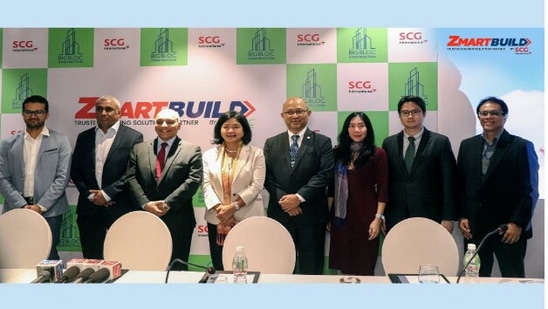 New Delhi (India), January 19: Urbanisation has been an essential component of economic growth and contributes significantly to every nation's economy. Our cities are predicted to contribute 75% of India's national income by 2030, according to a joint report by CBRE and CREDAI. As a result, the Indian construction industry is anticipated to capitalise on significant opportunities in the coming years.
Let us understand more about the biggest JV between SCG group and Big Blocs Construction Ltd. in providing necessary tech-driven urban infrastructure solutions through sustainable and cost-efficient construction practices.
In conversation with Mr. Abhijit Datta, MD of SCG International, on how an Iconic brand is all set to pave the way for urban infrastructure through the most advanced technologies and materials.
1. Could you throw some light on SCG, as an iconic brand in the construction industry?
A- SCG started in the year 1913, a 109-year-old company. We started as a cement company and expanded into the building materials and chemical business. We have 54,000 employees, out of which around 17,000 are outside of Thailand. We have Lots of operations outside of Thailand.
SCG has 3 major businesses, building materials, chemicals, and packaging. We occupy the leading market positions in chemical & packaging. The combined revenue of SCG- is 16.5 billion USD$, half of the revenue is from Thailand and the remaining half from other countries.
We add high-value products, we develop service solutions and products. SCG International is the number 2 player in the world for ceramics. SCG International has a reasonably large FCB manufacturing facility, which we also supply to India. We also have a wide range of products in cement and building material space too.
SCG International takes its sustainable practices very seriously in fact we consistently rank in the Dow Jones sustainability index, ratings too. SCG International commits to achieving net zero by 2050 and as progress, we have also committed that by 2030 we will reduce greenhouse gas emissions by 28%. Our commitment also lies in reducing the withdrawal of underground water by about 23%. Hence we always keep a tab on the environmental impact of our practices and devise ways we can improve.
2. Can you kindly share more specifics of this partnership?
A- We believe in having long-term partnerships since time immemorial. SCG has always had great partnerships with big brands in the world such as Toyota, Mitsubishi, Dow chemicals, Mitsui chemicals, Chandra Shri, VC, Delta Labs, Kubota and so on.
In India especially because we do not know the local business practices and the market. But we bring the strength of products/solutions and best industry practices. Thus by partnering with local business leaders, we can take advantage of both strengths in bringing innovative building materials to India.
3. How will this partnership impact the customers of both organisations?
A-This partnership is envisioned to solve some crucial challenges in the Indian construction market. The major challenges include:
Speed of construction
How do we make sure our construction sites are environmentally sustainable
4. How do we make sure we get better quality
Over the last 100 years, SCG has acquired a lot of experience in building materials manufacturing & innovation. We have achieved excellence in process & technology and would like to introduce them to the Indian construction market. What we envision is to bring products that are SMART i.e: the products need to be fast and achieve faster outputs. EFFICIENT i.e: more productivity, fewer labourers and CLEAN Construction Sites, i.e: environmentally sustainable construction sites and business practices. To achieve this we believe we need to grow more & more modular.
5. Why did SCG International choose Gujarat and Big Bloc for starting the first manufacturing facility in India?
A- Gujarat, has a positive work culture, availability of resources & raw materials, and electricity is not a problem. More than anything it is a great partnership with Big Bloc that helped us decide on starting our first wall panel facility in Gujarat. Trust is the foundation of a partnership. There is an element of trust and a common vision of what we want to achieve in India and how we want to have a synergy between our common strengths.
6. What are the reasons for investing in the Indian market?
A- First, there is a rapid growth of construction in the Indian market. Many professional groups have projected that India will become the number 3 construction market by 2023. The long-term growth is very strong. Second is rapid urbanisation and people moving to bigger cities, construction is going up.
Third, we believe there is a gap and a potential to improve construction technologies and practices in India. This is where we foresee using our strengths.
7. What customer problem/solution does this partnership address at large?
A-Wall panels can save labour costs and time, they are faster than bricks /blocks and are installed with tongue and groove. The Panels are solid, strong and long-lasting. The fire rating is very good, we are exporting to Australia and fire in that country is a hazard. The energy saving is good because it's aerated and therefore it works as thermal insulation so the energy cost is less. Light weight around 53 kg/sqm and easy to carry.
8. What is SCG International and how is it related to SCG?
A- SCG International is a subsidiary of SCG group and when we enter emerging markets like Africa, India, the Middle East and Bangladesh, SCG starts with SCG International.
We come in and test the waters and explore opportunities. We do end-to-end supply chains in 20 countries in the world. We have started the green EV business in Thailand and are looking to make it an impactful one.
9. How do you see your vision for India with this new JV and its impact?
A- To achieve our vision of this partnership, we need to combine our strengths with a local partner. The vision is to bring a strong partnership and bring this new way of construction into the Indian market.
The first product is the AAC wall panel, produced in Thailand under the brand name Q-Con. It's present in the Thailand market for about 25 years now and has investments in Indonesia as well.
We have brought it to India under the brand name ZMARTBUILD. Registered in India as our Trademark and marketed as ZMARTBUILD Wall Panels.
10. Now that the land acquisition has taken place how long will it take for the commercial production of the wall panels to start?
A- We have more than 3100 projects of Wall panels in Thailand. With the increase in a high-rise, residential buildings in Thailand faced an issue of on-time project completion with cost savings. Q-Con wall panels solve just that.
In India, we have started supplying the wall panels since it was shipped from Thailand. The freight charges were high. Looking at the construction trends and projecting the wall panels demand in India we decided to start the manufacturing facility here.
Currently, we have 10+ projects, namely in Jaipur, Rajasthan, Pune, Gujarat and many others in the pipeline. We estimate that by the 3rd quarter of the financial year, the facility will be ready and more ZMARTBUILD Wall Panel products will be available for the Indian market.
Disclaimer: This article is a paid publication and does not have journalistic/editorial involvement of Hindustan Times. Hindustan Times does not endorse/subscribe to the content(s) of the article/advertisement and/or view(s) expressed herein. Hindustan Times shall not in any manner, be responsible and/or liable in any manner whatsoever for all that is stated in the article and/or also with regard to the view(s), opinion(s), announcement(s), declaration(s), affirmation(s) etc., stated/featured in the same.