SSE to organise 2nd International Conference on FECO
Published on Jan 13, 2023 06:31 PM IST
The conference will focus on discussing the social and economic developments in employment and livelihood around the world, challenges faced during the Pandemic and exploring future opportunities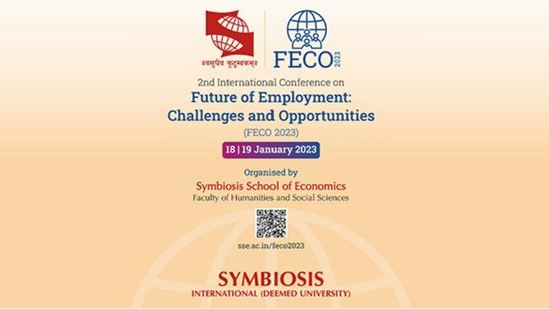 India, 13th January 2023: Symbiosis School of Economics, a pioneering education hub in India, is set to organise the 2nd International Conference on the Future of Employment: Challenges and Opportunities (FECO 2023) on 18th and 19th January 2023. The conference will focus on discussing the social and economic developments in employment and livelihood around the world, challenges faced during the Pandemic and exploring future opportunities. Spread over two, enriching days, the conference will feature keynote speakers such as Alakh Sharma, Director of the Institute of Human Development; Satoshi Sakari, Deputy Director, ILO; and Santosh Mehrotra, Visiting Professor at the University of Bath amongst others.
The Indian informal labour force accounts for approximately 21% of the global informal workforce. India's role in the global achievement of the UN's SDG 8 is vital. With this fact at its centre, the Symbiosis School of Economics (SSE) will be hosting the second international conference - Future of Employment: Challenges and Opportunities - FECO 2023, on the 18th and 19th of Jan, 2023. While the school remains focussed on Sustainable Development Goals (SDGs) - this conference especially highlights SDG 8, with reference to the macroeconomic variables - Growth and Decent Work (employment).
As we inch towards the 2030 Sustainable Development Agenda, the conference is set to highlight challenges and opportunities with respect to employment and job creation, given India's demographic dividend, a population with a median age of 28 in 2022. The conference will run five tracks which include - macroeconomic implications of employment, understanding employment in the informal sector, women and employment, covid 19 and the changing employment scenario as well as reviewing the pertinent labour sector reforms and policies, required to address the employment challenges in a dynamic, uncertain, complex and disruptive global framework within which varied economies are functioning.
The pandemic, followed by recent geopolitical tensions have resulted in higher inflation, energy and food crises and the expectation of a global recession in 2023. Recent forecasts predict the worst job crises since the Great Depression of 1929, as firms attempt to protect their bottom lines by reducing labour cost. Only time will unfurl the resilience in the labour market, both globally and in India, as economies and companies respond and adjust differently.
The trend for the unemployment rate in India over 2022 has ranged from a low of 6.43 in September, to a high of 8.3 per cent in December. For rural areas, it ranged between 5.83 per cent in January and September with a high of 8.37 per cent in February. The Urban unemployment rate was higher than rural in 2022 as per Centre for Monitoring Indian Economy (CMIE) data. Economic growth does not necessarily create more jobs, as the country has experienced a low employment elasticity resulting in not only joblessness but also job loss growth.
The last three decades has seen the global labour force participation rate (LFPR) steadily inch downwards from 65 in 1990 to 64 in 2000, to 62 in 2010 declining sharply to 59 percent in 2020 and 2021 on account of the pandemic. While the LFPR for India stood 8 per cent lower at 58 per cent in 1990 compared with the global figures, it witnessed a sharp fall in 2010 when it stood at 54 percent and had continued to decline even before the pandemic at 48 per cent in 2019, further sliding to 45 percent in 2020 (World Bank). One of the factors responsible for India's low LFPR is the low female labour force participation rate (FLFPR) for India, which is one of the lowest in the world. at 19 while the global average is 46 per cent in 2021.
There are myriad and complex socio-economic and cultural issues resulting in a declining FLFPR in India, but this trend is likely to change as we see a higher gross enrolment ratio (GER) for females at 27.3 per cent in 2019-20 compared with 26.9 per cent for men as per ASHIE data. This trend has been gradually increasing since 2013-14. Further, the declining Total Fertility Rate (TFR) which stood at 2 as per the National Health Family Survey (NHFS - 5) in 2019-20 when compared with 2.2 for (NHFS-4) in 2014-15 and also the percentage of women marrying before attaining the legal age declining from 26.8 to 23.3 over the two survey period. There is no doubt that India has to ensure better nudge interventions to address the gender inequality that has prevailed over a long period of time.
The informal labour market which makes up 90 percent of the labour force is characterised by low productivity and wages, while its share in India's Gross Value Added (GV) has been more than 50 percent since 2011-12 to 2017-18. Further, according to International Labour Organisation (ILO) globally nearly two billion or 60 per cent of the employment is engaged with informal segment.
Another major concern in India, is the high proportion of unemployed youth (15-24 years) - with nearly 33 per cent not even falling into the education, employment and training (NEET) category. This undoubtedly poses a significant human development challenge - pointing to an absence of decent work or employment opportunities.
It is evident that the government will continue to grapple with employment challenges despite a large number of interventions and reforms. Although these reforms approach the issues from various angles like creating an environment for ease of doing business, encouraging start-ups, skill India, digital India and other interventions which will address gender issues,, it is a concern that India may fail to address the targets related to decent, productive work, SDG goal 8. There is an evident and urgent need to address the concerns of the rising millions of unemployed people in the country, before the demographic dividend results in a human struggle for survival. Given this backdrop, FECO 2023 organised by Symbiosis School of Economics seeks to deliberate on these issues with an impressive line-up of expert resource persons.
The session will streamed live on: https://youtu.be/nUhwuDB29g4
Disclaimer: This article is a paid publication and does not have journalistic/editorial involvement of Hindustan Times. Hindustan Times does not endorse/subscribe to the content(s) of the article/advertisement and/or view(s) expressed herein. Hindustan Times shall not in any manner, be responsible and/or liable in any manner whatsoever for all that is stated in the article and/or also with regard to the view(s), opinion(s), announcement(s), declaration(s), affirmation(s) etc., stated/featured in the same.