Sushain Lite Mobile App to make Ayurvedic Treatments More Accessible
Published on Jan 06, 2023 07:00 PM IST
The app, founded by Dr. Rajesh Singh, aims to make Ayurveda and Ayurvedic treatments accessible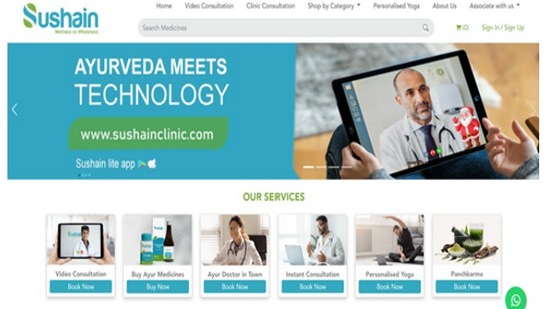 Ayurveda, as one would know, is a well-designed medicine system that originates from India. Ayurveda has been around for centuries and it is being widely used in India and other countries for different treatment procedures. Despite all the acclaim Ayurveda has received, there is a need to create more awareness around it. In several cities and towns in India, people don't even have access to Ayurvedic treatment centres. This is an issue Sushain Wellness, an Ayurveda-based platform founded by Dr. Rajesh Singh, seeks to resolve.
Talking about the vision behind Sushain Wellness, Dr. Singh says, "Sushain is an Ayurvedic platform that is put together with the vision to promote wellness and wholeness. If you break down Sushain into two halves, you will get a clear idea of what we do. While 'Shu' refers to 'good', 'shain' translates to 'doctor'. While a large number of people are aware of the benefits of Ayurveda, many of them do not have access to it. We want to make Ayurvedic treatments more accessible."
Sushain Wellness has now launched an app called Sushain Lite that has been designed to help people reach out to Ayurvedic doctors and get high-quality Ayurvedic consultation and treatment. Though the app has been launched recently, it has already helped a large number of people get the right Ayurveda-based treatment for their ailments. In the near future, this app shall contribute greatly to the growth of Ayurveda in India.
"I have worked on giving shape to Sushain Lite for a very long time. There are more number of Ayurveda doctors and health practitioners in India than we can imagine. However, a lot of people don't know how to reach them. If you are living in a small village, there could be a good Ayurvedic treatment centre in a city few miles away but you wouldn't know about it. This app has been designed to fix this problem. Ayurvedic treatments will now be much more accessible and available for all", states Dr. Singh.
Dr. Rajesh Singh acknowledges the fact that despite being an organic treatment procedure and offering a wide range of benefits, there are many who are still apprehensive about opting for Ayurveda treatment. While Allopath enjoys wide acceptability, Ayurveda evokes divergent reactions. There are many who are skeptical of the efficacy of Ayurveda to heal people; while there are others who vehemently advocate its usage.
Addressing this issue, Dr. Singh states, "There is no dearth of good Ayurveda practitioners nor are there any shortages of effective Ayurveda medicines. The reality is that we have never taken it seriously. We consume Ayurvedic products with Over the Counter (OTC) purchases or get influenced by the Over the Mic (OTM) announcements. Ayurveda is scientific, serious and miraculous but our casual approach to it has reduced it to the space of 'Home Remedies' instead of being in the 'Expert Domain'. There are MSs, MDs and PhDs in Ayurveda. That there are highly qualified and experienced doctors who are specialists in different streams of Ayurveda."
Despite living in one of the most developed eras of human existence with easy access to luxury and comfort in our lives, Dr. Singh states that we are suffering because of the lack of a wellness system around us. Lethargy, stress, chronic illnesses and lifestyle diseases are quite widespread and engulfing our happiness.
The vision of Sushain Wellnesss resonated with hundreds of qualified and experienced practitioners of Ayurveda who graciously agreed to come on board in an endeavour to promote 'Goodness of Life'.
Sushain Lite is an end-to-end platform where people, in need of a consultation, can meet the experts online or book an appointment and visit in person. Convenience is at the core of the design of this platform. People can buy genuine medicinal products, can book Panchakarma therapies and get advice for their wellness problems.
Disclaimer: This article is a paid publication and does not have journalistic/editorial involvement of Hindustan Times. Hindustan Times does not endorse/subscribe to the content(s) of the article/advertisement and/or view(s) expressed herein. Hindustan Times shall not in any manner, be responsible and/or liable in any manner whatsoever for all that is stated in the article and/or also with regard to the view(s), opinion(s), announcement(s), declaration(s), affirmation(s) etc., stated/featured in the same. This information does not constitute a health advice.