Top 10 Web Development Companies In Japan In 2023
Published on Jan 23, 2023 07:57 PM IST
Given the increasing demand for experts who can deliver as per these trends, the need for the best web development companies in Japan also increased. So, if you have been looking for a competent web development company in Japan, here is a list of the Top 10 Web Development Companies in Japan in 2023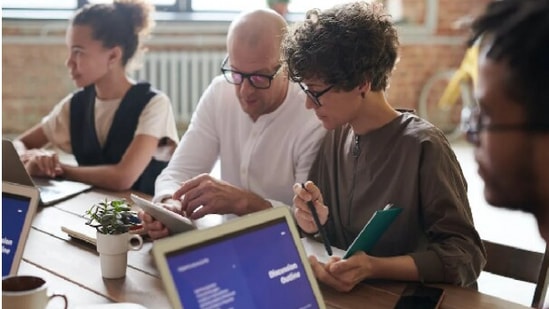 The year 2022 brought another whirlwind in the web development world like Progressive Web Apps (PWA), API-first designs, AI-ML designs, etc.
Given the increasing demand for experts who can deliver as per these trends, the need for the best web development companies in Japan also increased. So, if you have been looking for a competent web development company in Japan,
List of Top 10 Trusted Web Development Companies in Japan 2023
1) eSparkBiz
eSparkBiz is a web development company in India founded in 2010. It is known for its services in web and mobile app development, Blockchain development, IT staff augmentation, and custom digital solutions to all types & sizes of businesses. They have a reputed global presence with proven competency in modern techs and innovative, futuristic solutions. If you're seeking business consultation, back-end or front-end development, web portal development, or CMS system development, you can reach out to eSparkBiz.
One of the top web development companies in Japan, eSparkBiz has teams of experts that are proficient in Custom software development, SaaS, Web App Development, IoT, Blockchain, eCommerce, and many more that are human-centred.
Headquarters: Ahmedabad, India
Years in Business: 12
Recognition: Clutch, Hubspot
2) QBurst
A web development company with international operations, QBurst is known for its custom web development and cognitive solutions. The company provides solutions for everything from mobile to analytics and visualization to web cloud. It has a team of experts that specialize in new and improved technologies like the SMAC stack. The company operates in many countries besides Japan like the USA, UK, Singapore, India, Australia, etc.
Among its clients, some prominent names are Omron, National Geographic, etc.
Headquarters: Trivandrum, India
Years in Business: 18
Recognition: The Economic Times, Statista, Good Firms
3) Ikayzo
Founded in 2004, Ikayzo developed as a creative web development agency over the years. The top industries served by this company include the Government, Finance, and eCommerce. They have a list of high-end clients including Intel, Adobe, Google, Oracle, IBM, etc. For these industries and clients, Ikayzo has worked on projects that required framework scripting, CMS design and development, web app development, etc.
Headquarters: Tokyo, Japan
Years in Business: 18
Recognition: Good Firms, Clutch
4) EMURGO
A global tech company, EMURGO provides solutions to developers, governments, business organizations, and startups. They specialize in providing web development and Blockchain solutions. This company is one of the founders of the Cardano Blockchain and provides services in Blockchain development and education.
Besides, they have developed solutions like wallets, task forces, etc. that make them one of the top web development companies in Japan.
Headquarters: Singapore
Years in Business: 6
Recognition: Good Firms
5) Warp Japan
Building "borderless experiences" is what Warp Japan is all about. The company is an IT solutions provider, providing services in web development, design, research, and strategy. Their web development brochure includes Shopify development, website development, and more.
Warp Japan is a member of the VISEO group and its website has been awarded for its design.
Headquarters: Tokyo, Japan
Years in Business: 14
Recognition: Clutch, Good Firms
6) Arsaga
Established in 2016, Arsaga is a Japanese company providing services in strategy consulting, development, and operations. Their areas of service include AI, IoT, front desk, core systems, applications, and more.
They work on infrastructure design, database design, system development, UI/UX design, and more.
Headquarters: Tokyo, Japan
Years in Business: 12
Recognition: Good Firms
7) XOXZO
Founded in 2007, XOXZO is a veteran on our list. Focused on providing telephone web APIs for web developers, this company aims at 'democratizing communication'. Over the years, XOXZO has developed its own patented solutions that are tailored for the end users. Their web APIs help users send and receive SMSs, search for carriers and make or receive calls through the web APIs.
Headquarters: Tokyo, Japan
Years in Business: 15
Recognition: Clutch
8) Rikkeisoft
Founded in 2012, this Vietnam-based company provides IT services in regions of North America, Europe, and APAC. The company is serving industries like Logistics, eCommerce, BFSI, Automotive, Manufacturing, and the Public Sector.
Apart from the basic development practices, they are also providing solutions in the Cloud, Blockchain, and Salesforce sectors. In 2022, the company also received the Globee Business Award for its IT services, making them one of the top web development companies in Japan.
Headquarters: Hanoi, Vietnam
Years in Business: 10
Recognition: Clutch, Trustpilot
9) FOURDIGIT
A new-age design and development company, FOURDIGIT provides services in service design, digital product development, experience design, digital branding, and design ops. The focus areas behind their services are user-centric designs, quality deliverables, inclusive experience, and usability.
As part of their sustainable development approach, they carry out work based on Creating Shared Value (CSV).
Headquarters: Minato City, Japan
Years in Business: 21
Recognition: Clutch
10) Tokyo Branch
Founded in 2015, Tokyo Branch is a business solutions company providing game and web development services. They have proficiency in languages like PHP, GO, Java, Python, RoR, and more. As one of the top web development companies in Japan, full-stack development is their strong suit.
Headquarters: Tokyo, Japan
Years in Business: 7
Recognition: Clutch
Conclusion
So, this was the list of the best web development companies in Japan. Most of these companies operate in multiple countries, Japan being one of them. So, they are not all headquartered in Japan. If you're looking forward to hire dedicated developer to fulfill your web development needs then this list will surely help you find the best one for your job.
Disclaimer: This article is a paid publication and does not have journalistic/editorial involvement of Hindustan Times. Hindustan Times does not endorse/subscribe to the content(s) of the article/advertisement and/or view(s) expressed herein. Hindustan Times shall not in any manner, be responsible and/or liable in any manner whatsoever for all that is stated in the article and/or also with regard to the view(s), opinion(s), announcement(s), declaration(s), affirmation(s) etc., stated/featured in the same.