Top Influential Entrepreneurs of the Year 2023
Published on Feb 01, 2023 06:58 PM IST
There is a list of Top influential entrepreneurs who we believe will make a big impact in India over the next few years. These leaders are making great strides in various industries, and we can't wait to see what they accomplish in the future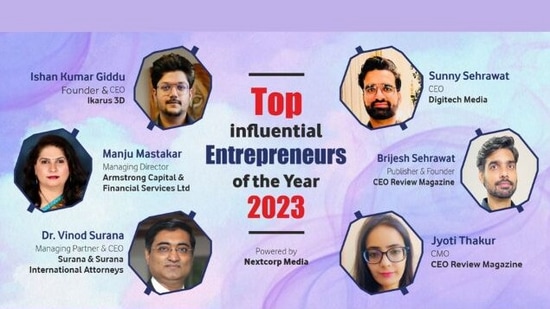 New Delhi (India), February 1: These leaders are making great strides in various industries, and we can't wait to see what they accomplish in the future.
Which entrepreneurs are making the biggest impact in India? This is a question that has been asked by many, and there is no definitive answer. There is a list of Top influential entrepreneurs who we believe will make a big impact in India over the next few years. These leaders are making great strides in various industries, and we can't wait to see what they accomplish in the future. These leaders will be at the forefront of change, and their businesses will blaze a trail for the rest of India's entrepreneurs. So, who are these visionaries? Keep reading to find out.
1. Ishan Kumar Giddu
Ishan Kumar Giddu is the young and spirited CEO and founder of Ikarus 3D, India's leading 3D modelling company that caters to the AR, VR, MR and WebAR industries. The company serves clients in more than 17 countries by providing 3D models for product visualizations, virtual try-on and the 3D avatar market. His story motivates his team at Ikarus 3D, and the company has achieved tremendous growth since its inception 3 years ago. Ishan strives to make Ikarus 3D the venture of growth, be it the growth of its people, clients, patron's money or skill. He focuses on making a long-lasting impact in the virtual world and touching numerous lives with 3D technology for a virtually integrated future. Featured in several publications and bagging an Aegis Graham Bell Awards 2022 nomination in the category 'innovation in AR and VR', Ishan's company has shown incredible growth by more than tripling Ikarus 3D's revenue in the last quarter of 2020-21 and maintaining a consistent quarter on quarter growth at 75% since.
2. Manju Mastakar
Manju Mastakar's success story as the Managing Director of Armstrong Capital & Financial Services Ltd. is just another example of how empowered women have always been in India. From Dalal Street as an equity dealer, she went on to establish her practice in Bangalore as a Financial Advisor. Armstrong Capital started its operations in the year 2010 under Ms. Manju Mastakar's leadership and visionary ideologies. Having worked in the financial services industry for over 25 years, she has been very effective with her policies, plans and their implementations. Her passion, vision and hard work helped the organisation empower its wings and fly at distant skies. An eternal optimist, she does not shriek away from challenges, for her challenges are no more confined to achieving scale but to align the strategy of the organization with the changed environment.
Armstrong Capital is an investment solution firm that offers a complete spectrum of wealth management services to its clients. At Armstrong Capital, every relationship starts with a Financial Plan to understand all the investments done in the past and bucket that into life goals. The firm offers a systematic approach to financial planning so that all financial goals can be identified and achieved. Armstrong Capital's bespoke services are reinforced by excellent execution, a robust investment policy framework, and a rigorous due diligence process with a strong emphasis on picking future winners. Armstrong Capital currently serves more than 1000 delighted clients. Each client is serviced by Personal Investment Adviser along with a Service Manager backed by in-house research and technology platform.
3. Dr. Vinod Surana
Surana & Surana International Attorneys (www.suranaandsurana.com) is recommended as the "go-to" law firm in South India by leading international publications and is consistently ranked among the top 10 firms in India since 1998 by national and international publications for its commitment to providing expert legal solutions in complex matters.
The Managing Partner & CEO of the firm, Dr. Vinod Surana, has qualified from prestigious institutions such as Harvard, Cornell, UCLA, LSE and Indian Institutes of Management (Bangalore and Ahmedabad). He has been the Co-Chairman of
ASSOCHAM for South India (2016-2021) and is currently elected as the Senior Vice Chairman of All India Manufacturer's Organization (TNSB) (2021-2023). He is the Honorary Legal Advisor to Govt. of Taiwan in India. He has led eleven Industry delegations under CII and FICCI to South America & Israel to promote Indian diplomatic, political and trade interests.
Dr. Vinod Surana is a rare combination of a successful lawyer, accredited mediator, social worker, academician, law firm CEO, policy advisor and strategist. He has inspired generations of lawyers and entrepreneurs.
4. Sunny Sehrawat
Sunny Sehrawat is the co-founder of Digitech Media. He is also the CEO and Publisher of Business View Magazine. Sunny has over 5 years of experience in the field of digital marketing and has helped numerous businesses grow online. He is an expert in search engine optimization (SEO), Ranked in India's Top 3 SEO Experts in 2018-19, and has a proven track record of helping businesses rank higher in search engine results pages (SERPs). Sunny is also a well-known speaker and has spoken at various conferences and events on the topic of digital marketing. In addition to his work as an SEO Expert, Sunny is also a certified Google AdWords Professional (GACP).
Sunny Sehrawat is a well Known PR Consultant & Media Monitoring Pundit. At Digitech Media, their mission is to help businesses grow online and reach their full potential. He is passionate about helping businesses succeed and is always looking for new ways to help them grow.
5. Brijesh Sehrawat
Brijesh Sehrawat is a renowned publisher and owner of CEO Review Magazine, India's premier magazine dedicated to CEOs and top executives. As its founder and driving force, Brijesh Sehrawat is responsible for much of the magazine's success. He drives hard to maintain high-quality standards throughout each issue, focusing on insightful content that can help business leaders make better decisions. Additionally, he works closely with his team to ensure timely delivery and strategic marketing initiatives.
6. Jyoti Thakur
Jyoti Thakur is one of India's most successful and influential digital entrepreneurs. As CMO of CEO review Magazine, she has used her expertise in marketing and technology to grow the magazine's reach and influence. She has also been instrumental in creating an online platform for entrepreneurs to connect and share their best practices. Through her work, Jyoti has become a powerful advocate for entrepreneurship in India, and her efforts have helped position the country as a leading destination for innovative businesses. Thanks to her vision and leadership, Jyoti has made a lasting impact on the Indian startup ecosystem and continues to be a driving force in the country's digital economy for years to come.
Disclaimer: This article is a paid publication and does not have journalistic/editorial involvement of Hindustan Times. Hindustan Times does not endorse/subscribe to the content(s) of the article/advertisement and/or view(s) expressed herein. Hindustan Times shall not in any manner, be responsible and/or liable in any manner whatsoever for all that is stated in the article and/or also with regard to the view(s), opinion(s), announcement(s), declaration(s), affirmation(s) etc., stated/featured in the same.