10 Best mobile App development companies in Bangalore
Updated on Jul 25, 2022 06:29 PM IST
As per the current state of the market, here are the best mobile app development companies in Bangalore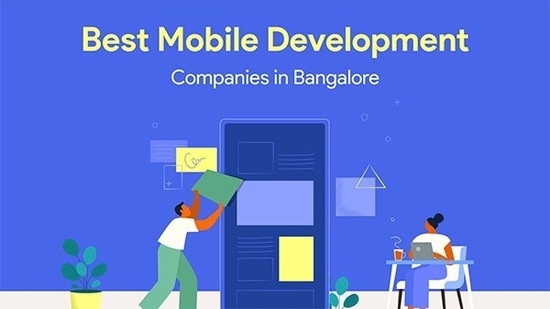 Bangalore is called the "Silicon Valley of India." Its increasingly-known status as the Indian IT center signals the direction it's headed in. Career-wise, IT businesses employ nearly 45% of the 2.5 million available IT professionals in Bangalore. Additionally, the city provides predictions for the nation's outstanding export growth in the information technology sector.
Businesses increasingly rely on mobile applications to expand their customer base and provide efficient products and services. To respond to this phenomenon, Bangalore saw the emergence of numerous mobile app development firms that updated their technological capabilities to serve their clients better.
Due to the enormous and ever-increasing demand in the mobile development industry, designing convenient apps for iOS and Android has become the newest trend. The need for high-quality mobile apps has increased, as have customer expectations. To survive the heightened expectations, Bangalore's top mobile development companies tend to utilize significantly advanced cutting-edge technologies to enhance their services.
Selecting the best development firm for your next project may put quite a bit of strain on your shoulders. Therefore, there are some key concepts for you to consider before choosing the mobile app developers you're going to be working with. We advise you to:
Investigate their portfolio.
Verify their ratings.
Look at their case studies.
As per the current state of the market, here are the best mobile app development companies in Bangalore:
A dynamic web solutions provider, eFlair excels at designing, creating, and marketing websites and mobile applications. It is one of the finest mobile app development companies in Bangalore and has rated as the best mobile application developer in India by leading publications consistently. They have a diverse portfolio of successful high-end projects and can provide the highest level of customer satisfaction. They have flexible working hours, which enables them to accommodate your schedule.
Eflair is a one-stop-shop for all your mobile development needs, from planning and all the way to coding and successful marketing. They provide a fluid working environment with regularly scheduled meetings, strategic workflow management, a personal approach to client interactions, proper QA, regular bug testing, timely deployments of functioning prototypes, and ROI updates.
They are a team of highly skilled professionals who understand how to create exceptional apps that meet your business needs. Their dedicated team ensures that all tasks are completed on time and within budget. You can get a live demo of their work before hiring them for any project. They are one of the top mobile development companies in Bangalore that offer 24/7 support and are available to address your concerns or queries anytime.
Cost Per Hour
$20 - $49
Min. Project Amount
$5000 - $100000
Mistral solutions
Mistral offers end-to-end services for product development and implementation. It specializes in technology design and system engineering. Their embedded Android software development experts have in-depth knowledge of the Linux Kernel, Android Runtime, JNI, Android SDK, Android HAL, framework APIs, development tools, testing processes, and ways to either minimize potential issues or avoid them altogether.
Mistral has over 20 years of operational expertise in these fields. Their build-to-spec engineering expertise allows them to provide specialized solutions across various industries and for various applications, including aerospace, defense, wearable electronics, home automation, industrial automation, infotainment, medical electronics, and assistive technology. They are one of the best android app development companies in Bangalore you can rely on to get things done properly and on time.
Cost Per Hour
$51 - $100
Min. Project Amount
$50001 - $100000
Extentia
Extentia is an experienced company that has been in the industry for over ten years. They have worked with a diverse range of customers, including Fortune 500 companies. Their qualifications and expertise make them one of the best mobile app development companies in Bangalore.
They are highly experienced in the field of mobile development, enabling them to provide professional solutions that are in line with your business needs, however strict and particular they may be. The company is known for its exceptional customer service, making it an ideal choice for all your unrealized IT projects. In fact, they provide a full suite of IT services and solutions.
Cost Per Hour
$26 - $50
Min. Project Amount:
$5001 - $10000
Brill Mindz
One of the best custom software development and web development services comes from BrillMindz, widely considered as one of the top mobile app development companies in India. Their 200+ developers are trained and experienced to serve enterprises, individuals, and small businesses worldwide by providing creative, approachable, and reliable IT solutions. They create specialized Android and iOS apps using cutting-edge technologies that are interactive, user-friendly, and feature-rich for different mobile gadgets, tablets, and other devices.
Their team offers a full range of digital services, including conception, design, development, testing, marketing, and maintenance, all topped off with ongoing support.
In the last eight years, they have successfully completed over a thousand projects across all key sectors and market segments. They are a reliable Android app development company in Bangalore that you can consider hiring for your next project.
Cost Per Hour
Up to $25
Min. Project Amount
Less than $5000
RapidValue Solutions Inc
In industries like retail, education, healthcare, pharmaceuticals, logistics, financial institutions, manufacturing, media, and entertainment, the requirements are quite strict, and RapidValue is considered a global leader in providing digital transformation services to businesses of all kinds. They expedite time-to-market and can jointly develop the next digital experience that exceeds your wildest expectations by utilizing agile techniques, reusable assets, and deep technology expertise.
Strategy, UX design, application engineering, integration, enterprise system enablement, testing, and support & maintenance are just a few services they provide, targeting mobile, omnichannel, cloud, and IoT development.
RapidValue provides cutting-edge solutions in-line with the strict requirements of various Fortune 500 and Fortune 1000 organizations, multinational companies, and innovative start-ups. Having worked on 600+ diverse projects with 150+ customers worldwide, RapidValue has unrivaled expertise serving LinkedIn, Facebook, Yahoo, General Electric, eBay, Citrix, and other high-profile clients. It is one of the most trustworthy website and app development companies in Bangalore.
Cost Per Hour
$26 - $50
Min. Project Amount
$10001 - $25000
Indglobal
Indglobal is a multi-award-winning software development business with a significant regional presence in Dubai, United Arab Emirates. They have ten years of experience providing various online solutions tailored to the specific requirements of multiple markets and industries, giving them great exposure and a great pool of expertise to draw from.
Their services include software development, ERP, Odoo, e-commerce, mobile apps, digital marketing, and digital transformation. Additionally, their products have received numerous honors and awards.
Cost Per Hour
$26 - $50
Min. Project Amount
$10001 - $25000
Fusion informatics
Fusion Informatics is a Quality Mark Award-winning and ISO 9001:2015 Certified Company. Since its establishment in 2000, it has worked with 5000+ business clients and 1000+ mobile apps. This includes Bosch, Lenovo, Bharat Petroleum, Reliance, Othaim, WorkerAppz, and other companies of high acclaim.
They provide a wide range of services, such as Business Process Automation solutions & services, IoT, Blockchain, Cloud computing, iOS/iPhone apps, Android apps, and Artificial Intelligence, Data Science, Machine Learning, and Enterprise Mobile App Development. Based on its project portfolio, this is a dependable mobile development company in Bangalore.
Hourly Rates:
Up to $25
Min. Project amount:
$5001 - $10000
Terralogic Inc
As a reputable software development firm, Terralogic is dedicated to providing clients with software and mobile apps that enhance their operations. Since its inception in 2008, Terralogic has produced countless applications for small and large businesses alike. Their development team focuses on creating IT solutions that are tailored around their clients' exact needs.
Their services are based on the latest tools and technology, including IoT, data science, and cloud computing. They offer UI/UX Design, Software Development, Mobile App Development firms, Cloud Services, Expert IT Solutions, Secure Blockchain Technology Implementation, and other services.
Hourly Rates:
$26 - $50
Min. Project amount:
$5001 - $10000
Travjury Software Pvt. Ltd.
Founded in 2018, Travjury is a full-stack software development company in Bengaluru. They assign a focus group to each program layer, from strong data processing to fluidly responsive displays. Their staff consists of seasoned experts who have completed numerous projects for various customers.
Product Engineering, Web Services (API), Saas & Cloud, Web Applications, Blockchain Applications, Progressive Web Apps, Website Design, and Digital Marketing are some of their strongest areas of expertise.
Cost Per Hour
Up to $25
Min. Project Amount
Less than $5000
Black Turtle Diginovation Pvt
They are a niche consulting firm with extensive industry knowledge across all verticals. When working diligently to meet the needs of their clients, they are no strangers to implementing automated solutions. Forming long-lasting partnerships with companies, startups, and entrepreneurs, they are dedicated to bringing their cutting-edge ideas to life.
Their team provides various services like enterprise application development, web and desktop application development, native and hybrid mobile app development, and digital consultancy to start-ups and budding entrepreneurs.
Hourly Rates:
Up to $25
Min. Project amount:
Less than - $5000

Types of mobile applications

If we divide mobile apps into three categories based on the way they're coded, these would be:
Native applications that are designed only for a single platform or OS.
Web apps are mobile-friendly versions of websites that may be viewed on any mobile device or operating system because they are delivered through a mobile browser.
Hybrid apps combine features from native and online applications, however, they are contained within native programs that can have their icons or be downloaded from an app store.

What does the mobile app development process entail?
Developing a mobile app involves multiple steps that take it all the way from a concept phase to a polished product, packed full of features that bring value to the end-user.
1. Planning and conceptualizing: This is the first step in the app development process. It involves information gathering through various methods, including market research to see what the competition is doing as well as interviewing the clients to set a better vision for it and its design goals. In this step, the objective is to determine the feasibility of the app's initial idea by researching and double-checking whether there's a market need for it.
2. Prototyping: This is where we take a concept, create a minimum viable product built around it, and test to see whether it functions in practice. Notice the emphasis is on 'minimum viable'. This means functionality takes precedence over form - worrying about user friendliness and overall design is something that comes later. Think of it as testing out a technical concept. A good example is verifying whether it's possible to connect functionality X to a third party service Y, what the best approach is, and whether there are any issues that surface along the way.
3. User Interface design: This is an essential part of any mobile app development project as it ties up the app's functionality to an interactive interface, all while trying to execute it in as user-friendly manner as possible. To accomplish this goal, we need to ask ourselves whether we understand the optimal user flow, the element hierarchy, etc. If there are similar apps in the marketplace, what makes some of them feel intuitive and others clunky? The objective here isn't to reinvent the wheel; it's to model the overall user experience after the very best examples out there.
4. Development: This is where the developer starts coding the final version of the app using various technologies such as HTML5, CSS3, and JavaScript. If deemed necessary or beneficial, certain frameworks can be used such as PhoneGap or the Ionic framework. The objective here is to make the best possible version of the app that's based on the fully-functioning mockup, but with polished graphics, spotless code, optimized UI and UX, and so forth.
5. Testing: This step involves testing your application on various different devices such as Android, iOS, Windows Phone 8, and Blackberry 10. The idea is to see how it behaves on different resolutions and devices to iron out any glitches or display inconsistencies. If there are any bugs, it's essential to resolve them prior to deploying the app. To optimize the process even further, a skilled app developer will prepare a streamlined set of test cases to run through and see whether the app passes them or not. This comes in handy when implementing additional functionality, at which point it's necessary to re-run all the tests to see if anything breaks.
6. Deployment: This step involves uploading your app to Apple App Store or Google Play Store for users to download it and install it to their devices. Every single time you decide to release a new version of the app, you will have to repeat this step one more time and pass the review and approval process. To ensure the highest chance of success, your developer should have ironed out all the bugs and display inconsistencies in one of the previous steps.
7. Maintenance & Updates: This is an ongoing task where you need to update your mobile app periodically to stay up-to-date with the latest trends and technologies as well as make sure it's secure. To avoid falling behind your competitors, it's important to take your users' feedback into consideration and implement the features they're requesting and address any issues they might be complaining about. The best mobile development companies will keep a watchful eye on this and make sure your app stays compliant and performs well long after its initial release.

Why do we need a mobile app for our business?
Nowadays, almost everyone carries a smart device in their back-pocket. As data shows, roughly 50% of all online traffic now comes from mobile devices, meaning that optimizing for mobile is no longer a choice - it's a necessity. In addition, to ensure a native user experience and greater market coverage, many businesses decide to have their own mobile app developed.
To improve the communication with your customers. Food delivery chains are a great example of a business that clearly benefits from having its own mobile app, and it's just one example of many. In this case, the app is an extension of their offerings, allowing a hungry buyer to order a tasty meal in as little as a couple of screen taps.
To increase brand awareness. Merely the act of publishing your app on one of the official marketplaces helps a great deal with how well people are acquainted with your brand. As you grow and solidify it, this will help you get new customers through the door.
To market your business. An app also serves as a marketing channel for your business. In fact, you can incorporate push notifications and distribute exclusive deals and offers straight from your app to increase customer retention without doing much heavy lifting.
To stand out from the competition. If most of your competitors have an app, there's probably a good reason for this. See how you can make yours better and outshine your competition.
To improve customer engagement. Do your customers often need additional help and support? Make it easy for them to get in touch with you, even if it's to voice their complaints. Keep in mind that responding to them will not only make them feel understood and heard, it's also a goldmine of information you can use to polish up your products and services.
Benefits of having a mobile app
The following are some of the benefits that you can get from having a mobile app:
It is an effective way to engage with your customers: It helps in generating more leads and sales for your business. The users will be able to interact with the company regularly, which will help them stay in the loop with the latest updates and developments.
It is an effective way to promote the business: This will help increase your company's brand awareness and can also be used as a marketing tool for promoting new products or services.
It helps you gain access to data: An app can be used to collect essential usage statistics and other valuable insights from your users. This makes it a useful framework for analyzing the performance of your business, and it can also be used as a marketing tool for generating more leads and sales.
It facilitates the communication between you and your customers: Depending on the industry you're operating in, effective communication with your customers can either make or break your business.
It can be used to reward customer loyalty: Whenever your customers buy from you, thank them by sending them a coupon they can use on their next purchase. Based on their purchase history, you can also send them personalized product recommendations.
It facilitates problem resolution: In case your customers run into a problem, make it as easy as possible for them to get in touch with your customer service and support department.

How to build successful mobile apps?
The following are some of the tips that you need to follow for your mobile app to be successful:
Make sure that the design and functionality of your mobile app are accessible but not too simple. You should know how many steps a user must go through before accessing all required features. Make sure that there is no information redundancy and make it clear which information can be accessed at any time.
Ensure that all the content, including images, videos, etc., is of the highest quality. The user interface should be as seamless and easy to use as possible. The mobile app is supposed to provide an excellent experience for every user, so make sure that it does not get in their way at any time.
Focus on the essentials. To do so, you need to ask yourself what is the main purpose of your app and what functionality can be classified as secondary in the hierarchy of importance? Does the app serve its intended purpose or does it confuse the user by having too many features while the important ones are buried in the background?
Testing, testing, testing. To ensure the app is as robust as possible, try to push it to its limits and intentionally do ridiculous things to see if anything breaks.
Decide on the most fitting revenue model. Is the app mainly intended to help grow your brand or do you think you could explore other monetization models such as displaying ads?
Learn from your competitors. In the world of app development, the great thing is that you don't necessarily need to learn from your own mistakes. Instead, see in what areas your competitors' apps are strong and model after their success. You can also check the feedback their users have left them and use it as a springboard for making your app better than theirs.

The technical approaches to mobile app software development
There are several technical approaches that you can take when it comes to developing mobile apps. The most important thing is to choose the right direction that is fitting for your business, as one choice might not be suitable for everyone's needs:
The ASP programming language: This is the oldest and most common way to create apps using Microsoft Visual Studio. NET. It provides a lot of flexibility in terms of designing user interfaces. Through forms authentication options like SSL or HTTPS, your app can have strong security features. The ASP programming language is good for creating several forms of web applications.
The most common approach to mobile app development using the ASP programming language consists of developing a website with all the functionalities you require for your project and then adding an HTML5 Mobile Apps template. This way, you can access many tools and features of Visual Studio 2012 and various extensions for mobile platforms such as Android or iOS.
You will have to select the right development tools and utilize their functionalities. This can be very time-consuming, especially if you have no programming or web application development knowledge.
Visual Studio Express 2013 for Android: Visual Studio Express is an IDE that works with HTML5 and Android applications. Developing mobile apps using this approach is suitable if your business only has a few products or services. This tool also gives you access to the Visual Studio Marketplace, where you can find various extensions that will help you develop your project efficiently.
You also need to know different development tools such as PhoneGap, which allows creating native applications for iOS and Android platforms, along with Cordova, which is a tool that will help you build hybrid mobile apps using HTML5.
Several tools can help create your mobile app, including PhoneGap, Appcelerator, or Titanium Mobile Tools. These tools come integrated into Visual Studio 2012 (or 2013), so they are part of the Visual Studio development environment. When developing your project using this technology, you don't necessarily need to use any other technology alongside it.
The main difference between these three tools is that in PhoneGap you can access a wide range of APIs and frameworks, while Titanium Mobile Tools can only work with HTML5-based applications. Appcelerator has an extensive library of plugins that allow developers to quickly create mobile apps using third-party APIs or integrate existing ones.
These are the primary tools for creating your mobile app using Visual Studio. You should make sure you choose the ones specific to your needs because this will help save you time and help you create a better app.

What is a brief mobile app testing plan?
The following are the steps for mobile application testing:
Step 1: Identify the Mobile Application: This step involves identifying the mobile application, including its version number and platform.
Step 2: Identify the Mobile Application's Functionality: This step involves identifying how the mobile application works. This includes identifying the features, functions, and processes.
Step 3: Identify the Mobile Application's Security: This step involves identifying the security vulnerabilities in a mobile application.
Step 4: Test for Functionality Issues: This step involves testing the functionality of a mobile application.
Step 5: Test for Security Issues: This step involves testing the security vulnerabilities of a mobile application. It is important to remember that security testing is not the same as vulnerability scanning.
Step 6: Test for Compatibility Issues: This step involves identifying compatibility issues between a mobile application and its platform.
Step 7: Test for Performance Issues: This step involves testing for performance issues such as page load time, data access speed, and databases.
Step 8: Test for Unexpected Behavior Issues: This step involves identifying any unexpected mobile application behaviors. These include crashes and errors when a mobile application is being used.
Step 9: Test for Intermittent Issues: This step involves testing whether the mobile application works properly when it runs intermittently and what happens during such periods.
After completing these steps, a mobile application security testing plan can be concluded.
-FAQs
1. Which is the best mobile app development company in Bangalore
Out of all the options, eFlair Webtech is the best place to start if you want to get your app made as efficiently as possible and have an experienced professional guide you through the process. They are an android app development and mobile application development company from Bangalore, India. If you don't know what type of app you should be building, they can advise you on the matter as well.
2. How do I hire mobile app developers in Bangalore?
To hire mobile app developers in Bangalore, you can approach the companies that offer mobile application development services. You should be careful while hiring a mobile app developer because many people claim to be experts and may not deliver what they promise. Therefore, you should always check a company's portfolio and customer reviews before inking the deal.
You can also seek help with your project via online freelancing platforms such as Upwork or Freelancer, where you can find many mobile app developers looking for work worldwide. It makes sense to choose a company that offers both design and development services so you won't have to look for them separately.
3. Will mobile app development companies work in my time zone?
Most mobile app development companies work with clients from all around the world. Some companies may work in your time zone, but either way, most will develop the apps and make changes according to your specific requirements as soon as they can.
If the project requires more work or customization, you should discuss this with your company, and they will figure out a way to coordinate according to your time zone.
4. How much will it cost to develop a mobile application?
This is a commonly-asked question, and the answer depends on numerous factors, including the scope of the project, the features requested, whether you're agreeing to an hourly or project-based pricing, and the country where your chosen mobile development company operates.
In case you are looking for an app that can fit your budget, choosing the first mobile development company you run across can be a substantial and unnecessary risk. Instead, you should get in touch with multiple mobile app developers, tell them your specifications, and have them send you a quote.
The good news is, the top mobile development companies in Bangalore won't charge an arm and a like while still being able to code and design professionally-looking apps.
You should also inquire about their pricing to get an idea of how much it will cost per hour or day (depending on which type of project). Learn from mistakes made by others and do some research online to discover the best companies, which will also help you determine the approximate price range to develop an app with your intended functionality.
5. How much time will it take to develop a mobile application in Bangalore?
This depends on the app you plan to build and how much customization it needs in design and development. You can check online forums where other users have shared their experiences with different companies they hired. You can also ask your chosen app developer to give you a rough estimate. Statistically speaking, on average, it takes anywhere from 3 to 9 months to develop a professional mobile app.
Suppose you are planning to hire a team of developers. In that case, comparing them will be even more critical as they have different responsibilities and thus may take longer to complete the project (some may take less time than others, but their speed can also depend on their skill level, availability, and level of expertise).
6. What are the three most important things to consider when developing a mobile app?
To build a unique app, you should go with the kind of companies that have worked on similar projects before. This will help them understand what kind of features your app needs and also help them give you a rough estimate about the costs involved so that you can plan accordingly. There are three most important things that you should consider while developing a mobile app:
1) The features of the application
2) The design of the application, and
3) How it will be used by your customers.
7. How often should I update my app?
Updating your app attracts more users as they learn about new features, bugs fixed, and other improvements made by the developers. This will let your potential users know that you're serious about keeping your app up to date and thus give them a solid reason to download it and install it on their device.
It helps in increasing user engagement as they will be able to learn more about your app, how it works and what makes it different from the other ones. It helps increase user retention as users won't have to worry about installing an app that could turn out to be a cyber security liability on their device.
So unless there is some specific reason why you are not planning to update your app regularly, as a general rule of thumb, you should do so at least once every four weeks.
8. How will my app be submitted to the stores?
When you develop an application, it will be submitted to the stores after testing and after it has been approved by a team of experts. The app can also be submitted to the stores if your company has a partnership with them.
Suppose your app does something unique or new. In that case, do not submit it under any existing app store category as the chances of it being rejected are high because the suggestion may be insufficient.
However, if your app falls under an existing class or category, make sure it has more features than any other app in that particular category. This will help your app become popular among the users even before the launch itself, thereby ensuring stable interest in it for the foreseeable future.
9. How should I measure the success of my app?
There are a lot of ways to measure the success of your app. The most common way is through downloads and revenue generated. But there are other metrics that you can use as well.
Number of users who have downloaded your app from the store.
Number of people who have installed your app on their device (this will give you an idea about how many times they used it).
Number of active users per day or week (this will help you understand if there is any kind of retention issue).
Number of people who have rated your app (this will give you an idea about how many people are using it).
10. How should I test my app?
Before you upload the app to Google Play or Apple App Store, you must thoroughly test your application. Doing this will help you fix potential bugs and tell you how well your app performs on different devices and networks.
For small projects, it's okay if a complete section of testing is left out. However, for larger applications, it is recommended to run a thorough test of specific features.
To ensure the best results, test with all possible hardware configurations (e.g., try out your app on different screen sizes, using 2G, 3G, or WiFi network). Test with all possible network configurations (e.g., try out your app on devices that are not connected to the internet).
Final thoughts:
It is important to remember that app testing tools are not perfect and can only help you find bugs in your apps. They will never be able to replace the need for manual testing, but if you want to save time, money, and effort, then these tools are a good idea.
To build a successful app, you need to have a good idea of what the app will do, how it will work, and what features it will have. It is also essential to sketch an idea of what the app will do on a conceptual level, which will make it easier to envision the product in its final form.
The good news is, you don't have to do any of this on your own! The top mobile development companies in Bangalore will take the burden off your shoulders, so you can have a professional app made even if you don't consider yourself tech-savvy. As long as you go with one of our recommendations, it's hard to go wrong!
Disclaimer: This article is a paid publication and does not have journalistic/editorial involvement of Hindustan Times. Hindustan Times does not endorse/subscribe to the content(s) of the article/advertisement and/or view(s) expressed herein. Hindustan Times shall not in any manner, be responsible and/or liable in any manner whatsoever for all that is stated in the article and/or also with regard to the view(s), opinion(s), announcement(s), declaration(s), affirmation(s) etc., stated/featured in the same.