Wheels of change: Let's cycle for a better tomorrow
With the mission of promoting fuel conservation and embedding socio-environmental consciousness, Saksham Pedal Delhi aims to redefine India's cycling paradigm.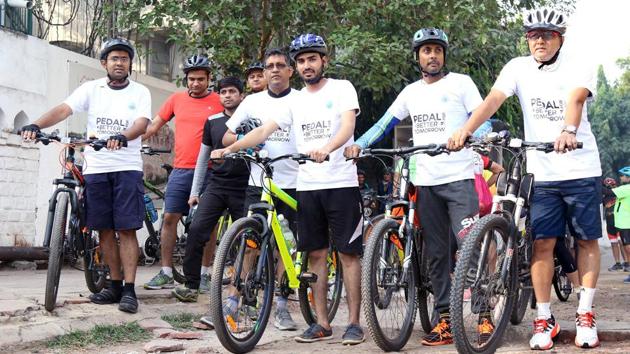 Updated on Dec 05, 2017 03:15 PM IST
Promotional Feature, HT Brand Studio
Cycles are an integral part of India's economy, culture, and society. In many parts across rural India, it is often the only means of transportation. One the other hand, many services offered in urban India are actually mobilised on the cycle. Livelihood cyclists, such as the famed dabbawalas of Mumbai or the iconic rickshaw cycles of Delhi, make up a large part of India's social fabric. Interestingly, as a result of India's fitness revolution, cycling has also become an exponentially growing urban fitness activity. This phenomenon is one for the better.
Aside from the health benefits that come with riding a bike, the adoption of cycling as a national habit can impact the country tremendously. Consider the fuel that is consumed by 1.3 billion people, much of it by the 23 million cars in India, on a daily basis. Given the never-ending traffic in all of India's largest metros, a large chunk of that fuel is consumed by a car stuck in a traffic jam. The environmental impact of this is severe. The adoption of an environmentally-friendly form of transportation is essential, given the fact that climate change is the biggest danger we face today.
While some in India might view cycling as sign of reverting back to the lesser times, in the West, a cycling population is viewed as a sign of progress. So how does one instil a concept and break its shackling negative perception? Simple: We evangelise the activity.
For people to adopt cycling as a mode of transport, especially if it is for shorter commutes, they must first be introduced to the joys of riding a bike. Nothing else can reignite the passion than getting on a bike. For an opportunity like this, a mass participative event that brings a community together is imperative. And this is exactly what Saksham Pedal Delhi is trying to do.
As an initiative of the Petroleum Conservation Research Association (PCRA) and in association with the Cycling Federation of India (CFI) and DoIT Sports, Saksham Pedal Delhi wants to spark a movement. The debut edition of India's premier cyclothon will host 5,000 riders across four categories at the Jawaharlal Nehru Stadium, New Delhi, on November 5. With the mission of promoting fuel conservation and embedding socio-environmental consciousness, Saksham Pedal Delhi aims to redefine India's cycling paradigm.
The event has been constructed keeping the power of sport in mind. Nelson Mandela once famously said, "Sport has the power to change the world", and Saksham Pedal Delhi has a race category committed to empowering the sport of cycling in India - The Elite Race. An elite men's category of 50km and an elite women's category of 30km, these are criterium format races that would require India's best professional athletes to race on a 10-km loop, starting from the JLN Stadium. The event has a sizeable prize money fund of Rs. 8 lakh for elite athletes post their victory at the National Championships.
India is also home to some exceptionally talented amateur cyclists. For these passionate randonneurs, the event has an Amateur Championship of 30km. These amateur riders will compete for a prize money of Rs. 4 lakh.
The fitness enthusiast for whom cycling has been a hobby rather than a serious passion can take part in the open 10K category and experience a new workout.
However, to truly propagate the lifestyle, one needs to reintroduce the sport to those who left it when they were teenagers. For those who want to be reminded of simpler times and reconnect with their inner child, the event has a Green Ride: a 5-km non-timed category for those of us who just want to pedal for a greener future.
To inculcate positive change, collective action is key. So, for our great nation, let's pedal for a better tomorrow.
Register now and #BeASuperhero at www.pedaldelhi.com
Close Story
Personalise your news feed. Follow trending topics