Benefits will outweigh short-term demonetisation pains, says SBI chairman
Hindustan Times |
, Mumbai
Beena Parmar and Ramsurya Mamidenna
Dec 29, 2016 06:12 PM IST
Demonetisation has hastened year-end exits by foreign investors, but in the long run, digital efficiency will replace the clumsy 'cash and pay' tradition, Arundhati Bhattacharya said
The demonetisation exercise has had multiple objectives including the shift to digital and the long term benefits will soon surpass the immediate disadvantages that people have been facing, Arundhati Bhattacharya, chairperson of SBI, said on Thursday.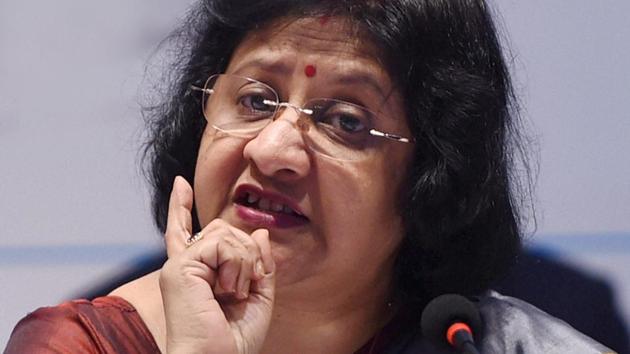 The move toward a digital economy was inevitable as the 'cash and pay' system is very inefficient and carries cost which eventually burdens the government and the people, the head of India's largest commercial bank told HT in an interview.
"Of course there is a lot of uncertainty and the quicker we see an end to it the better it will be for everybody. Having said that, the situation has improved and people appear to be more comfortable and less worried," she said in a nearly hour-long interview at her 18th floor office at Nariman Point, Mumbai.
The November 8 government move to invalidate 85% of high-value currency from the system, the largest and most momentous exercise ever so far, has disrupted life for almost everybody as rationed withdrawals from banks and ATMs and limited availability of money has crimped demand, cut purchases and put the brakes on a slowing economy.
Apart from sparking renewed political opposition, demonetisation has also hastened year-end exits by foreign investors following crucial calls on slowing earnings estimates. The exercise comes to an end on December 30.
"In an exercise of this size, when the immediate disadvantages hit, it is natural for such difficulties. But over the medium- to long-term, you will definitely see more benefits," Bhattacharya said.
From November 10 to December 3, SBI saw deposits rise by Rs 231,482 crore while exchange of old notes amounted to Rs 7,095 crore and withdrawals totalled about Rs 74,823 crore.
Bhattacharya said interest rates would come down due to the surplus liquidity in the system. Banks have been looking at cutting loan rates as costs have come down with the increase in deposits. Since November 8, SBI's interest rate on one-year deposits of less than Rs 1 crore has fallen from 7.05% to 6.9%.
Most of the country's leading banks have cut rates on one-year deposits by 0.15% to as much as 0.90%.