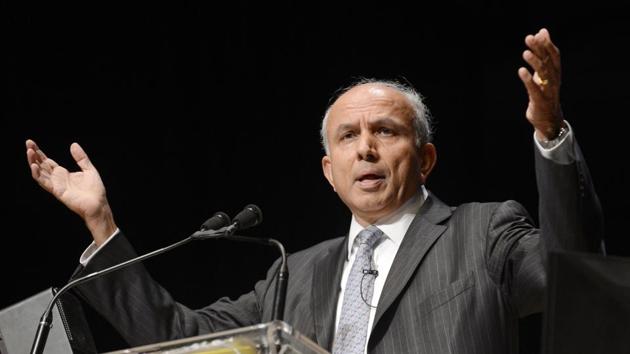 Canadian investment guru Prem Watsa to launch first Invest India Conference
Watsa, considered Canada's version of Warren Buffett, is organising the conference in Toronto to bring a renewed sense of urgency into bilateral economic ties which have been lagging recently.
UPDATED ON SEP 03, 2017 11:46 PM IST
Indo-Canadian investment guru Prem Watsa, considered the Canadian equivalent of legendary American investor Warren Buffett, is launching a new initiative this week to bring a sense of urgency to economic ties between India and Canada.
The chairman and CEO of the Toronto-based Fairfax Financial Holdings Ltd is the prime mover behind the inaugural Invest India Conference scheduled for September 8. Among those expected to attend are Canada's foreign minister Chrystia Freeland, Infosys chairman Nandan Nilekani and NITI Aayog CEO Amitabh Kant.
"This occasion will be a seminal moment in the deepening of Canada-India economic relations. Much has been accomplished but far more needs to be done," Watsa said in his invitation letter for the meet.
He said the conference is "meant to lay the foundation for a forward-looking agenda that promotes the flow of investment both ways-into Canada and India."
The event is being executed by the Canada-India Business Council or C-IBC, headquartered in Toronto.
Kasi Rao, C-IBC's president and CEO told the Hindustan Times: "This is an important moment in the Canada-India economic relationship mainly because while much has been done, we are starting from a low base. Therefore, the impetus for creating further momentum in terms of urgency around this file is what makes this, I think, a seminal event.
Indian High Commissioner Vikas Swarup felt the conference "will provide a much needed focus on the business and investment potential between India and Canada."
Swarup, who will be present there along with his Canadian counterpart in New Delhi Nadir Patel, added, "We couldn't have had a better icon than Prem Watsa spearheading the conference as he is someone intimately familiar with the business environment in both India and Canada and the sectors of greatest promise. We hope this becomes an annual event to catalyse the India Canada economic partnership."
Rao said this invitation-only conference will feature "a curated audience of prominent India watchers, as well as people from Bay Street (Toronto's version of Wall Street) and corporate Canada."
Trade between the two countries is at an underwhelming $8 billion, though Canadian institutional investment into India is at over $12 bn. The effort will be to bring back vigour at the government-to-government level, particularly with free trade and economic partnership agreements still being negotiated over years.
"In a world where you see a lot of inward-looking initiatives coming to bear, again Canada and India stand out for their outward looking focus on relationships. In that sense, Canada and India are very much natural partners beyond the profoundly important aspects related to democracy, rule of law and the like," Rao pointed out.
Watsa's championing of the engagement will bring some muscle into the process. As Rao said, "The modesty of the numbers, I would say, is a reflection of the past and not the promise of the future."
Close