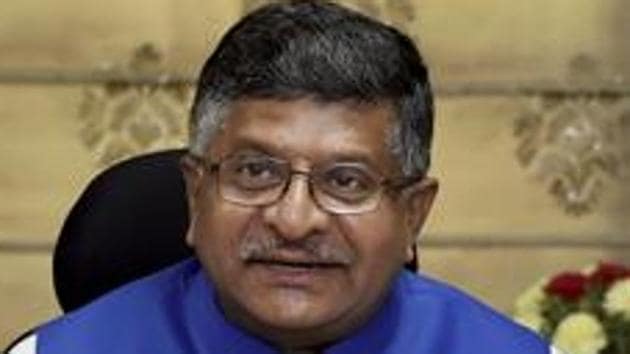 IT minister to meet top tech bosses over job loss fears, slow digitisation
The meeting between Union IT minister Ravi Shankar Prasad and 20 corporate bosses is aimed at creating job opportunities in education, health, and agriculture besides pushing Centre's Digital India agenda.
Hindustan Times. New Delhi | By Sanjeev K Ahuja and Suchetana Ray
UPDATED ON JUN 13, 2017 08:10 PM IST
Worried over job losses in the IT sector and slow digitisation, the government has decided to meet top CEOs of IT companies on June 16.
Union IT minister Ravi Shankar Prasad will convene a meeting in New Delhi with 20 bigwigs of tech industries, including Sachin Bansal, founder of Flipkart, Kailash Katkar, founder and CEO of Quickheal, Hari Om Rai, CMD of Lava International, Shashank ND, founder and CEO of Practo International, and Rajan Anandan from Google.
"The government aims to make Digital India, a $1 trillion business opportunity through which jobs will be created. This meeting is to help the government reach that target," said a source in IT ministry.
The source added that feedback would be taken from the companies about their outlook on the sector, and the help that they need from the government to expand India's digital economy.
"In our bid to push 'Digital India' campaign and explore job creation opportunities, the IT ministry is, for the first time, meeting 20 corporate honchos. The meeting is aimed at creating job opportunities in the field of education, health, agriculture besides pushing Digital India agenda of the Centre," Dr Ajay Kumar, additional secretary at the ministry said.
India's digital economy is currently pegged at $400 billion with contributions from electronic companies, telecom, e-commerce and start-ups.
"It's for the first time such a meeting is happening with top industry leaders. Lot of these sectors were not the part of discussion earlier," he said.
"New sectors such as e-com, start-ups, shared economy, cyber security, digital payments etc will grow faster than the traditional sectors — IT and telecom. New sectors may not become that big but they will outpace the growth of traditional sectors. Therefore, these new sectors will create more jobs," Kumar said.
While the IT sector is growing at 8%, the job growth has slowed to 5%, prompting the need to look beyond this industry for employment opportunities. The government wants to cash in on the growth of the new sectors and boost its growth.
Close