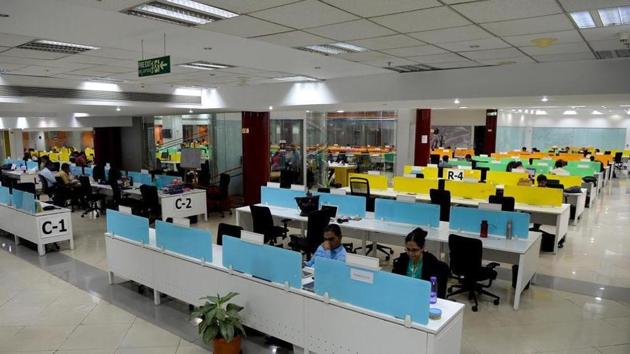 Parliamentary panel proposes tax incentives for startups
Jayant Sinha, the chairperson of the standing committee on finance, submitted the report to the Speaker last week. After the two-year period, the Securities Transaction Tax (STT) could be applied to CIVs to maintain revenue neutrality.
Hindustan Times, New Delhi | By Rajeev Jayaswal
UPDATED ON SEP 16, 2020 10:37 AM IST
A parliamentary panel has recommended abolishing tax on long-term capital gains (LTCG) for investments in startups that are made through collective investment vehicles (CIVs) such as angel funds, alternate investment funds (AIFs) and limited liability partnerships (LLPs) engaged in the business of making investments.
"At a minimum, this should be done for at least the next two years to encourage investments during the pandemic period," the panel said in its report, 'Financing the Startup Ecosystem'. Jayant Sinha, the chairperson of the standing committee on finance, submitted the report to the Speaker last week.
After the two-year period, the Securities Transaction Tax (STT) could be applied to CIVs to maintain revenue neutrality. "Investments by CIVs are transparently done and have to be done at fair market value. Thus it is easy to calculate the STT associated with these investments. This can be done in lieu of imposing LTCG on these CIVs and to make the taxation system fairer, less cumbersome, and transparent," it said.
Also Read: After saying no, Toyota says yes to expansion plan in India
"This will also ensure that investments in unlisted securities are on par with investments in listed securities," it added.
Smita Goel, partner at law firm Algo Legal said, LTCG was abolished and STT was introduced in FY 2005. LTCG was re-introduced on listed equity shares and equity mutual fund units in FY 2019. This resulted in double taxation.
"Abolition of LTCG tax will remove this double taxation and enable investors to choose investments based on risk and return instead of being driven by tax considerations. The loss of revenue from abolition of LTCG will be minuscule compared to the benefits generated as it will incentivise taxpayers to kick-start investment and also create jobs," she said.
Kunal Bahl, CEO and co-founder of Snapdeal tweeted, "These reforms would open the floodgates of domestic capital going into start-ups like never before, as long as the eligibility criteria of the tax benefits is not too narrow, enabling the widest set of startup investors and companies to benefit for a long enough period of time."
Also Read: Odisha to amend GST Act to make fraud in input tax credit non-bailable
While re-introducing the LTCG tax, then finance minister Arun Jaitley had said in his budget speech on February 2018, "The return on investment in equity is already quite attractive even without tax exemption. There is therefore a strong case for bringing long term capital gains from listed equities in the tax net."
Giving the rationale to re-introduce the tax, he said that the equity market had become buoyant with the reforms introduced by the government and incentives. "The total amount of exempted capital gains from listed shares and units is around Rs 3,67,000 crores as per returns filed for AY 17-18. Major part of this gain is accrued to corporates and LLPs. This has also created a bias against manufacturing, leading to more business surpluses being invested in financial assets," he had said.
Indian Venture Capital and Private Equity Association (IVCA) regulatory affairs committee co-chair and founding partner of 3one4 Capital Siddarth Pai said: "The proposed recommendations, if implemented, will help increase the amount of rupee capital that will flow into Indian startups."
"Due to the distorted tax structure between startups and listed companies (with the long term capital gains rate on startups being 2.54 times the rate on listed companies), rupee capital is less than 10% of the total capital being raised by Indian startups. Tax has emerged as one of the almost singular reason for the same," he said.
The ability to raise capital during such trying times will be crucial to the longevity of India's startup ecosystem and help it become more resilient, he added.
Pai said the Indian government has applied the "super rich surcharge" of 25%-37% on the sale of unlisted securities, not on listed securities. "This distortion has pushed rupee capital onto the stock markets, where secondary transactions occur, as opposed to primary investments into other asset classes like startups. Investments into startups always go towards new product creation and new business lines—leading to job growth and economic growth," he said.
In addition to this, the lack of this surcharge on foreign investors and applying it only on domestic investors is further suppressing rupee capital into the Indian startup ecosystem, he said. "Under the honourable PM's call of becoming self-reliant, demonstrating an ability to be funded from local sources ... will help boost the resilience of the Indian startup ecosystem," he said.
"India is at risk of becoming a land of subsidiaries instead of a land of startups as many entrepreneurs seek to set up their HQs [headquarters] in other jurisdictions in order to enter the Indian market," he said.
Pai said that the parliamentary panel has looked at allowing other kinds of investors to put money in startups such as pension funds and insurance companies. "IVCA has made several recommendations on the need to unleash domestic institutional capital which cannot invest in Indian VC Funds and startups due to policy restrictions," he said.
"Several Indian VC Funds and startups have received funds from global pension funds, banks, insurance companies and the like. VC and PE Funds are a less volatile asset class as compared to listed markets and these help in asset diversification and the return timelines mandated for such long-term investors. Its heartful to see that the panel has spoken to the regulators and such institutions to find ways to increase their participation in startups and funds, thus enabling the creation of a vibrant Indian startup ecosystem," he added.
Close