Petrol at Rs 75.32 in Delhi as crude oil prices surge
Indo Asian News Service, New Delhi |
Indo Asian News Service
May 17, 2018 04:53 PM IST
This rise in transport fuel prices comes as crude oil prices continue to gain. On Thursday, brent crude oil edged close to $80 per barrel and is currently over $79 per barrel
A surge in crude oil prices pushed the cost of petrol in the country further higher on Thursday, with the transport fuel being sold at Rs 75.32 per litre in the national capital.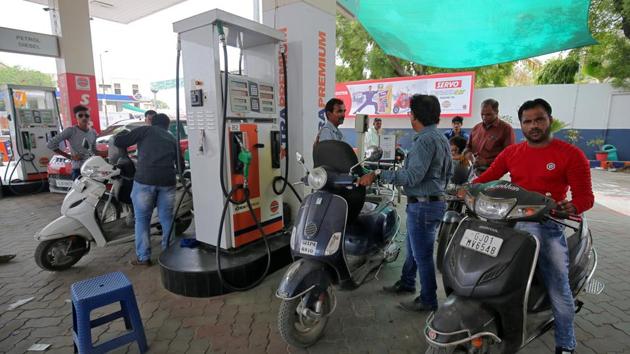 With this, the price of petrol in Delhi inched further close to the previous high of Rs 76.06 a litre, reached in September 2013.
In the other major cities of Kolkata, Mumbai and Chennai also petrol was priced at multi-year highs on Thursday -- Rs 78.01, Rs 83.16 and Rs 78.16 per litre, respectively.
The previous highs in these cities were Rs 78.03 (Kolkata, August 2014), Rs 83.62 (Mumbai, September 2013) and Rs 79.55 (Chennai, September 2013) respectively.
Similarly, prices of diesel -- the fuel largely used for transportation of food and agriculture products and in turn affecting inflation -- also rose to fresh all-time high levels across metros.
In Delhi, Kolkata, Mumbai and Chennai, diesel was priced at Rs 66.79, Rs 69.33, Rs 71.12 and Rs 70.49 per litre, respectively -- all at unprecedented levels.
This rise in transport fuel prices comes as crude oil prices continue to gain. On Thursday, brent crude oil edged close to $80 per barrel and is currently over $79 per barrel.
Prices of transport fuels are now changed on a daily basis, unlike the previous norm of fortnightly revisions.
However, the Indian Oil Corporation had suspended the dynamic pricing system for 19 days, "to avoid creating unnecessary panic among the consumers", until resuming it on Monday, May 14.
In addition, the high rate of excise duty has also contributed to the rise in prices.
In the Union Budget 2018-19, the government had reduced the basic excise duty on petrol and diesel by Rs 2. The government also abolished additional excise duty on fuel. But to compensate the move on the fiscal front, it increased the road cess to Rs 8 per litre.