Tata Trusts have never interfered in group firms: Bhaskar Bhat
Dec 20, 2016 02:18 PM IST
Bhaskar Bhat, the managing director of Titan Company Ltd, stepped down from the board of Tata Chemicals in protest when independent directors endorsed the leadership of Cyrus Mistry. He was later re-nominated by Tata Sons.
Bhaskar Bhat, the managing director of Titan Company Ltd, stepped down from the board of Tata Chemicals in protest when independent directors endorsed the leadership of Cyrus Mistry. He was later re-nominated by Tata Sons. One of the most well-respected thinkers in the group, Bhat is also on board of group companies Trent, Rallis and is chairman of Tata-SIA Airlines (Vistara). The Titan MD, who has been with the Tatas for 28 years, shares his views on the ongoing Tata-Mistry dispute, its impact and how Tata values are unaffected.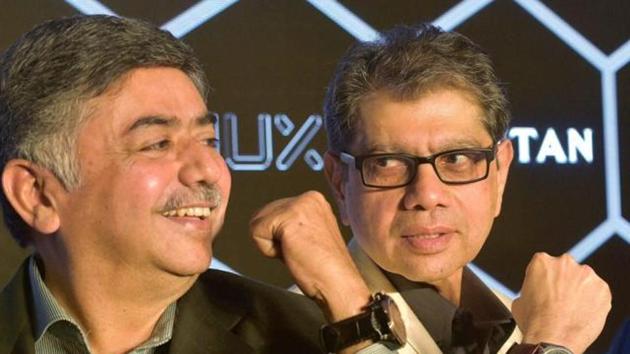 The leadership dispute has seen charges and counter charges. Without going into them, what is on the anvil for the group?
I can best describe this with an anecdote. Last week I was in Uttarakhand. The demonetisation as you know has impacted jewellery sales. We stopped billing from November 8 (to discourage buying of gold using old money). At our franchisees there, girls who work the counters had seen low sales and were losing out on incentives. It was a great opportunity to make up. They could have continued with the sales. But the Tata culture and values are so strong that even consumers said, "No point in coming to you. You will not sell." That is what I want to talk about. It is business as usual for us. Our work goes on, the strength of our brand remains. Even when (Ratan) Tata spoke to us after the October 24 board meeting, he said this is just a transition and asked us to go back and focus on the work. That's what we have been doing, I have been doing.
Various financial stakeholders have talked about loss in value. (About Rs 1 lakh crore in market cap was lost since the dispute) Yet, you say there's no impact on the brand?
With due respect, let me tell you, this whole thing is more a Delhi-Bombay issue. It is restricted to people who read the financial papers. On the ground things are going on as ususal. Ask employees. Nothing has changed for them. Ask our business associates, vendors…contracts are being issued, work is being executed. There is another anecdote here. Titan has a long standing partner in Tidco (Tamil Nadu Industrial Corp). Typically, the convention is that we convey all such matters to the Tidco representative, usually the industry secretary. Even he said that while he is aware of the issues, for Tidco, nothing has changed. The status of the relationship continues unaffected. So where is the impact?
But Mistry also raised corporate governance issues…
Let me tell you, if you take out the independent directors issue and all the confusion on the dispute, when investors look at individual companies say TCS or Tata Power, they look at Chandra (TCS MD) and his team or at Sardana (Tata Power MD) and his team. It is the management and the people in the company who inspire confidence. Whatever you may say, Tata companies do not have the reputation of any wrongdoing. The respect that people have for the group is actually due to the management of the companies.
Coming to the board meeting of Tata Chemicals, what actually happened?
I am a loyal soldier of the group. I have been running Titan. Cyrus wanted me on the board of Tata Chemicals. He brought me there. I have also been invited to the board of Rallis. This is all extra work for us. But being part of the group, you have to go along. Having said that, what I did, by resigning, was a matter of principle. I felt that the statement of the independent directors was not in the interests of the board, it went against the company and the board. Of course, Tata Sons has again re-nominated me.
How much of Tata Trusts' impact is on the group?
Believe me when I say that the Trusts have never been visible to us. They have never interfered in group companies. Each company has its own CSR. I have no idea when I read about the charges that Trusts decide on issues for companies. At least I have never seen that and I have spent some time (28 years) with the group.
Do you think the entire issue could have been handled better?
When anyone working with me thinks that he has been unfairly treated, he should come and spar with me, share his views with me. Not go and crib to the world outside. This issue has left a bad taste. Mind you, I share some very good rapport with Cyrus. In fact, his last meeting was with me, before the Monday (October 24) meeting when the Tata Sons board decided to replace him. He had just come from Tata Advanced Materials. It was on October 18 or 19. He had had a long day and was looking tired. We had a meeting. I asked him to take some rest, but he continued with our meeting. Then he went to China and after the weekend, he had that board meeting on Monday.