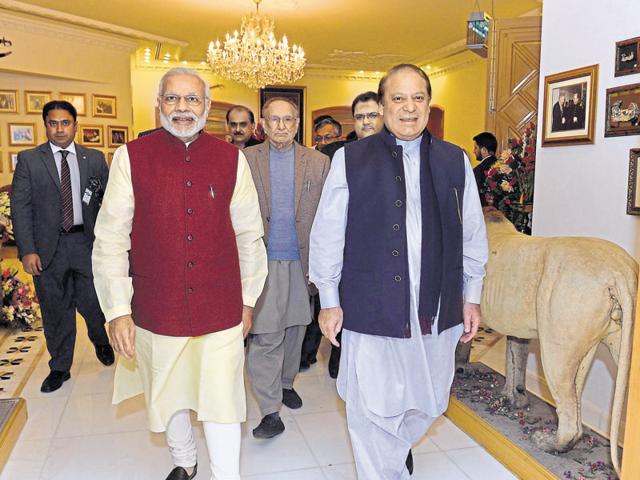 Modi's surprise Pak visit may spur two-way trade
While Modi's unexpected halt at Lahore may be a game changer in the Indo-Pak relations, many also expect it to give a boost to the cross-border trade.
Hindustan Times | By Sruthin lal
UPDATED ON DEC 31, 2015 10:29 PM IST
While Modi's unexpected halt at Lahore may be a game changer in the Indo-Pak relations, many also expect it to give a boost to the cross-border trade.
The total trade took a dip from $ 2.7 billion in 2013-14 to $2.3 billion in 2014-15. Interestingly, exports to Pakistan declined whereas imports from Pakistan increased. While Exports declined by 18.34% to $1857 million in the financial year 2014-15, compared to 2013-14, the imports increased 16.5% to reach $497.31 million in the same period.
In 2012 Pakistan shifted to a system of negative list of 1209 items that are not to be imported from India. But Pakistan allows only 137 items to be imported through Wagah border.
"Indian exports have declined because the rail route has deteriorated, and India can export only these 137 items through the road route," says Nisha Taneja of Indian Council for Research in International Economic Relations. "But, as all imports are permitted by road and rail, these have shifted to the road route," she adds.
This restriction through the land route is because the Pakistan side has a limited handling capacity of goods. "There is a semi willingness there now to build this capacity. But the process may take time," an expert who doesn't want to be named says. Even though everything can be exported from India via train, the poor rail infrastructure and limited availability of wagons restricts this as well, he adds.
But estimates say the informal trade dominates much. ICREAR estimates it to be about $4 billion in 2013-14. Goods, otherwise are restricted to be traded bilaterally, are routed through places like Dubai, Colombo and Singapore, so that they be treated as exports from those countries.
Referring to the Modi-Sharif meeting Taneja says, "It is laying the ground for a positive outcome from the resumption of the comprehensive dialogue scheduled next month," adding that there could be a chance of Pakistan granting the MFN status.
The Federation of Indian Export Organisations feels the same. S C Rahlan, President FIEO says the exporters have faced issues of not receiving payments and political problems intermittently disrupting trade. "The biggest benefactors would be the traders in Punjab," he says.
Industrial chamber FICCI in a report identifies lack of cross border banking facilities a big impediment for formal trade. Current payment system is formalized through Asian Clearance Union, which is inefficient as payments are often delayed. "The two countries need to expedite opening up of scheduled bank branches in each other," the report says.
However, experts at Pakistan feel the granting of MFN should not be made a big issue in the immediate term. "Pakistani government would hold back this until things improve on the diplomatic and military fronts," says Majyd Aziz, former President Karachi Chamber of Commerce and Industry.
But he cites that the Pakistani policymakers tried to subdue the words "Most Favored Nation" by substituting it as "Non Discriminatory Market Access" because the Urdu translation of MFN carries "non-palatable" connotations".
"Just let matters settle and then momentum could be built up. Right now the powerful agriculture lobby and the engineering industry are very concerned about this."
"Furthermore, if India revisits her NBTs(Non Tariff Barriers) policy, especially with regards to Pakistan, then the possibility of an earlier decision on NDMA is likely to happen," Aziz adds.
Currently, the major road route is Attai/Wagah road and the rail route is Amritsar-Attari-Lahore railway line. The Mumbai-Karachi sea route is also used, though the trade is negligible.
Across the Line of Control, India and Pakistan have permitted trade, in a selected list of 21 primary products originated in Kashmir both sides of the border, under a barter system.
Close