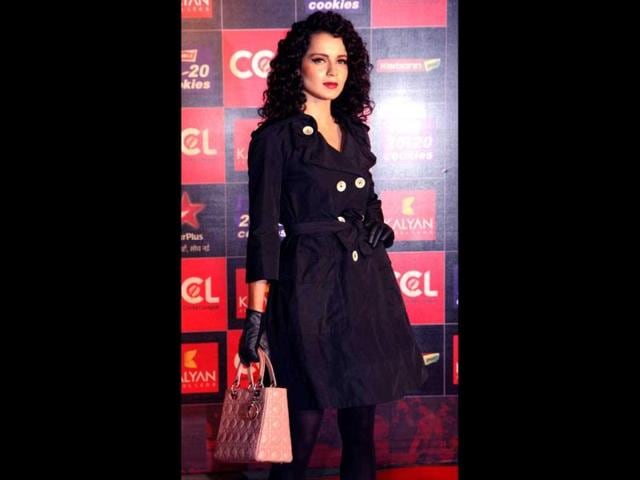 Clueless why I deserve this stardom: Kangana Ranaut
In SAS Nagar to promote her movie, Queen, Kangana Ranaut gets candid about her role, the much-talked about interview with Anupama Chopra and her so-called rebellious image.
Hindustan Times | By Nanki Singh
, Chandigarh
UPDATED ON FEB 15, 2014 10:25 AM IST
Stereotyping actors with a few descriptive words as if we know them on a personal level is something that most of us have been comfortable doing. The most abused target of the same has been Kangana Ranaut - the small-town girl with the funny accent whose bad hair days matched her equally bad relationships and who was looked upon as an outsider in Bollywood, until recently.

Her transformation into the reigning fashionista who wasn't afraid to take risks came as a pleasant surprise, so did her choice of film roles establishing her credentials as an actress. Yet, despite the success, her detractors still outnumbered her fans, till her recent interview with film critic Anupama Chopra went viral and her candour was now 'refreshing' and not 'uncouth'.
In SAS Nagar to promote her upcoming film - Queen, directed by Vikas Bahl - Kangana talks about how it felt to play a character so different from her real life persona, backbiting as her pet peeve and her so-called rebellious image.
"People are associating the role of Rani in Queen with that of Tanu in Tanu Weds Manu. Honestly, Tanu is someone you laugh with, whereas Rani is someone you laugh at," clarifies the actress. Though, she maintains that she is nothing like the meek and submissive Rani, she says, "That is precisely the reason why I had so much fun playing a character I am not like."
Her refreshing honesty and sense of humour reflects when we ask her why she thinks she deserves this rise to stardom. "I'm just as clueless as you," laughs Kangana, adding, "Seriously though, I don't know why I deserve all these expensive things in my life because sometimes I question the ridiculously large amount of money I am paid to do an ordinary run-of-the-mill film that will probably fail."
In an age where being politically correct is the norm, as is talking behind a fellow actress's back, Kangana does not mind calling a spade a spade and leaving her answers unvarnished. "It was my experience as a working-independent woman that made me evolve into this clear-headed person," she says.
When asked about the Anupama Chopra interview, where revelations like her stylish avatar was due to her need to 'overcompensate' being from a small town, endeared her to many, she chips in, "It wasn't so much as me being honest as it was of being asked questions that for once were not related to my love life or the other things that people make fun of me for," says the actress who debuted in 2006 with Gangster.
About our opinion of her as this rebellious woman, we might just be a little wrong. "I don't see anything wrong anymore in following rules. Slowly, I am realising that they are for our own good. However, having said that, I must add that when a rule is harmful and not right, it is okay to fight against it," she concludes.
Close