Sandeep Singh still India's best drag-flicker
Feb 22, 2014 02:03 PM IST
Sandeep Singh remains India's best drag-flicker even though he is not in the national team, says Jamie Dwyer, five-time world hockey player of the year.Sandeep was last part of the Indian team in the Hockey World League Round 3 in June 2013
Sandeep Singh remains India's best drag-flicker even though he is not in the national team, says Jamie Dwyer, five-time world hockey player of the year.Sandeep was last part of the Indian team in the Hockey World League Round 3 in June 2013 and has not found the faith of selectors who have opted for the duo of V.R. Raghunath and Rupinder Pal Singh.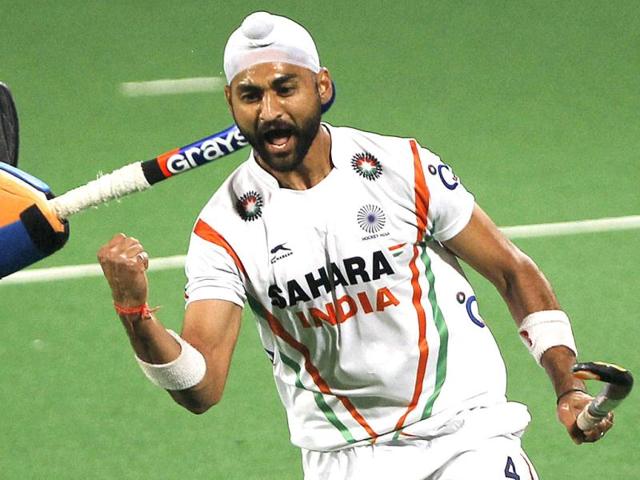 Dwyer feels Sandeep was always ahead of Rupinder and Raghunath as a penalty corner specialist but has now shown marked improvement in field play, a weaker aspect of his game.

"Sandeep has made a big difference in the team," said Dwyer, who is leading Punjab Warriors in the Hockey India League (HIL). Sandeep, who was the highest goal scorer in the inaugural HIL, is leading the charts this season too with nine goals from 10 games.
"I have been very impressed with the improvement Sandeep has shown since joining our team a month ago. He has improved his field play by leaps and bounds. He listens, he learns and he is quite intelligent. He is a better player than what he was last year," said Dwyer.
The 34-year-old, who looks as fit as a fiddle, picked Rupinder as the best player out of the three drag-flick specialists but said Sandeep too deserved a place in the Indian team.
"It is tough for me to say whether he is good enough to play for India again but he is really the best drag flicker India have got. It is difficult to judge on field play as I have not seen Raghunath or Rupinder up close and personal. Rupinder probably is the best player out of them."

HIL, which was started with an aim to improve the falling standards of Indian hockey, will complete its second season with the final here Sunday.
Asked whether the exposure of playing alongside top foreign players will bear fruit for the Indians, Dwyer said: "HIL is the foundation of hockey in India. This is where it is all happening. I want the support to grow big here and then it can branch out to countries like Australia, New Zealand and Malaysia.

"If the HIL continues with the way it is going, I surely see India in the top four hockey nations by the 2018 World Cup."