A cool surprise for heatwave-hit MP: 30 kg of ice falls from the sky
Updated on Apr 07, 2016 11:34 AM IST
Reeling under an early heat wave, people in Harda district of Madhya Pradesh received a cool surprise — an ice chunk weighing about 30kg falling from the sky.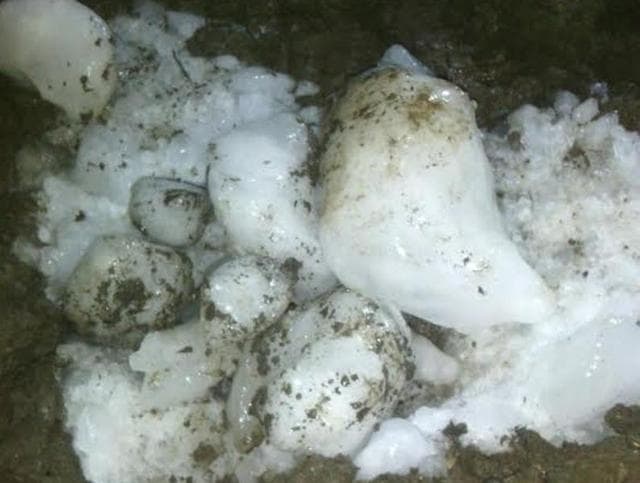 Reeling under an early heat wave, people in Harda district of Madhya Pradesh received a cool surprise — an ice chunk weighing about 30kg falling from the sky.
The chunk, believed to be a megacryometeor (ice-stone) or blue ice, came crashing down in a field on Monday, creating a three-foot-deep crater upon impact. This comes nearly three months after a similar incident in Sagar district in which a 60-year-old woman was injured.
The latest incident occurred at Nousar village in Timarini, 40km from Harda district headquarters. The field belonged to Raj Kumar Patil, whose younger brother Jitendra Patil was irrigating it at the time. On hearing the thundering sound, locals came running to the field to find the chunk had broken into three.
Jitendra said another chunk came crashing down in a field nearby. "I was very scared. Nearly 14 seconds after the first chunk of ice fell, another smaller chunk fell in a nearby field. We informed other villagers who came rushing," he said.
Harda collector Srikant Banot said he will inspect the site and also rope in geologists and other experts. He said in all probability, it was blue ice from a plane flying overhead at a great height. He said he had sent the sub-divisional magistrate to the spot to submit a report.
According to a research paper, 'Isotopic studies of megacryometeors in western India' published in March 2013, ice-stones or megacryometeors form suddenly even during non-cloudy, clear sky when there is no thunderstorm activity.
"Although their formation is not clearly understood, they are considered to have an origin different from large hailstones. The research paper is based on four unusually large ice-stones weighing several kilograms which fell in western India (Rajasthan, Gujarat and Maharashtra ) during October–November 2010.
According to authors of the research paper, many causal mechanisms have been hypothesized for the formation and fall of megacryometeors that include aircraft icing, blue ice or waste water released from aircraft lavatories, leakage from aircraft water tanks, condensation trails of jet planes and extraterrestrial origin.
They also pointed out that, according to Martinez-Frias who has collected data on ice-stones falls across the world, "megacryometeor fall frequency has increased since 1950 and that 46 fall events have been recorded between 2001 and 2006 alone".
Close Story
Kejriwal questions Agnipath scheme, says Centre waived taxes of 'rich friends'

Delhi chief minister Arvind Kejriwal on Thursday hit out at Prime Minister Narendra Modi over imposing GST on essential food items and said that taxpayers are betrayed when their tax money is used to waive off loans of "rich friends". His reaction came after Modi's statement on freebies. Earlier on Wednesday, in his speech during the inauguration of the 2G ethanol plant, the Prime Minister also spoke out against the culture of freebies.

Two dead in clashes over inter-faith relationship in Karnataka's Koppal

At least two persons died and several others injured after clashes between groups over an interfaith couple in Hulihyder village of Koppal district in Bengaluru on Thursday. Venkappa (60) and Basha (22) died in the clashes and at least four more were injured as the two groups, armed with sticks and weapons, assaulted each other. The police said two groups clashed as simmering tensions boiled over on Thursday.

Married daughters also entitled for insurance compensation on parents' death: HC

The Karnataka High Court has held that married daughters are entitled for compensation by insurance companies on the loss of their parents in accidents. The HC single judge bench of Justice H P Sandesh heard an appeal filed by an insurance company challenging the award of compensation to married daughters of one Renuka (aged 57) who was killed in an accident on April 12, 2012 near Yamanur, Hubballi, in north Karnataka.

Submit report by August 14, DCW orders Delhi police on rape of 3 school girls

The Delhi Commission for Women on Thursday asked the city police to submit a complete report by August 14 on the action taken on a rape complaint by three girls studying in a Delhi government school. The commission also asked police to confirm that the three minor girls were produced before the child welfare committee as required by law, and a copy of the order issued by the committee.

No-confidence motion against speaker delayed Bihar assembly session

In the first Cabinet meeting after taking oath on Wednesday, chief minister Nitish Kumar and his deputy, Tejashwi Yadav, decided to convene the Bihar assembly session on August 24 to seek trust vote. The session was delayed as speaker Vijay Kumar Sinha refused to quit and promoted ruling alliance to move a no-confidence motion. Former speaker Vijay Kumar Choudhary said it will be taken first on the day the House convenes.
Personalise your news feed. Follow trending topics