Pataudi murders: Autopsy shows multiple injuries using sharp weapons, but no one heard a cry
Aug 31, 2018 12:08 PM IST
The murders came to light when the milkman entered the darkened house Wednesday evening after no one responded to him repeatedly ringing the bell.
The autopsy report of the four members of a family that was killed on Wednesday in Brijpura village revealed the deceased had sustained multiple injuries with sharp-edged weapons on their face and bodies, and had been hit with a heavy blunt object as well.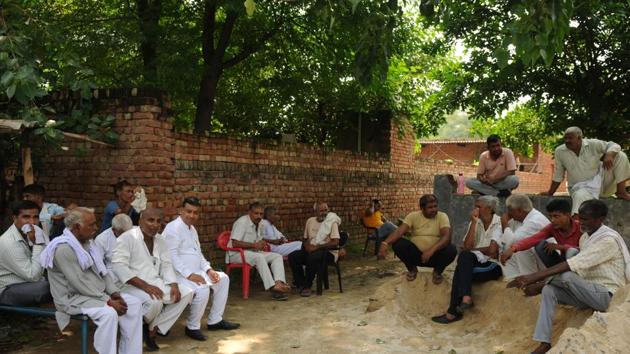 Forensic experts said Manish Gaur, who was the head of the family and ran a shop garment shop in Rewari, was killed most brutally.
The postmortem examination revealed that the 28-year-old was stabbed 32 times on his head, face and chest. The autopsy report also revealed that he had four cuts on his neck which led to his death.
Manish's mother Phoolwati was stabbed multiple times and had suffered head injuries, which resulted in her death.
Manish's 23-year-old wife Pinky died due to hanging, but it did not become clear whether she was killed and hanged or she committed suicide.
Deepak Mathur, the forensic expert who conducted the post-mortem examination, said it was yet to be confirmed if Pinky killed herself or was murdered. "Nothing can be ruled out," he said, adding that her hands bore injury marks.
Manish and Pinky's one-year-old daughter was hit on her head by a heavy stick. "There were no external injuries. The daughter died due to internal bleeding," Mathur said. She succumbed while undergoing treatment.
Pinky got married to Manish in January 2013. She was pursuing her graduation from an open university.
The villagers had rushed her to a hospital as she was the only one who was found breathing when they entered the house with the police on Wednesday night.
Kumar said the family was attacked between 12pm and 3pm.
The murders came to light when the milkman reached the house on Wednesday evening and entered the darkened house after no one responded to him repeatedly ringing the bell, village head Karan Singh said.
"The milkman found the door open and when no one responded despite repeated knocks, he entered the house and found bodies lying there. He informed me and I called the police immediately," Singh said.
Manish had three brothers. Two of them live in the same village.
His cousin, Kuldeep Singh, who also lives in the same neighbourhood, said it was shocking that they did not hear any noise from the house when the incident happened and they came to know about the incident in the evening.
"No one became suspicious even after noticing that the house was dark. Some of the neighbours thought they the family was out. But their mother always remained at home and if ever she went out, she informed the neighbours," Singh said.
Police said the neighbours saw the car of the accused, who had been living with the family for the past fortnight, parked outside till evening, when he removed it.