Karnataka: 23 girls suspended from Mangaluru college for wearing hijab
Published on Jun 07, 2022 06:06 PM IST
A college in Mangaluru, Karnataka, has suspended 23 girl students who wore hijabs to their classrooms, news agency PTI reported.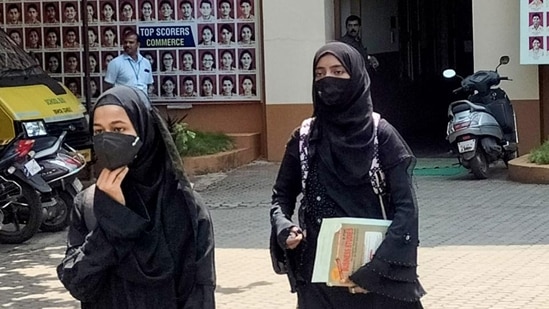 Yamini C S | Edited by Aniruddha Dhar
A government college in Mangaluru has suspended 23 students who wore hijabs to their classrooms despite repeated warnings, news agency PTI reported. The incident at Uppinangady Government First Grade College in Puttur Taluk of Dakshina Kannada district comes barely a week after the same college, affiliated with Mangalore University, suspended four students who had come to college wearing hijab.
The 23 girls were all suspended till Saturday for staging a demonstration seeking permission to wear hijab (headscarves) within their educational institutions despite the high court ruling in mid-March following the hijab row in Karnataka that all students must follow uniform rules in schools and colleges.
Sources told PTI said the girls came to the college last week wearing hijab and held protests near the college premises demanding permission to wear the headscarves inside classrooms. BJP MLA from Puttur and the College Development Committee (CDC) chairman Sanjeeva Matandoor on Tuesday said the students were suspended as staged a demonstration on Monday.
The CDC held a meeting on Monday and decided to suspend the students, PTI added. The committee had previously suspended seven girls for coming to the college wearing hijabs. The girls have been reportedly insisting on wearing hijab despite the Karnataka High Court ruling on the issue, which stated that headscarves are not an essential religious practise in Islam.
The court also upheld the Karnataka government's order which banned any cloth inside the education institutions that can disturb the peace and public order. The hijab row first emerged in Karnataka when a few girls from a government pre-university college in the coastal district of Udupi approached the high court after they were banned from attending classes while wearing hijabs.
(With inputs from PTI)