1,100 sport nurseries to come up in Haryana to keep youth away from drugs: CM
Published on Jun 27, 2022 05:35 AM IST
The chief minister said that the bureau has prepared a state action plan with the cooperation and participation of all departments to root out drug and its trade from the society and to implement a concerted and collective effort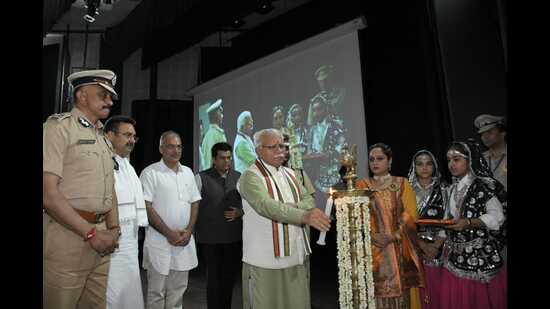 Haryana chief minister Manohar Lal Khattar on Sunday launched state narcotics control bureau's 'Mission Drug Free Haryana' on the occasion of International Day against Drug Abuse and Illegal Trafficking.
Khattar said that under this mission, the government in collaboration with NGOs and civilians will ensure that the Haryana is made drug-free.
The chief minister said that the bureau has prepared a state action plan with the cooperation and participation of all departments to root out drug and its trade from the society and to implement a concerted and collective effort.
He said that to keep youths away from drugs, 1,100 sport nurseries will be set up in the state and Haryana will soon emerge as a sports hub of the country with 1,000 coaches and yoga teachers.
The CM said that 'Dhakad' programme has been launched in schools, colleges and universities under which a group of five children per class will identify the drug addicts and efforts would be made for their rehabilitation.
He said that 6,538 teams at village level, 1,710 teams of ward mission, 532 cluster teams, 72 subdivision teams, 22 district-level teams and 25,000 teams of chemists will work under the action plan. Khattar also administered an oath to the police officers and employees present in the auditorium not to indulge in drug consumption.
Haryana health and home minister Anil Vij in his virtual address said at least 10 districts of the state were in the grip of drugs. He said that they all have to work together to end the drug addiction.
Haryana mission team president of action plan and state chief secretary Sanjeev Kaushal said that about 18 departments like health, medical education, home, excise and taxation and social justice and empowerment are associated with the plan. He said that two apps 'Prayas' and 'Saathi' have been developed, which will work to curb the usage of banned drugs and a subject of training has also been added.
Haryana DGP PK Agarwal said according to a survey, 272 districts of the country and 10 districts of Haryana have been reported to be affected by drugs, which includes Karnal. He expressed hope that with this effort of the bureau, the state will be able to become drug-free.
Close Story
Terror plot foiled: ATS nabs suspected ISIS operative in Azamgarh

LUCKNOW Ahead of Independence Day, the UP Anti-Terrorism Squad on Tuesday claimed to have foiled a terror plot to target Rashtriya Swayamsevak Sangh workers, after the arrest of an alleged ISIS operative, Sabauddin Azmi, from UP's Azamgarh district. Sharing a press note, ATS officials claimed that Sabauddin Azmi was in touch with ISIS recruiters Abu Umar and Abu Bakar Al-Shami through phone and instant messaging applications.

3 from Delhi arrested for thefts in Navi Mumbai

Investigations into a house break in New Panvel led the Khandeshwar police to a gang of three in Delhi who used to come to Mumbai, stay in hotels, board a train and get down at any station and target closed flats near the stations and return to Delhi. The accused have been identified as Alimuddin Abdul Hameed (47), Sajid Khubanseeb (27) and Mohammad Ramzan Mohammad Haneef (44).

Water level at Barvi Dam rises to 91% after good rainfall in August first week

With the first week of August receiving good rainfall in catchment areas, the water level in Barvi Dam, which supplies water to Mumbai Metropolitan Region, has increased to 91% from 78%, which was the level in July last week. The officials of the dam claimed that if the rainfall continues in the coming days, the dam will get its full storage.

Moharram processions peaceful across U.P., stray violence in Bareilly

Lucknow Amid apprehensions of communal and sectarian clashes, the state police on Tuesday managed to ensure by and large peaceful Moharram processions in different districts, including Lucknow. The Moharram processions were taken out peacefully from August 1 and 9 but there were major apprehensions of law-and-order problem in the backdrop of back-to-back incidents of violence after Friday prayers in June earlier this year in Kanpur, Prayagraj and eight other districts.

'Blatant lies': Bihar BJP leaders blast Nitish Kumar for breaking ties

Senior Bharatiya Janata Party leader Ravi Shankar Prasad on Tuesday lashed out at Janata Dal (United) president Nitish Kumar for breaking ties with the National Democratic Alliance and joining hands with the Rashtriya Janata Dal to form a new government in Bihar. Stating that JDU won the 2019 Lok Sabha elections in the name of Prime Minister Narendra Modi, Prasad said the tally of JD(U) MPs also increased to 16.
Personalise your news feed. Follow trending topics