Canada dream shattered: Woman booked for cheating husband's family of
₹

25 lakh in Punjab

Published on Jul 28, 2021 02:57 PM IST
Beant Kaur, 21, left for Canada a fortnight after getting married to Lovepreet Singh, 23, in August 2019 but stopped communicating with him; an upset Lovepreet was found dead in his village in June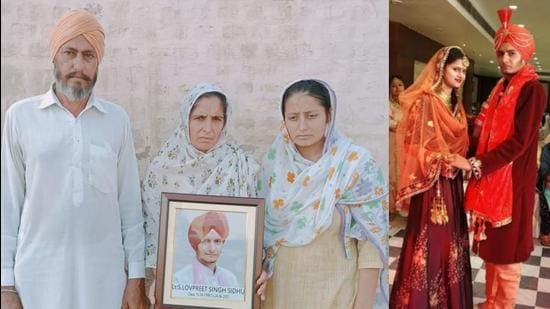 A month after her 23-year-old husband, Lovepreet Singh, was found dead under mysterious circumstances in Punjab, Beant Kaur, 21, who is in Canada on study visa since August 2019, was booked for cheating on the complaint of her in-laws.
The report of Lovepreet's death and alleged cheating by his NRI wife has been shared widely on social media, prompting Punjabi media in Canada to question Prime Minister Justin Trudeau, but he declined any review of the country's liberal immigration rules and instead urged immigrants to apply through the government's website.
Also read: Trudeau: We have enough anti-Covid shots to vaccinate entire eligible population
In his complaint on Tuesday, Lovepreet's father Balwinder Singh of Khote Gobindpura village near Dhanaula town stated that the wedding of his son with Beant was solemnized on August 2, 2019, after which she went to Canada to study on August 17. 2019. He claimed that he had spent ₹25 lakh on her studies but his son Lovepreet, alias Laddi, was upset as she did not take him abroad as promised and eventually stopped communicating with him.
Lovepreet was found dead under mysterious circumstances in his farm on June 23.
Initially, the police registered a case under Section 174 of the CrPC as the family had not complained about the cheating. Rather, Lovepreet's family claimed he died in the field after spraying pesticide, but the viscera report is awaited.
Acting on Balwinder's complaint, Dhanaula police station in-charge Harsimranjit Singh said that a case has now been registered against Beant Kaur, who belongs to Khudi Kalan village in Barnala district, under Section 420 (cheating) of the Indian Penal Code. "We will investigate Lovepreet's mobile phone records and other documents to get to the truth," the station house officer said.
On July 13, Punjab State Women Commission chairperson Manisha Gulati met Lovepreet's mother and sisters at their village and assured them of justice.
Though Beant's family members were not available for comment, she has denied allegations of cheating on social media platforms. She said that she tried to bring Lovepreet to Canada but could not due to the Covid-19 restrictions. "His case could not be pursued due to the travel curbs," she said.
On Wednesday, local residents held a protest at Dhanaula on the Bathinda-Chandigarh national highway, demanding that the police add Section 306 (abetment of suicide) of the IPC in the case.
Personalise your news feed. Follow trending topics