Chandigarh: Come April, get rooftop solar plants installed at zero cost
Jan 29, 2023 04:05 AM IST
Joint Electricity Regulatory Commission gives nod to project that will make Chandigarh the first city to provide rooftop solar plants to houses for free
Currently offered with 30% subsidy, come April, rooftop solar plants will be installed without any cost to homeowners, making Chandigarh the first city in the country to do so.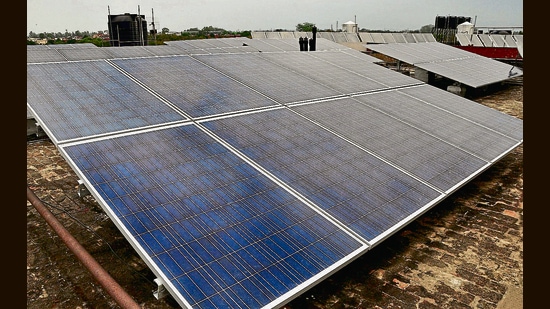 The move comes after the Joint Electricity Regulatory Commission's nod to installation of grid connected rooftop solar systems in Chandigarh under the Renewable Energy Service Company (RESCO) model.
As part of the model, a private firm will be responsible for developing, installing, financing and operating the rooftop solar power plant for a limited build-operate-transfer (BOT) period, which will be decided during the tendering stage.
During this period, the homeowner will be entitled to electricity at a uniform rate of ₹3.23 paise per unit and on the period's completion, the plant's ownership will be handed over to the consumer without any further charges.
At present, domestic consumers pay ₹2.75 per unit for 0-151 units, ₹4.25 per unit for 151-400 units and ₹4.65 per unit for over 400 units.
The UT administration, in a notification issued on May 18, 2016, had made installation of rooftop solar plants mandatory in residential units measuring 500 square yards and above, and group housing societies.
However, even after provision of 30% subsidy, over six years later, only 3,125 of the total 7,200 eligible houses have opted for the plants.
At present, the cost to get a 1 kWp plant installed is ₹60,000, but with subsidy, it comes down to ₹42,000.
"With the commission's approval, we are hoping more people will come forward to tap solar energy. We will now float tenders and hire the agency that proposes the lowest BOT period. Installations will begin in the first week of April," said Debendra Dalai, chief executive officer, Chandigarh Renewable Energy and Science and Technology Promotion Society (CREST), the executing agency for city's renewable energy projects.
"Under the RESCO model, the hired agency will install the solar plants on consumer's premises and sell power to the UT electricity department under gross metering. Installation and commissioning costs will be borne by the agency, without any investment liability for the consumer," he added.
The commission has directed CREST to submit a detailed status report after completion of three years of the project.
Notably, the Union ministry of new and renewable energy had enhanced the city's solar power generation target from 69 MWp (mega watt peak) to be achieved by 2022 to 75MWp to be met by August 15, 2023.
UT has, so far, achieved generation of around 55MWp, which it aims to enhance to 67 MWp by March 31, 2023, to meet the final target by August.