PU: Covid norms go for a toss as Student Centre reopens
The iconic Student Centre of Panjab University (PU) reopened on Wednesday, but visitors were seen flouting Covid-19 protocols, with a lot of them not wearing masks and or maintaining physical distancing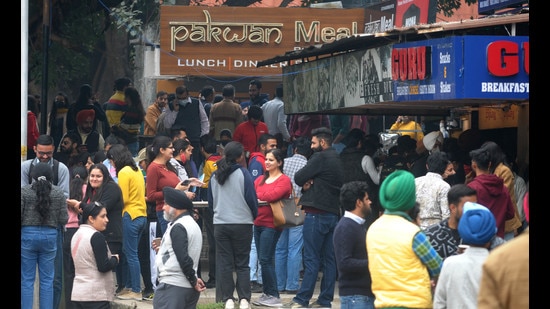 Published on Dec 02, 2021 01:05 AM IST
The iconic Student Centre of Panjab University (PU), which had been closed since the pandemic broke out in March last year, finally reopened on Wednesday.
The step was taken by the varsity to take a step back towards normalcy. However, visitors were seen flouting Covid-19 protocols, with a lot of them not wearing masks and or maintaining physical distancing.
Mukul Chauhan, a student at the department of community education and disability studies, said, "Seeing Stu-C reopen after such a long time is a sight for sore eyes. It is good that things are normalising, but precautions should be kept in view of the present situation."
PU's Student Centre is considered the heart of social activities of the varsity's students. Its building houses an old Coffee House, recreation room, offices of the students' council and dean students' welfare and a couple of eateries.
The varsity has allowed canteens in departments to reopen as well. "It is good to see campus life getting back to normal. Now, the varsity should also reopen departments for all students immediately," said Amandeep of PSU-Lalkaar
A former senator of PU, who wished not to be named, said, "The varsity has reopened the Student Centre and canteens, but is yet to reopen for all students. No physical classes are being held either."
PU registrar Vikram Nayyar said, "We have issued directions to all the departments/offices and visitors to ensure strict compliance to Covid-19 protocols."
PU also issued an advisory to all heads of departments and offices to ensure strict compliance to Covid norms amid rising fear over the Omicron variant.
Close Story