Punjab deputy CM urges Centre to strengthen India-Pakistan trade ties
Punjab deputy CM OP Soni inaugurated the five-day Punjab International Trade Expo at Ranjit Avenue in Amritsar on Thursday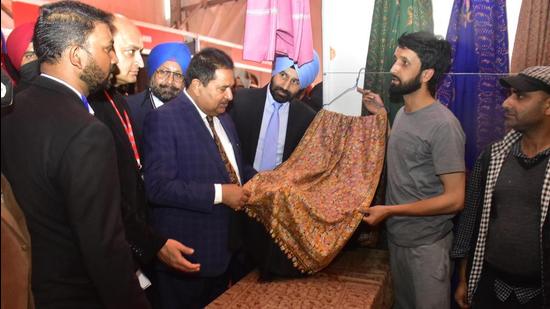 Updated on Dec 03, 2021 01:38 AM IST
Taking note of the absence of Pakistani traders and exhibitors at the 15th Punjab International Trade Expo (PITEX), Punjab deputy chief minister OP Soni on Thursday said the state government will urge the Union government to help strengthen trade ties between India and Pakistan through expos like PITEX.
While inaugurating the expo, he said residents of the holy city wanted to purchase Pakistani products at PITEX, but exhibitors from across the border could not participate in it due to visa issues.
"It would be ideal if we could have Pakistani traders around next time. We will try and convince the central government to normalise trade relations with Pakistan, as it is beneficial for Punjab as well," he added.
The five-day expo, which will continue till December 6, has been organised by the PHD Chamber of Commerce and Industry (PHDCCI) and hosted by the Punjab government, with an aim to strengthen industrial relations with nations within and beyond Asia.
The event features traders from Punjab, Jammu and Kashmir, West Bengal and Uttarakhand, along with some from countries like Egypt, Turkey, Thailand and Afghanistan.
Soni appealed to industrialists to expand and establish new industries in Punjab, stating that the state government was fully committed to providing all kinds of facilities to the industry.
Tejveer Singh, secretary, industry and commerce, said more than ₹1 lakh crore investment had been made in Punjab over the last four years.
"We have identified tourism as a thrust sector, and will be providing many fiscal incentives to tourism and hospitality. This expo is back after one year and we know how much anticipation it creates. It helps our tourism and economy very positively," he added.
Earlier, PHDCCI secretary general Saurabh Sanyal urged the government to push for better trade relations with Pakistan, and invest more in tourism and start-up culture.
RS Sachdeva, chair, Punjab state chapter, PHDCCI, echoed his sentiments and said, "Trade relations with neighbours are essential, especially for a border area like Amritsar. The government should also build exhibition centres and hotels to push for tourism, especially local tourism, as the pandemic has hampered international commute."
Close Story