Youth held for shooting at man amid robbery bid in Dera Bassi
Jan 29, 2023 04:06 AM IST
The accused was identified as Mandeep, 22, a native of Bhiwani, Haryana; a .32-bore country made pistol, three loaded magazines and 68 live cartridges were recovered from him
Police have arrested a 22-year-old youth who shot at a man during a bid to rob a motorcycle in Mubarakpur, Dera Bassi, on Friday night.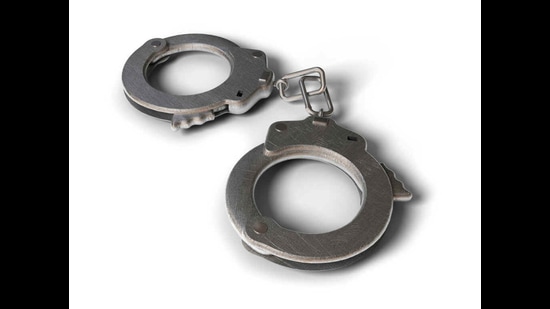 The accused was identified as Mandeep, 22, a native of Bhiwani, Haryana. A .32-bore country made pistol, three loaded magazines and 68 live cartridges were recovered from him.
According to police, on Friday, four men — Yogesh Kumar, Sandeep, Jaspal and Sukhi — all residents of Mubarakpur, were sitting inside a truck parked on the roadside opposite Rajinder Infrastructure company, Ramgarh Road, Mubarakpur, Dera Bassi, around 10.30 pm.
"The accused opened the door of the driver's side and demanded the key of a parked motorcycle that belonged to Sukhi. After they refused, the accused pointed a pistol at them, following which they rushed out of the truck from the other side," said Darpan Kaur Ahluwalia, deputy superintendent of police (DSP), Dera Bassi.
As the four men resisted his robbery bid, Mandeep fired at Sandeep, who managed to dodge the bullet, but the second bullet hit Yogesh in the left side of the abdomen.
Seeing Yogesh collapse, the other three overpowered the accused and beat him up with sticks, after which he fell unconscious.
Yogesh was rushed to Dera Bassi civil hospital, where he was referred to Government Medical College and Hospital (GMCH), Sector 32, Chandigarh. The bleeding accused was also taken to GMCH in an unconscious state by the police, who were alerted by onlookers.
While Yogesh is still under treatment, the accused was discharged, following which he was arrested by the Dera Bassi police.
Wanted by Haryana police
According to police, the accused, Mandeep, is wanted in a 2020 murder case registered at Sadar Hisar police station in which a total of nine people were booked and seven were apprehended. The accused was also involved in a carjacking case in Jind in 2020.
"We are yet to interrogate him due to his head injury. Moreover, we are coordinating with CIA teams in Hisar and Jind to establish more details about the accused and his gang, if any," a police official said.
A fresh case under Sections 307 (attempt to murder) and 387 (putting person in fear of death or of grievous hurt, in order to commit extortion) of the Indian Penal Code, along with relevant sections of the Arms Act, was registered against him by the Dera Bassi police.