Can vaccinate all of Delhi in 3 months, says CM Arvind Kejriwal
Mar 19, 2021 05:28 AM IST
Emphasising that vaccination is the most effective way to control the spread of Covid-19, Kejriwal said that his government will increase daily inoculation capacity from 30,000-40,000 to 125,000 by doubling the number of centres from the existing 500, and extending their timing by four hours.
Chief minister Arvind Kejriwal on Thursday appealed to the Centre to relax the eligibility criteria for Covid-19 vaccinations, saying that his government can inoculate all adult residents of Delhi within three months to tackle steadily rising infections that have triggered concerns of a fresh wave.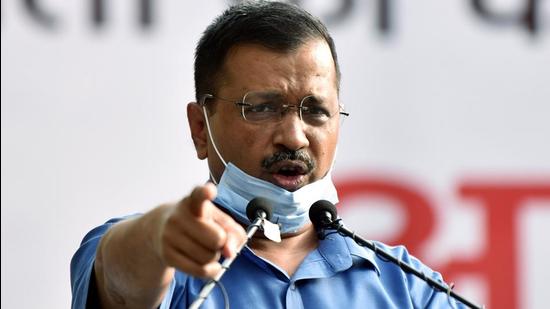 Emphasising that vaccination is the most effective way to control the spread of Covid-19, Kejriwal said that his government will increase daily inoculation capacity from 30,000-40,000 to 125,000 by doubling the number of centres from the existing 500, and extending their timing by four hours.
Health care and frontline workers, along with people over 60 years and those aged at least 45 with specified comorbidities, are currently eligible to get vaccinated in India. The world's largest vaccination drive was launched in the country on January 16, with two vaccines (Covishield and Covaxin) being cleared so far for use.
"The Centre should make vaccines open for all those who are 18 years of age and above. India is producing enough Covid-19 vaccines now to get this done. Walk-in centres should be opened for all. I urge the central government to take this up on a war footing. If this is allowed, we can vaccinate everyone in Delhi (18 years and above) in three months," Kejriwal said.
Addressing a digital news briefing after holding a review meeting with health minister Satyendar Jain and top officials of the Delhi government, Kejriwal said they will write to the Centre about allowing states to relax the eligibility criteria.
He was speaking a day after Prime Minister Narendra Modi spoke to chief ministers, stressing on the need to take "decisive action" in an urgent meeting during which the issue of expanding the drive was raised by at least three CMs.
Delhi continued its trend of rising infections on Thursday, with the city reporting 607 new cases, the highest daily infections since January 6. Even though the positivity rate remains low, experts believe the latest spike is a matter of concern and could spark the fourth wave of infections in the Capital if strict measures are not ensured. The seven-day average of cases, which denotes the case trajectory, currently stands at 456, the highest in over two months, or since January 12. This number has now been rising for the past 24 days in the city, which has led to experts saying that it may be the start of the fourth wave of infections in the Capital
"The daily number of Covid-19 cases in Delhi has been increasing over the past three days, but there is no need to panic... Today, in the meeting, I have given strict instructions to intensify our Covid-19 management system of testing, tracing and isolation. Surveillance will be enhanced and the general laxity observed among people in following Covid-19 appropriate behaviour will be addressed by strict enforcement," Kejriwal said.
A senior official of the Union health ministry said on condition of anonymity: "We are focusing on people who are vulnerable; therefore, in need of the vaccine. Individuals who are vulnerable must be protected first; that's our priority. Vaccine eagerness can become as big a problem as vaccine hesitancy."
Kejriwal said that if people are vaccinated, there is a good chance that they won't get Covid-19 for a year or so. "Currently, we are vaccinating 30,000-40,000 people in a day and are going to increase it to 125,000 soon. The number of centres will also be doubled from the existing 500. At present, Covid-19 vaccination centres operate from 9am to 5pm, which will be increased to run them from 9am to 9pm every day," he said.
By Thursday evening, the health department issued two orders directing all hospitals to extend the timings as announced by Kejriwal and for all Delhi government hospitals to increase their vaccination centres from Monday onwards.
Urging the Centre to also relax the parameters for vaccination centres, Kejriwal said that at present, only a few centres are open for 24 hours. "It has been more than two months since the inoculation drive started... So, instead of having a list of categories for the people who are eligible for vaccines, we should have a list of those who are not eligible. Rest all adults should be vaccinated," he said.
Dr Lalit Kant, former head of the department of epidemiology at the Indian Council of Medical Research, said the Covid-19 numbers are likely to increase further in the coming weeks. "People have stopped following Covid-19 appropriate norms. It is seen most in marketplaces. Intensive campaigns and strict enforcement to ensure mask wearing and social distancing should be carried out," he said.
The Union health ministry has separately listed out districts in 12 states and Union territories where infections have grown significantly. From a low of under 11,000 cases every day in the second week of February – the lowest levels recorded since the peak of the first wave in country in September last year – India is now again recording over 29,000 new cases a day on a weekly average. On Thursday, it added 39,671 infections, highest since November 28, 2020.
Except for Kerala, Odisha and Bihar, almost all regions are showing an increase in their outbreak, according to the University of Michigan's India Covid-19 metrics tracker that shows all of the other regions with an R number above 1.
India has so far delivered 38.92 million doses. In the last 24 hours, 1.78 million doses were delivered. "If more centres can be added and they work on a mission mode, we will reduce wastage... Also, keep in mind the expiry date of the vaccine. Use the earlier batches first," Modi said in the meeting with chief ministers on Wednesday.
BS Vohra, president of the Joint Forum of East Delhi RWAs, said if norms are relaxed, a lot more people can be vaccinated in the coming months, but suggested that the government carry out more campaigns to curtail vaccine hesitancy.