Chock-a-block: Parking in Delhi a perennial MCD poll issue
Updated on Nov 26, 2022 02:33 AM IST
Managing public parking spaces is an important function of the Municipal Corporation of Delhi (MCD), even as it presents the civic body with a key revenue stream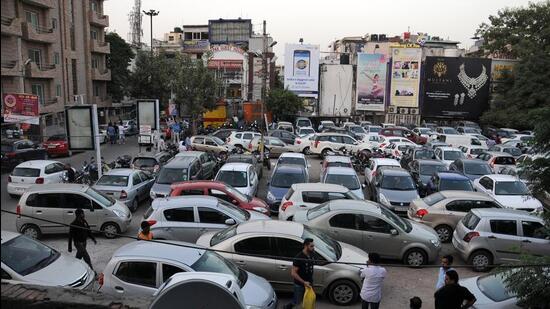 Delhi has around 20 million residents. It has 17,882km of roads. And it has 13.4 million registered vehicles (including 4.5 million cars), more than the number of vehicles in Kolkata, Mumbai, and Chennai taken together. And, in 2021, on average, 548 vehicles were registered every day in the Capital. Together, the math adds up to one big parking problem.
In tony south Delhi colonies dominated by so-called builder flats, everyone parks outside, on the pavement, or still worse, the roads.
In middle-class neighbourhoods, such as the Capital's multiple Delhi Development Authority (DDA) colonies, and in the city's ubiquitous unauthorised colonies, where upward mobility has meant more vehicles, people park wherever they can in the common areas.
Fights are frequent. Every metropolitan city of note in the world believes it has a parking problem (and some do). Delhi's response to them is simply: "Let me put my car here for a few minutes; I'll just be back".
On paper, all is well.
Delhi already has a road-map in the form of the Delhi Maintenance and Management of Parking Places Rules. But despite the direct intervention of the Supreme Court, which ensured this policy's notification in September 2019, key aspects of the parking plan are yet to be implemented. Populism is one reason; the reluctance of the administration to take difficult decisions is another.
Expectedly, both the Aam Aadmi Party (AAP) and the Bharatiya Janata Party (BJP), now busy canvassing votes for the civic elections early next month, have promised a permanent solution.
Managing public parking spaces is an important function of the Municipal Corporation of Delhi (MCD). And parking is also an important revenue stream. Fixing parking rates, allocating authorised parking sites, formulating local parking area plans and levying one-time parking and conversion charges all fall under the remit of the civic body. Its projects cell is in charge of the management of 403 parking sites through private contractors. According to the unified MCD budget (2022-23), the civic body is estimated to earn ₹125 crore from car parking charges and ₹90 crore from parking conversion schemes this year. That's around 1.5% of the corporation's annual budget.
The parking problem comes in at #3 in terms of priority after sanitation and corruption in the AAP's manifesto. While announcing the party's 10 guarantees for the MCD elections, AAP convener and Delhi chief minister Arvind Kejriwal promised a "permanent, lasting and practical solution to the parking problem."
BJP state chief and former North MCD mayor Adesh Gupta said that over the past 15 years, a period when his party has been in charge of MCD, the corporation has built at least 100 modern parking lots in Delhi and blamed the state of affairs on a failed public transport system.
The Metro has helped — its pre-pandemic peak of 6.5 million riders a day is yet to be met, but it ferries around four million people a day — but only in the sense that things would have been worse without it. Experts say that it hasn't necessarily taken cars off the road, only slowed the rate of their addition. The BJP has continuously raised the issue of Delhi's inadequate bus connectivity, and blamed the AAP for it.
"The Delhi government has destroyed the city's public transport system, which has aggravated the parking problem," Gupta added.
Stilt parking was made mandatory in builder flats and other developments only in 2021. And where it exists, it is inadequate. Pankaj Aggarwal from the Safdarjung Development Area resident's welfare association (RWA) and general secretary of the Delhi RWA Joint Front said that the fights between neighbours over the common space in front of their houses, owned by the state, are increasingly frequent, with the local police station getting its share of complaints related to this.
"Vehicle occupancy is rising with an increase in the number of floors. If there are four people in a family, everyone has a car and stilt parking can no longer accommodate all of them."
Aggarwal also blames "spillover effect from neighbouring unplanned areas such as Arjun Nagar and Krishna Nagar where people can't even park on streets due to narrow lanes" but that seems unlikely, given how zealously people in areas such as Safdarjung guard parking spaces that they believe they are entitled to.
Towards the Faridabad border, the narrow streets of Sangam Vihar – the largest unauthorised colony in Asia, by some accounts – have similar concerns. The area is divided over three municipal wards and councillors have been raising demands in MCD forums to turn open public spaces into multilevel parking lots to meet the demands of residents.
MCD operates 403 authorised parking lots across the city, with 390 surface parking sites and several multilevel parking projects that can accommodate around 50,771 four-wheelers, 32,603 two wheelers and 1,705 six-wheeled vehicles such as trucks and buses.
An MCD official said the corporation has started work on eight multilevel car parking projects with capacity for 3,500 cars, and that these will be opened in 2023.
The corporation is also increasingly focusing on automated puzzle stack parking projects, thus named for pallets that move both horizontally and vertically, like they do in a puzzle. These projects will come up in Nizamuddin Basti (86 cars),M-Block Market GK-1 (399 cars), Amar Colony, Lajpat Nagar (81 cars), Punjabi Bagh Cremation Ground (225 cars), Qutub Road (174 cars), Nigambodh Ghat (95 cars), Fatehpuri (196 cars) along with larger units at Shiva Market in Pitampura (500 cars) and Gandhi Maidan, Chandni Chowk (2,338 cars).
"MCD is identifying new feasible locations to develop surface parking sites and is also in the process of developing multilevel parking projects," the MCD official cited above added.
To be sure, this still doesn't address the parking problem in south Delhi colonies and societies.
Pushed by the apex court, the Delhi Maintenance and Management of Parking Places Rules, adopted in 2019, advocated prioritising the rights of pedestrians and cyclists; called for securing footpaths, green spaces, and intersections; sought to ease access for emergency vehicles, the differently-abled, and vendors – all of which called for regulating haphazardly parked vehicles. The policy envisioned the mapping and inventorying of all existing parking, including demarcating on-street slots in both residential neighbourhoods and commercial areas, creating new lots, and introducing a dynamic pricing mechanism for demand-side management.
While the draft parking rules suggested a parking fee in residential areas, the provision was later deleted by the government. Meanwhile, MCD never went ahead with its plan for dynamic pricing at peak hours and increasing the on-street parking costs, especially in areas where multilevel parking lots are available.
Indeed, even during the air pollution emergency, where the so-called Stage 3 restrictions of the Graded Response Action Plan mandate hiking parking fees to discourage private transport, corporation authorities have been loath to enforce the provision. Parking charges were once increased on November 9, 2017, but it only led to a quick rollback within a week due to public backlash and ensuing chaos.
The parking policy also authorised corporations to make Parking Area Management Plans (PAMP) with neighbourhood-specific solutions.
The three erstwhile MCDs did start work on the formulation of 38 PAMPs at diverse localities such as Anand Lok, Aurobindo Marg (IIT to Neeti Bagh), and Nizamuddin Basti, but the lack of initiative at the political level to take unpopular decisions, competing interests of stakeholders and repeated disruptions due to the pandemic have ensured that this effort has remained a non-starter.
Professor Sewa Ram, professor of transport planning in the School of Planning and Architecture, said that the corporation will have to focus on parking demands not only in commercial areas, but around schools, institutional and semi-institutional building complexes as well.
"MCD has failed to implement these PAMPs for more than three years now. The fund crunch argument does not hold true and extra money from differential parking rates should be used to create reliable last mile connectivity. Merely increasing parking rates will not help. MCD should also bring in more information dissemination system to make people aware about the multilevel parkings and space availability," he added.
Corporation officials cite financial and space constraints and resistance from traders and residents as the main hurdles to drafting these policies.
Nitin Gupta, who heads the traders' association in Kamla Nagar, one of the three sites where a pilot project for drafting a parking policy was carried out, said that the corporation should be first held responsible for the massive parking and conversion charges that have been levied on markets, and claimed these funds were diverted for other purposes. The conversion charge was introduced in 2007, in accordance with a provision in the Master Plan of Delhi (MPD) 2021, as a levy to create commensurate infrastructure to turn residential units into commercial and mixed land use areas.
Rajiv Kakria, the convener of the Save Our City campaign, said the cause of the current parking mess lies in the unscientific planning by DDA, mixed land-use provisions with dilution of plot coverage area rules, and unreliable public transport.
"The authorities allowed the front 'setback' areas at major 100ft (wide) roads to be reduced while the 'set-backs' on smaller roads such as in Kalkaji were completely removed. The 2021 Master Plan ruined the quality of life and MPD 2041 offers no solution (either)," he added.
Aggarwal, from the Delhi RWA Joint Forum argued for a Singapore-like system, whereby no more vehicles are allowed on the road unless valid proof of parking is shown.
"The cost of owning a car parking space is more than owning a car. Our city is already saturated," he added.
That seems unfair on new buyers, especially because existing car owners, including in neighbourhoods such as Aggarwal's own, cannot show such proof.
The Garage Act in Japan mandating garage certificates for car owners, car purchasing restrictions in Beijing and congestion pricing in London show that large metropolitan cities are trying various measures to grapple with ever-increasing parking demands. Experts say that any solution will require discipline and constant enforcement, and involve pain.
Experts say that the solution to Delhi's parking woes lies in local ward-wise planning and rationalisation of space.
Anumita Roychowdhury, executive director, research and advocacy at the Centre for Science and Environment (CSE), said that while Delhi already has the 2019 Parking Rules in place, PAMPs under it are yet to be formed.
"These plans will focus on variable pricing and there will be no parking on footpaths. The idea is to reduce the demand for parking and people will only use it if necessary. The MPD 2041 has also asked for transit-oriented development of Delhi, which the plan says, requires for parking to be capped around Metro stations. This will encourage the use of public transport more, and so MCD needs to work with these two principles in mind."
Sonal Shah, the executive director of Centre for Sustainable and Equitable Cities (C-SEC), an organisation working on integrated transport systems and public space design, said that the rules for on-street parking management in Delhi were adopted by the state transport department in 2019 with a goal to manage on-street parking to prioritise very limited road space for walking, cycling and public transport.
"A key element of this is to manage and price on-street parking. Unfortunately, area-based plans are being prepared that demarcate parking spaces, without consideration for walking facilities. Secondly, on-street parking spaces are being 'allotted' – public space is being used for free for private vehicles. This is not aligned with the principle of the Delhi Parking Management Rules. There may be concerns regarding pushback from residents, but the parking management plans have to be prepared along with sensitising residents on the benefits on air quality."
Shah added that C-SEC has prepared a parking management plan around Green Park, which could serve as a model for PMAPs.
"We need to rethink the approach of how parking management area plans are being prepared currently so that it serves its purpose: reallocate and prioritise space for people, and not cars."