Development in Delhi 'stalled' for 8 years, says BJP
Published on Nov 25, 2022 12:13 AM IST
'Arvind Kejriwal promised to make Delhi like London and Singapore. Does London and Singapore also have pollution problems like Delhi?' asked union minister Anurag Thakur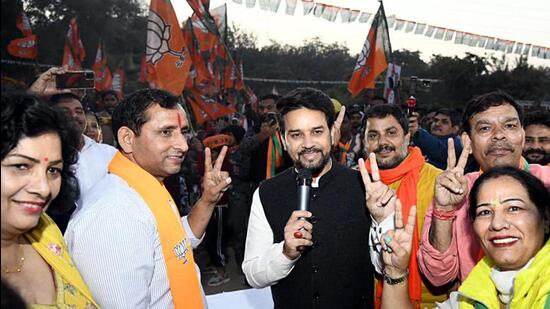 Union ministers Dharmendra Pradhan and Anurag Thakur on Thursday hit out at the Aam Aadmi Party over its alleged corruption, and accused the party of not developing the city despite being in power for the last eight years.
Thakur, who addressed three public meetings in Vasant Kunj, Palam and Madhu Vihar, said chief minister Arvind Kejriwal failed Delhi over the pollution issue. "They promised to address the pollution problem. They said they will install 16 smog towers, but the one in Connaught Place is not functional. He promised to make Delhi like London and Singapore. Does London and Singapore also have pollution problems like Delhi?" he said.
Pradhan, who held a roadshow in the municipal wards of the Greater Kailash assembly constituency, said AAP MLAs were not visible during the Covid pandemic while BJP workers were on the ground helping people. "The Delhi government and the AAP both disappointed people during the Covid period," Pradhan said, urging people to vote for the BJP so that the city can benefit from the development schemes of the Centre.
Despite several attempts, the AAP refused to comment on the BJP's allegations.