Covid-19: Gurugram fully vaccinates 89% of its eligible population
In Gurugram, first-dose vaccination coverage has crossed 100% as several people from other districts and a migrating population have also been vaccinated in the district, health officials said.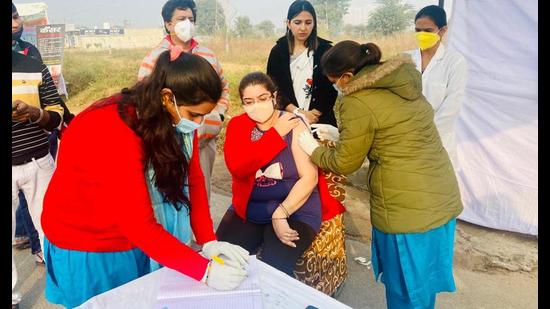 Published on Dec 02, 2021 12:30 AM IST
Nearly 89% of eligible population in Gurugram has been vaccinated with both doses against Covid-19, according to data from the district health department on Wednesday.
In Gurugram, first-dose vaccination has crossed 100% as several people from other districts and a migrating population have also been vaccinated in the district, health officials said.
Dr Virender Yadav, chief medical officer (CMO), Gurugram, said, "It is a matter of pride for all of us that almost 90% eligible population has been fully vaccinated against Covid-19 in the district."
In Gurugram, 1,803,656 people are eligible for Covid-19 vaccination. Of which, 1,600,752 (88.75%) beneficiaries have been administered both doses of vaccine, shows the data. So far, the district has administered a total of over 3.86 million doses -- 2,262,523 first doses and 1,600,752 second doses.
According to the officials, on Wednesday, 13,435 people were given the Covid-19 vaccine in the district, with 3,559 people administered first dose and 9,876 second dose.
When asked about by when the district is targeting to achieve 100% vaccination, the CMO said, "We have not set any target as such, our focus is on continuous vaccination of all eligible people. To increase the pace of vaccination, 14 morning and four evening vaccination sessions have also been conducted in the past few days apart from vaccination at fixed sites."
On November 11, Gurugram had achieved the mark of 80% double-dose vaccination coverage, when the state government set a deadline of January 2022 to achieve 100% vaccination coverage to all districts.
Meanwhile, the CMO directed the private hospitals in the district to conduct two mega vaccination drives in December so that the vaccination pace could be further increased.
The officials said that the door-to-door vaccination campaign has also helped and will continue in December. Till now, 101,784 people have been vaccinated through the door-to-door campaign in the district which started in November.
A new initiative was also started by the CMO from Wednesday where all the hospitals, labs, industries, malls and other institutions will be given special appreciation for getting 100% vaccination done of all their employees.
The health department, with the help of district administration, is also planning to start a checking drive again against those who do not wear face masks, as special instructions have been received from the state government to prepare for any possible third wave especially in the wake of the new Omicron variant.
"I appeal to the general public to wear face masks and follow all Covid-19 safety protocols seriously. People who are not wearing a face mask will be dealt with strictly. The district administration will now intensify the checking in public places," said Yadav.
Close Story