Gurugram reports 19 Covid cases in a day, highest after five months; tally at 77
The district reported 19 fresh Covid-19 cases on Thursday -- the highest number of infections reported in a day since June this year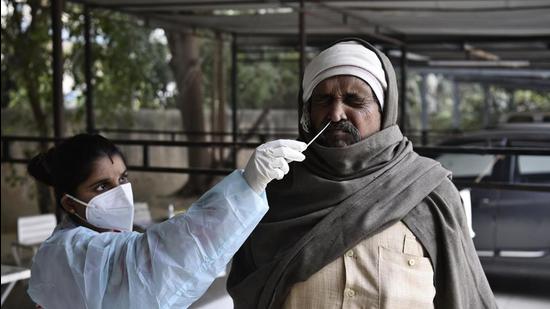 Published on Dec 03, 2021 01:04 AM IST
The district reported 19 fresh Covid-19 cases on Thursday -- the highest number of infections reported in a day since June this year. The active Covid-19 case tally in the district now stands at 77, according to the officials.
Dr Virender Yadav, chief medical officer (CMO) of Gurugram, said, "This is the highest number of Covid-19 cases Gurugram has witnessed since June. Infections had been in single digits or went up to a maximum of 11 or 12 cases a day in the past five months. There is no particular cause as to why so many Covid-19 cases were being detected in a single day. The patients were detected as part of a regular testing. There is no cluster formation in the district as of now."
The highest single-day Covid count recorded in the district in June was 21.
Nine Covid-19 patients recovered in the district on Thursday. Gurugram has reported a total of 181,728 Covid cases, and 180,726 recoveries so far.
In the view of the new Covid-19 variant, Omicron, which is believed to be "highly contagious", the district administration said on Thursday that strict action will be taken against those not wearing masks or not following Covid-19 protocols.
Yash Garg, deputy commissioner of Gurugram, issued fresh directions on Thursday in compliance with the guidelines given by the Haryana government to prevent the spread of the Omicron infection. According to the orders, it is mandatory for all residents to follow Covid-19 protocols, including social distancing and wearing masks. Those found without masks will be fined and penalised. Officials of all the departments concerned, such as police and municipal corporation, have been instructed to ensure that the standard operating procedure is strictly followed.
Close Story