MCG launches campaign to make Gurugram plastic-free city
In a bid to improve its ranking in the Swachh Survekshan 2022, the Municipal Corporation of Gurugram on Wednesday started a special campaign to ensure the participation of citizens in making the city free from single-use plastic and polythene bags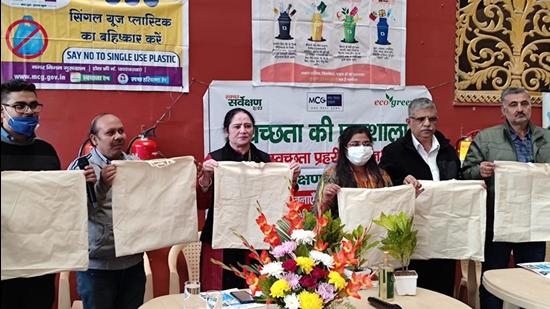 Published on Dec 02, 2021 12:13 AM IST
In a bid to improve its ranking in the Swachh Survekshan 2022, the Municipal Corporation of Gurugram (MCG) on Wednesday started a special campaign to ensure the participation of citizens in making the city free from single-use plastic and polythene bags.
The campaign titled 'Carry Your Own Bag' will be run till the annual cleanliness survey continues, MCG officials said.
The officials said that citizens should always carry a cloth or jute bag while going to the market and ensure their participation in the campaign.
The special campaign was launched by MCG additional commissioner Dr Vaishali Sharma and ward 34 councillor Rama Rathee at a shopping mall in DLF Phase 1, who called upon citizens, shopkeepers, and RWA representatives to ensure their participation in the initiative.
"Waste management is the need of the hour and everyone needs to pay special attention to this. This city belongs to the citizens and it is important to have their participation. The MCG and the administration are working at their level, but people should also understand their responsibility under the Solid Waste Management Rules 2016. They should boycott plastic and polythene bags, and instead always carry cloth or jute bags to public places," said Sharma.
The ward 34 councillor highlighted that Indore gets the title of the cleanest city in the country every time in the Swachh Survekshan as the participation of the public there is very high. "If the residents of Gurugram also decide that they, along with the MCG, have to make the city clean, then Gurugram can also get the title of the cleanest city in the upcoming cleanliness survey. For this, everyone has to cooperate at their own level," said Rathee.
The MCG officials will periodically visit malls and markets across the city to spread awareness among the public about the harmful effects of plastic bags and encourage them to use cloth/jute bags, Sharma said.
Since December last year, the MCG has turned its attention towards curbing the use of polythene and plastic bags. In December 2020, it launched the city's first cloth bag bank in Sector 8, and last month also started a similar facility in South City 2.
In February this year, the civic body announced that using plastic or polythene bags can lead to a penalty of ₹25,000. However, an MCG official requesting anonymity said that enforcement on the ban has largely been restricted to markets such as Vyapar Kendra, and sectors 4, 46, and 23 markets.
In the Swachh Survekshan 2021, rankings of which were released last month, Gurugram secured a ranking of 24 which was its highest ever ranking since the survey commenced in 2015.
Close Story