Right-wing groups threaten to disrupt namaz in Gurugram today
Following the threats, the district administration and the Gurugram police have decided to deploy personnel on a large scale at the 20 designated namaz sites to prevent a law-and-order situation on Friday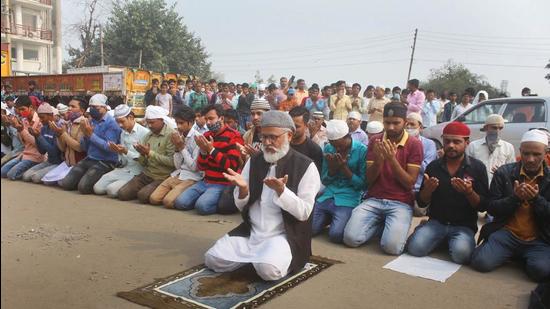 Published on Dec 03, 2021 01:13 AM IST
Leena Dhankhar and Abhishek Behl
Members of right-wing groups on Thursday threatened to disrupt namaz again on Friday and informed the district administration about their intention to adopt any means, including violence if necessary, to stop Muslims from offering Friday prayers in public places.
Following the threats, the district administration and the Gurugram police have decided to deploy personnel on a large scale at the 20 designated namaz sites to prevent a law-and-order situation on Friday.
"We are keeping a close watch on the situation and no one will be allowed to take law and order into their own hands and disturb peace in the city," said Yash Garg, deputy commissioner, Gurugram.
The police have already prepared a plan and assigned duties to personnel to be deployed at the 20 designated sites, said officials. Deepak Saharan, deputy commissioner of police (west), said 700 police personnel will be deployed across the city, including 200 at the Sector 37 site, where namaz was disrupted last Friday too.
"We are well-prepared and will take strict action against anyone who tries to disrupt namaz or try to disturb law and order. Quick response teams will be deployed along with rapid action force and there will be heavy police presence at all sites so that we can keep a close watch on suspects planning to disrupt namaz," he said.
Members of Sanyukt Hindu Sangharsh Samiti, an umbrella organisation of Hindu right-wing groups, which has been protesting against namaz in public places, said they had given a month's time to the administration to stop the practise of namaz being offered on public land. "Our only submission to the district administration was that prayers not be held in the open. But Muslims continued to do so. Now the situation is getting tense and despite an assurance that they will not do so, Muslims are still using open spaces and land which belongs to area residents," said Kulbhushan Bhardwaj, legal adviser of the Samiti.
Last month, the Gurugram administration reduced the number of designated namaz sites from 37 to 20 after objections were raised by residents in several areas.
Dinesh Bharti, president of Bharat Mata Vahini, who was earlier arrested for interrupting namaz, also met the deputy commissioner on Thursday and handed over a memorandum. "I have also written to the chief minister and a complaint has been submitted at the CM's window on Thursday. Issues related to open namaz are gaining momentum across the city and Hindu groups and locals are unhappy. There is only one solution and that is to stop namaz in the open; else there will be law and order issues," he said.
On Tuesday, a member of a Muslim group in Gurugram had filed a police complaint against three right-wing leaders — Dinesh Bharti, Kulbhushan Bhardwaj and Mahaveer Bhardwaj — for allegedly hurting religious sentiments with their remarks, while protesting against namaz in the open. No case has been registered as yet, said police, adding that allegations were being looked into.
Altaf Ahmad, founder, Gurugram Nagrik Ekta Manch, a civil society group, said they plan to meet the deputy commissioner of police, west, on Friday before the namaz to know why no FIR had been registered on their complaint. "We will also meet the deputy commissioner and seek an assurance on the safety and security of the faithful. The threats have become routine every Thursday and are unlikely to stop till the administration takes a strong view," he said.
Over the past three months, right-wing groups have tried to disrupt namaz being offered in open spaces in sectors 47, 12, 37 and Sirhaul Village. On November 5, Hindu groups organised a Govardhan Puja at the site in Sector 12A, where namaz used to be offered on Fridays. The protesters also performed a havan (puja) at a site designated for holding Friday prayers in Sector 37 and also disrupted namaz in Sirhaul village, Sector 18. Both the latter locations were among the 20 sites designated for Friday prayers by the district administration and Muslims who had to move away from the spots said such protests amounted to harassment.
Close Story