HC orders sealing of hotels, ashrams, factories in Haridwar for polluting Ganga
Updated on Mar 30, 2017 10:53 PM IST
The Uttarakhand high court order to close down polluting units could hit 700 hotels in Haridwar.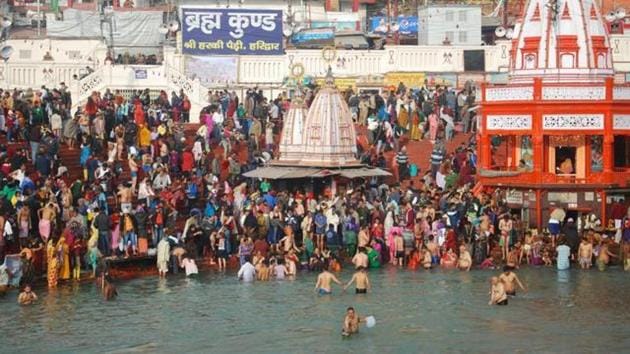 Hindustan Times, Dehradun |
Prithviraj Singh
The Uttarakhand high court on Thursday told the state pollution control board to seal hotels, ashrams and industrial units in Haridwar for polluting the Ganga by discharging untreated waste into the river.
The order, which came two days after a mining ban in the hill state, would hit 700 of the 1,400 hotels in the holy Hindu city visited by thousands of pilgrims everyday, officials said.
"The court has given us three months time to comply with the order. A fresh survey will be conducted to identify the erring establishments," pollution board secretary Vinod Singhal told HT.
Hearing a public interest litigation against hotels dirtying the Ganga and hindering the Clean Ganga Mission, the court pulled up the pollution board for not following its order to shut down establishments discharging sewer and other pollutants into the river.
In his petition, Lalit Miglani, an advocate from Haridwar, complained of animal flesh being found in the river water.
The Clean Ganga Mission is the Modi's government's ambitious plan that brings together various efforts for cleaning and conserving the river.
This is the second time in 10 days that the court has stepped in to check pollution in the Ganga, the holiest Hindu river which is also one of the dirtiest in the world.
The court on March 20 declared the Ganga and Yamuna living entities, bestowing on them same legal rights as a person.
Questioning the board's failure to implement its previous order to close down polluting industry and hotels, the court asked the board to cancel the licences of erring hotels and other establishments within three months.
The court is expected to issue a formal order on Friday.
Most of the hotels and ashrams that face uncertain future are those set up under the Sarai Act, 1867, which didn't require renewal of licence or the pollution board's permission.
These establishments are yet to channelise effluents into sewerage treatment plants.
Minister of state for water resources Vijay Goel told Parliament recently that some stretches of the Ganga, including in Haridwara, were too dirty for even a dip.
"We are ready to connect our establishments with sewage line but there is no facility of modern sewerage system in north Haridwar," said OP Jamdagni, a hotelier and district president of Haridwar Vyapar Mandal.
The government which was spending millions of rupees on cleaning the Ganga should lay a sewerage system in the area, he said, adding hotels were being made a scapegoat.
Personalise your news feed. Follow trending topics