Banned on paper, Chinese Manjha continues to slit people's throats
Jan 14, 2023 12:40 AM IST
With the ban order largely remaining confined to files, and as the kite flying season in the state sets in with Makar Sankranti, the possibility of such incidents increasing is high.
The Chinese Manjha - a synthetic thread used to fly kites – continues to kill and injure people and animals in Uttar Pradesh even though it had been officially banned in the entire country in 2017.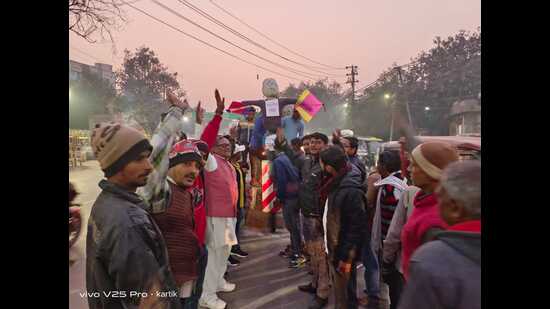 With the ban order largely remaining confined to files, and as the kite flying season in the state sets in with Makar Sankranti, the possibility of such incidents increasing is high.
Sample these: Chinese Manjha slit a young security guard's throat in Meerut only recently while he was on way to work on his motorcycle. He was wearing a helmet but the Manjha bore deep into his throat due to which he bled to death.
Last month, a journalist in Lucknow had to be admitted to hospital when Chinese Manjha pierced the helmet visor and ran through his forehead.
On January 2, Rinku Prajapati was rushed to the BHU trauma centre when a stray kite with Chinese Manjha slit his throat in Gurubagh area in Varanasi.
Such gory incidents keep being reported from all over the state every now and then while there is no count of animals and birds being killed and injured in the same manner.
According to Bahadur Aam Aadmi Party leader Rajendra Gandhi, who led a protest against the sale of Chinese Manjha in Varanasi on Thursday, more than 100 people had been maimed during the last three years in that city alone.
They also burnt an effigy of Chinese Manjha on the Chowk Ghat, GT Road, demanding execution of the ban put on the manufacture and sale of Chinese Manjha by the National Green Tribunal (NGT) and the Allahabad high court.
"Innocent people will continue to lose their lives or get injured till the government strictly implements the ban orders," Gandhi said.
The NGT, vide its order dated July 11, 2017, in the Khalid Ashraf Vs. UOI, directed, "There shall be total ban on the Manjha or thread for kite flying which is made of nylon or any synthetic material and/or coated with synthetic substance and is non-biodegradable. All the chief secretaries of all the States/UTs are directed to enforce the prohibition of manufacture and use of synthetic Manjha/nylon thread for kite flying throughout their state/territories."
Earlier, the Allahabad high court in its judgment in Anurag Misra vs State of Uttar Pradesh on November 19, 2015, ordered the prohibition, sale and use of this synthetic string which they described as metallic/nylon, including a glass coating.
Again, on January 21, 2020 the NGT sought a compliance report from all the states when the petitioners complained the Tribunal's ban orders were not being implemented.
The UP government informed the NGT that its environment department had issued directions under section-5 of E(P)A,1986 on 01/05/2017 to all concerned government authorities for prohibition of manufacture, sale, storage, purchase and use of thread made of nylon, synthetic material etc. It also informed the Tribunal that the principal secretary, home, vide letter dated November 16, 2017 had directed all district magistrates, senior superintendent police etc for compliance of directions passed by the high court, Allahabad.
Sharoor Niazi, a famous manufacturer and supplier of kites and traditional Manjha, in Bareilly, said that authorities cracked down only occasionally after which it became business as usual soon.
"The government must be ruthless in ensuring the compliance of the ban across the state if innocent people are to be saved from falling prey to Chinese Manjha," he pointed out.
"In Bareilly, the Chinese Manjha decapitated a child in the middle of the city two years ago, shaking the eyewitnesses badly," he recalled, claiming, he never sold Chinese Manjha. He added that it was surely in demand because it was far cheaper and longer lasting than the traditional string.
ADG (law and order) Prashant Kumar was not available for his comment despite several calls on his mobile and office phone numbers.