234 pregnant women vaccinated; one adverse event recorded in Mumbai
Published on Jul 29, 2021 09:01 PM IST
Several gynaecologists HT spoke to said that pregnant women complained of very mild after effects of vaccinations like feeling feverish, mild fever, and body ache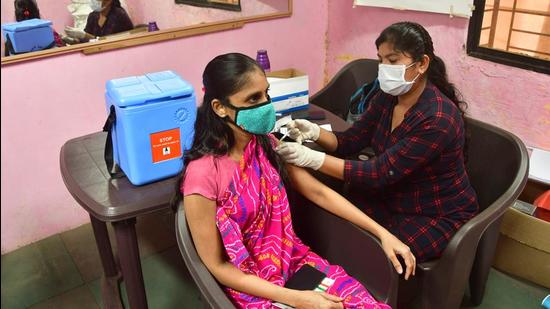 As many as 234 pregnant women in the city have taken the Covid-19 vaccine shots over the last two weeks. Of these, two women have taken the second dose, while the rest are partially vaccinated.
Only one case of adverse event following immunisation (AEFI) has been reported so far, according to the civic body.
According to Dr Mangala Gomare, executive health officer of Brihanmumbai Municipal Corporation (BMC), AEFI was reported in a 24-year-old woman who was in her fourth month of pregnancy. The woman had taken the second dose of the vaccine (Covaxin) at Parel's KEM Hospital on July 16. Next day, she complained of fever, around 10-20 episodes of vomiting, cough and headache. She also had swelling in the gums on the left side. She was admitted to the KEM Hospital on July 19 and discharged after four days.
Mumbai began vaccinations for pregnant women from July 15, a few days after the ministry of health and family welfare granted approval stating that the benefits of vaccination outweigh their potential risks. The ministry said pregnant women should be informed about the risks of exposure to Covid-19 along with the risks and benefits associated with the three vaccines — Covishield, Covaxin and Sputnik V — that are available in India.
"We follow the procedure laid out by the Centre about explaining the possible side effects of the vaccine when pregnant women come for taking the shots," said Dr Vidya Thakur, medical superintendent of civic-run Rajawadi Hospital, Ghatkopar, which is one of the 35 centres where pregnant women can get vaccinated. "We also explain to them about the risks of the infection," she said adding that their centre has vaccinated only about 10 pregnant women so far and no one presently with any AEFI.
"The response is very low. We have told resident doctors to inform pregnant women about the vaccination when they come to OPD's for checkup and antenatal follow ups. Hopefully, more women will be motivated in the coming days," said Thakur.
Several gynaecologists HT spoke to said that pregnant women complained of very mild aftereffects of vaccinations like feeling feverish, mild fever, and body ache. "No one has returned with any major complaints," said gynaecologist Dr Suruchi Desai from Vile Parle's Nanavati Hospital.
According to Desai, there is need of spreading awareness among the pregnant women about the importance of vaccination. "The message has to spread by the government, medical experts and each one of us," said Desai, adding that vaccinations have played a crucial role in averting so many deaths across the country. "Everyone has to play their part in spreading this message," Dr Desai said.
The Federation of Obstetrics and Gynecological Societies of India (FOGSI) has been pushing for vaccinations for pregnant and lactating women for a long time. "Covid-19 during pregnancy can be very risky for the mother-to-be as well as the baby in some cases," said Dr Bipin Pandit, gynaecologist, who is also the vice president of FOGSI. "Vaccination can bring down these risks drastically. We have been strongly advocating vaccinations for a while now," he said.