Congress, NCP workers protest in Pune during PM Modi's visit
Published on Mar 06, 2022 10:37 PM IST
Mumbai: The Congress and Nationalist Congress Party (NCP) workers protested in Pune during Prime Minister Narendra Modi's visit to the city alleging that PM had "insulted" Maharashtra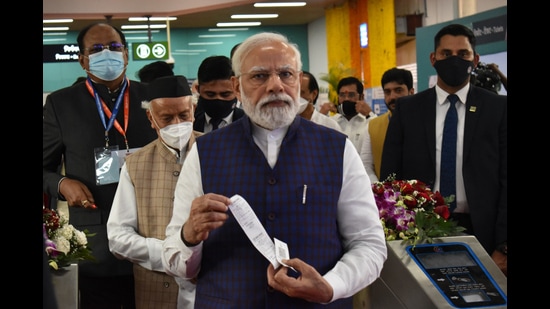 Mumbai: The Congress and Nationalist Congress Party (NCP) workers protested in Pune during Prime Minister Narendra Modi's visit to the city alleging that PM had "insulted" Maharashtra. Targetting the Bharatiya Janata Party (BJP) and Modi, protestors said that the party has disrespected Maratha warrior Shivaji.
Modi inaugurated several developmental projects, including a partial metro corridor. This is Modi's first visit after he indicated in the Parliament that Maharashtra was a superspreader during the first wave of Covid-19 in 2020.
It also comes in the backdrop of Maharashtra governor Bhagat Singh Koshyari's statements on Chhatrapati Shivaji Maharaj and Samarth Ramdas, and another comment about Mahatma Phule and Savitribai Phule last week.
Maharashtra Pradesh Congress Committee (MPCC) chief Nana Patole said that the party does not respect Shivaji, Mahatma Jyotirao Phule and Savitribai Phule -- the idols of Maharashtra.
"We respect the post of prime minister but he made a speech in the Lok Sabha that Maharashtra spread Covid across the country, which was an insult of Chhatrapati Shivaji Maharaj's Maharashtra. [By such statements] BJP's stand towards Shivaji Maharaj is becoming clearer," he said.
"So the BJP must clarify once. Has Modi saheb and BJP taken the contract of disrespecting Shivaji Maharaj at every stage?" he added.
Patole also targeted Modi over the evacuation of Indians from war-torn Ukraine. "Narendra Modi is a campaigner and not a prime minister. He should accept the delay that happened in evacuating Indians from Ukraine," he said.
In response, senior BJP leader Devendra Fadnavis said, "They could not do good for the people during their tenure. Now our civic bodies (Pune and Pimpri-Chinchwad) have managed to do a lot of projects, so they cannot digest it. Therefore, they are merely protesting."