Ghansoli residents raise a stink over sewage flow into lake
Published on Aug 26, 2022 12:42 AM IST
Navi Mumbai: Residents of Ghansoli are peeved as a picturesque lake, spread across five acres and surrounded by over 25 high-rise buildings, is being polluted by sewage water from the adjoining village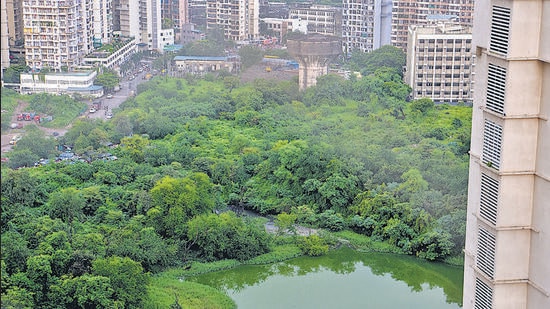 Navi Mumbai: Residents of Ghansoli are peeved as a picturesque lake, spread across five acres and surrounded by over 25 high-rise buildings, is being polluted by sewage water from the adjoining village. Affected citizens of Sector 8 have now unified to seek corrective measures from the authorities.
They have filmed the damage being caused to the water body and surrounding area, and shared it on various social media sites.
The City and Industrial Development Corporation (CIDCO) has marked the space as a green area in the development plan (DP), with an intent to develop it as a recreational open space in future. There are vast green patches around the lake and a large cricket ground.
"The entire area is spread over 18 acres and the lake is situated in the middle of this huge open space. It is naturally beautiful but the illegal activity of releasing sewage water by Ghansoli villagers is endangering its existence. Navi Mumbai Municipal Corporation (NMMC) should divert the sewage line towards the drainage channel immediately to preserve the lake," said Amrit Sethia, a resident.
Residents have been collectively following up the matter with the authorities concerned. Sethia has shot extensive videos of the pollution. "The issue is not just about the water getting polluted. The entire green zone is being systematically encroached, with tonnes of debris getting dumped here. NMMC keeps conducting a token act of Swachh Bharat Abhiyan," said Sethia.
Sethia's concerns are shared by other locals from neighbouring buildings as well. The quality of water has deteriorated as the area has become a breeding ground for mosquitoes with foul odour spreading in the vicinity.
"I have contracted dengue multiple times in the last two years since shifting to Ghansoli. In fact, I have done fresh tests again," said Dayanand Kotian, a resident.
The authorities' delay in taking corrective measures has compelled them to consider alternate measures. "We are thinking of having the lake cleaned with the help of Corporate Social responsibility (CSR) funds. We will also meet officials to set things right," said Dhirendra Sinha, a committee member of Atlantis Housing Society.
Meanwhile, NMMC is unable to take any action, as the land belongs to CIDCO.
A senior NMMC official acknowledged Ghansoli village's illegal act. Ward officer Shankar Kade has asked residents to make a formal complaint which he will present to the civic body's engineering department. "I will get officers from the department to conduct a survey and take appropriate measures," said Kade. A senior officer from CIDCO has also assured an investigation into the water pollution and debris dumping.