Indian Ocean humpback dolphin washes ashore Bandra
Mar 10, 2021 12:22 AM IST
Mumbai An Indian Ocean humpback dolphin that washed ashore in Bandra was reported to the forest department (mangrove cell) late on Monday night, by the Brihanmumbai Municipal Corporation's disaster management cell
Mumbai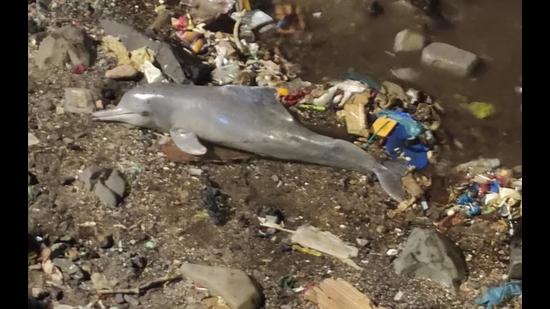 An Indian Ocean humpback dolphin that washed ashore in Bandra was reported to the forest department (mangrove cell) late on Monday night, by the Brihanmumbai Municipal Corporation's disaster management cell. The dolphin was found dead and subsequently buried at an undisclosed location soon after it was retrieved from the Carter Road promenade around midnight.
Officials in the mangrove cell said this is the second such incident reported this year in Mumbai.
In January, a dead dolphin had washed up at Bandra Bandstand.
Though unable to provide official data, deputy conservator of forests (mangrove cell) Neenu Somraj said, "We see between 40 to 50 marine wildlife deaths annually and they are dominated by sea turtles. Dolphins are much fewer, definitely not more than 10 each year. We believe they are mainly natural deaths. They live in shallow, coastal waters and the carcasses sometimes end up on our beaches." They usually wash up on the shoreline between Bandra and Versova, said S Deshpande, the mangrove cell's range forest officer in the western suburbs.
Since the Indian Ocean humpback is a schedule I species, an autopsy is mandatory unless the carcass is extremely decomposed. "As with most cases, the carcass we found on Monday night was already very putrefied and cause of death could not be established. There were no grievous injuries or signs of struggle on the animal," said Deshpande.
Protected under schedule I of the Wildlife Protection Act, 1972, and categorised as endangered by the International Union for Conservation of Nature, the Indian Ocean humpback dolphins have sporadic distribution and are found in localised areas, mainly in shallow waters, close to the shore (less than 20 metres deep; less than 1.5km from the shore; and around river mouths or estuaries), according to the Marine Mammal Research and Conservation Network of India. This dolphin species feeds primarily on fish including mackerel, mullet, sardines and pomfret.
Experts said deaths of Indian Ocean humpback dolphins around Mumbai are frequent and sightings of carcasses have been on the rise. E Vivekandan, former chief scientist and national consultant, Central Marine Fisheries Research Institute. said, "I would say that over the past two or three years, the number of deaths reported is increasing not just from Mumbai, but also places further down the coast, like Kochi. This may be because there are simply more eyes on the ground, but we cannot rule out other causes. Ideally, we should be collecting data from autopsies to know why these animals are dying. A coordinated effort is needed so that their deaths are reported more quickly."