Lockdown cause decrease in purchase of essential items: Study
Though online retail platforms had overtaken local vendors over the past few years, the trend was reversed during the lockdown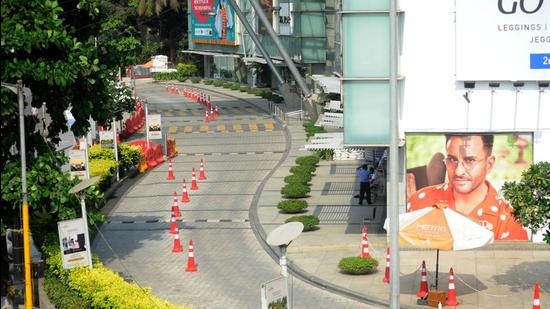 Published on Dec 18, 2021 10:26 PM IST
A new study on people's purchasing behaviour during the initial days of the pandemic indicated that a fear of infection as well as lockdown restrictions caused a decrease in the frequency of essential purchase but resulted in panic and excessive buying. Though online retail platforms had overtaken local vendors over the past few years, the trend was reversed during the lockdown.
A team of professors from the civil engineering departments of the Indian Institutes of Technology (IITs) Bombay, Palakkad and Hyderabad and the Birla Institute of Technology and Science (BITS) Pilani-Hyderabad campus analysed responses of over 700 respondents on their purchase of perishable and non-perishable essential commodities during the initial months of the lockdown. The study findings were recently published in Research in Transportation Business and Management journal.
Participants were asked about their essentials shopping pattern before and after lockdown and it was revealed that around 56% of the respondents went shopping for essentials daily but this figure dropped to 34% post lockdown.
"Some people had stocked up on essential commodities sensing the uncertainty of the situation and future, as a result of which people visited markets less frequently. People visiting markets once in two weeks increased from 7 to 14.1%," the survey report stated.
As per the survey report, 88% respondents (up from 77% before lockdown) preferred visiting local markets and vendors for perishable items whereas 72% (up from 44% before lockdown) opted to buy perishable items from the local vendors during first few months of lockdown.
The survey was conducted via various digital platforms between April 29 and May 25, 2020, and a total 730 responses have been considered by the researchers. Around 63% of the respondents belonged to the tier 1 and tier 2 cities and came from 20 states across the country.
"Consumer purchasing behaviour of essential commodities has consequences on retail stores, manufacturers, logistics companies, online stores, transportation planners, and policy makers during normal period. During emergencies such as a COVID-19 pandemic, studying the behaviour is even more critical, because it is the question of their survival and we should ensure that everyone has access to essential commodities. The purpose was to understand the shift during emergencies, which can help stake holders to make their systems resilient and to plan activities to minimize the negative impact," said professor Gopal Patil of IIT Bombay and one of the authors of the study.
"The increasing share of organised retail stores reversed during the lockdown because of their inability to cater to the excessive demand and the proximity of kirana stores," the report stated.
Other factors that accounted for this shift included difficulty in placing orders online especially since several items were not allowed to be sold online, lack of trust in retail vendor as well as restrictions in transport affecting supply chains.
The researchers suggested that local shops should stock essentials commodities and efforts must be undertaken to facilitate local kirana stores to enhance their in-store purchasing by making electronic payment gateways accessible.
Close Story
Personalise your news feed. Follow trending topics